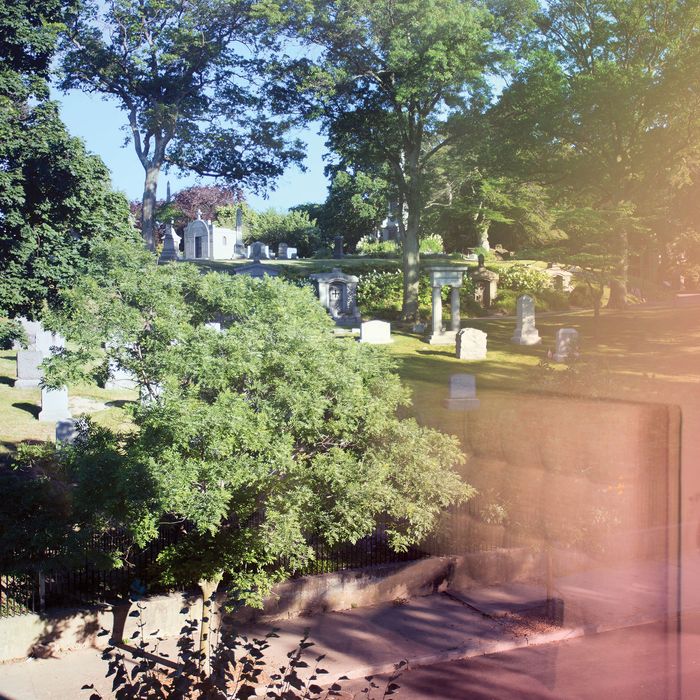 Green-Wood Cemetery feels like the backyard of this Brooklyn townhouse.
Photo: Tobias Hutzler
Years ago, I moved from a second-floor apartment in Sunnyside to a Manhattan high-rise, and the view depressed my cat. He had loved taking up his position on the sill, where he could keep an eye on the tree outside. Sometimes squirrels approached for a face-off through the screen. In the new place, the window looked onto nothing but sky and distant shadows. He stopped bothering to look.
I think of that nearsighted cat every time I visit a new residential skyscraper and take in its imperial panorama. Gazing through glass walls on the 100th floor, the eye drifts to the vague horizon. The loftiest perches make it possible to watch thousands of individuals flyspeck the sidewalks while at the same time learning nothing about them. The hyperwealthy live so high that they can hardly see anything at all.
The rest of us have less omniscient, more intimate, sometimes downright peculiar views of urban life. Some New Yorkers watch passengers on Coney Island's Wonder Wheel arcing gently past their windows, or stare out at the ultra­quiet neighbors in Brooklyn's Green-Wood Cemetery. Basement-apartment dwellers look up to see a parade of feet. Plenty of people face nothing but a brick wall, but maybe one only uses that surface as a screen on which to project an escapist fantasy. But even ordinary, confined views can give us a sense of belonging. Through our particular rectangles of the outside world, we get to know which kids run late for the school bus that stops a few feet from our kitchen counter. We notice when the family across the air shaft has guests, or whether a neighbor on the other side of the street gets his news from Fox. (Every once in a while, we realize that we have a courtside view of a celebrity's domesticity.) We start to see the rough poetry in fire escapes, security gates, and bridge ramps — all the urban musculature that generally goes ignored.
Movies and TV shows use the aerial skyline shot to establish the nowness of New York: with Twin Towers or without, before or after the gridded pencil case of 432 Park Avenue. But more modest views, too, instill the real-life sense that every status quo is provisional. A few scenes are effectively permanent — if you look out onto Central Park, it's probably not going anywhere — but most streets evolve. A new tower goes up six blocks away, and you can't grow basil on your windowsill anymore. A young tree grows up to darken your den; the graffiti you love or loathe comes and goes with the neighborhood's fortunes; the streetlight outside your bedroom suddenly acquires an intrusive LED glare.
Occluded views can feel imprisoning. Before we moved to the Sunnyside apartment with the squirrel-observation post, my cat had nowhere to bask but in the warm circle of a desk lamp; the alternative was a pale trickle of sunlight that snuck in during the midday hour. I felt like a warden. But though we all cherish every lumen of daylight and foot of elevation we can manage, we make do with shadowed urban close-ups that are as various as New Yorkers' lives. Looking out a low-story window means being acutely aware of all that lies outside the frame. It's only the cloud people, enjoying their Olympian vistas, who have no idea what they're missing. —Justin Davidson
I See a Cemetery From Almost Every Room of My House
"At first, when we were thinking of buying this house, we thought, Will this creep us out? But it's transformed into this sculpture garden of sorts … It's an interesting juxtaposition being here with kids and my wife pregnant with our third. My wife would say that there's actually something very comforting about it. It's almost like you have all these people watching you and protecting you. Generations old, looking out over us and for us. In some ways, it forces that conversation about death, but it allows you to see it in that much more positive light. It's not Halloween on the other side; it's a park that's beautiful and with spirits looking out for us. Our son knows people are buried there. Every now and again he'll say, 'It's okay if we make a lot of noise, the people are buried. It's not going to bother them.' " —Jason Fisher, Greenwood Heights
I See Five Inches of the Hudson River
"The three slivers of the Hudson I can see from my 54th-floor window are the only tangible connection I have to the human, outside world from my apartment; street level is barely visible. The movement of the boats, the sun reflecting on the water, and the spectacular sunsets remind me that I'm not merely surrounded by steel and stone." —Joel Kaye, 57th Street
I See "Paris" From My Studio Apartment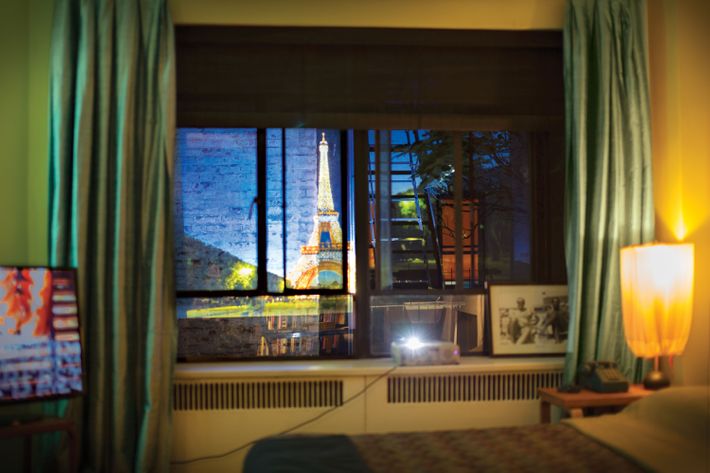 "My window looks out into an air shaft — outside my window is the side of another building. So what I do is project slides onto that building. The projector sits on the windowsill — on top of the radiator cover. The wall is painted brick, sort of a bad beige color. It's the perfect background for the slides. I'll project a beach scene, or Paris, or the Empire State Building. Sometimes a piece of art, but most often landscapes. And most of the time, landscape photos from my own travels. It's a nice reminder of where I've been. When I came back from Cuba, I projected old cars, that sort of thing. I've projected Hawaii, the Bahamas. After I spent time in California, I projected the surf pictures I'd taken. People have called it my Cinema Paradiso." —DD Allen, Greenwich Village
I See So Many Feet From My Bed
"I live slightly belowground, and my bedroom faces the street. Mostly, I see people walking to the train between 6 and 8 a.m. to go to work — and it makes me really happy I don't have to commute that early. You feel lucky you're not out there when you see all those feet walking by — it makes you feel extra-cozy in your bed." —Zachary Seman, Greenpoint
I See the Wonder Wheel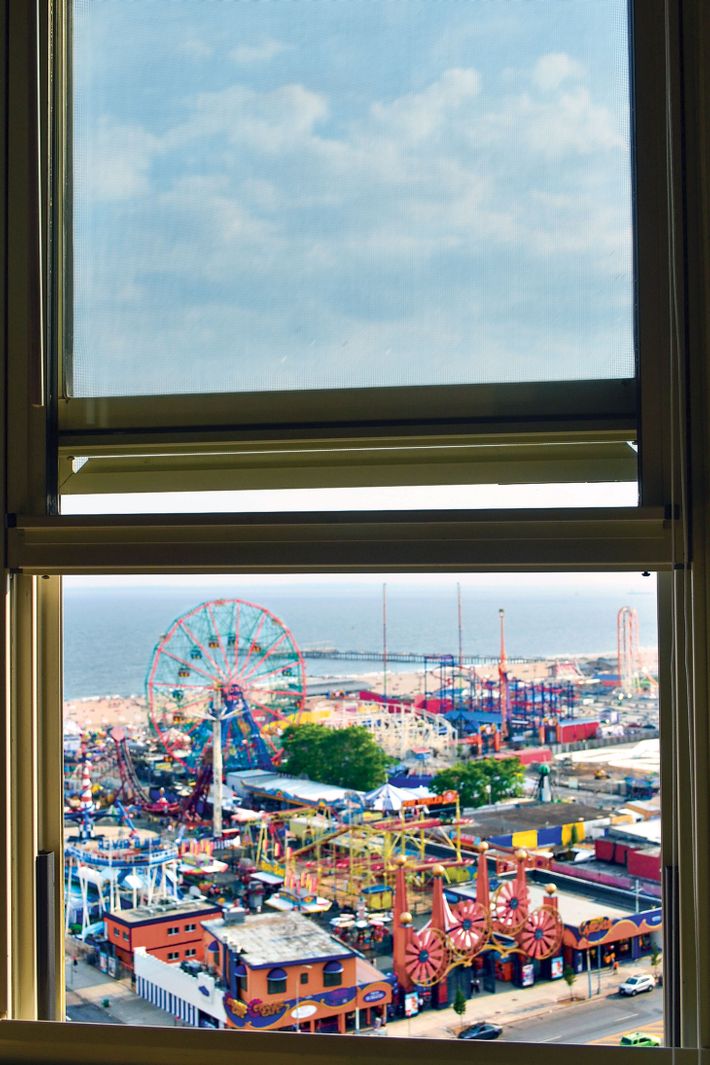 Alla Sandker has lived for three decades across from the Wonder Wheel but has never been on it, nor on the Cyclone, or on any of the other rides. "My grandson, yes, but not me," Sandker, who doesn't speak much English (she's from Russia), says. But the vista is an always welcome companion. "Nice view, yes?"
I Grew Up Seeing Meg Ryan Dance With Russell Crowe
"When I was a high-schooler living on Fifth Avenue, Meg Ryan lived across the way. Sometimes I'd turn off the lights and sit there watching her life unfold. One time, I saw Meg in the kitchen cooking dinner when Russell Crowe walked in. He grabbed her and spun her around. They started dancing, with him twirling her in the air. I had my own star-studded Rear Window." —former Upper East Sider
You Could See the Base of the Manhattan Bridge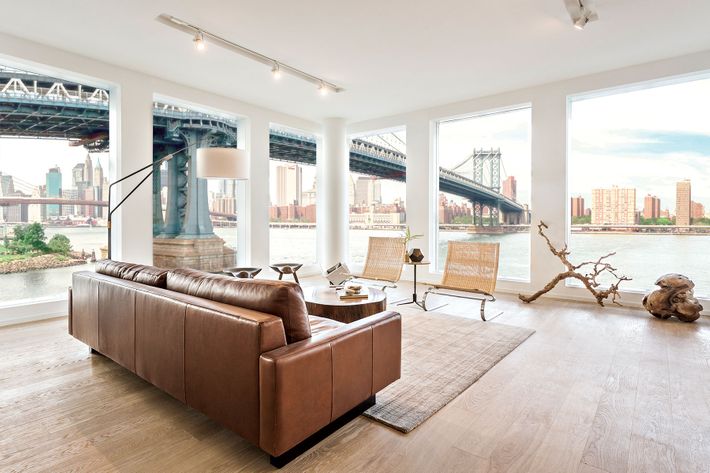 Usually the best views are from the top, but it's the lower floors of the B-line at the forthcoming One John Street in Dumbo (from $4.7 million) that have the most spectacular vistas. Nothing drives home the monumentality of the Manhattan Bridge more than being this close to its base, the girders visible underneath and outstretched between the two boroughs, the East River lapping seemingly at your feet.
You Could See Three Boroughs From the Bathroom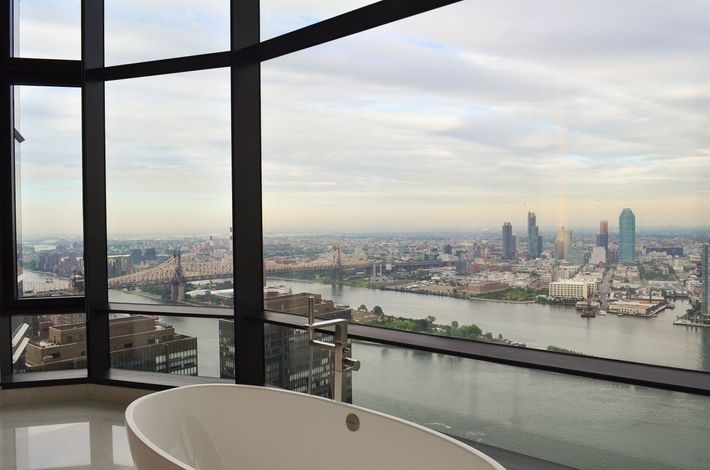 In this $70 million penthouse in the Norman Foster–designed 50 United Nations Plaza, which has views of Manhattan, Queens, and Brooklyn — plus all of Roosevelt Island. 
You Could See St. John the Divine From the Kitchen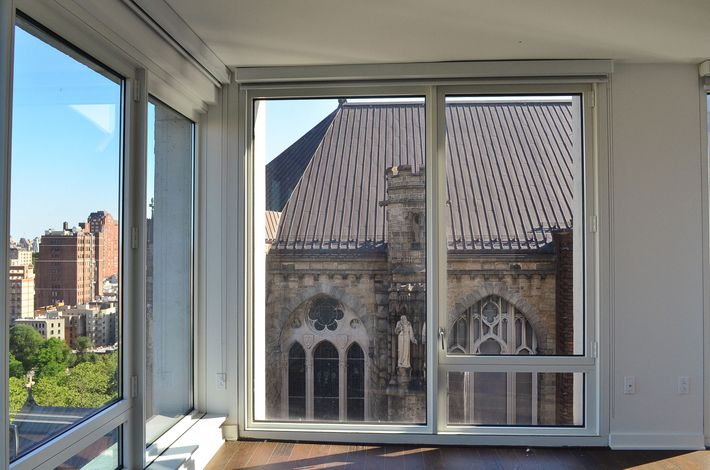 Washing the dishes will almost feel absurd with gothic-style statues bearing witness right outside the window. Tenants moving into this two-bedroom — asking $5,830 a month — at the Enclave at the Cathedral, a new 430-unit rental building in Morningside Heights next door to St. John the Divine, will get an up-close view of their ecclesiastical neighbors, and vice versa.
How Much for a View of a Giraffe?
According to Jonathan Miller, president of appraisal firm Miller Samuel.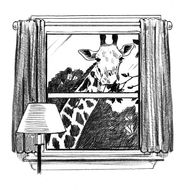 - The higher up you go, the more a view increases in value — around 1 to 2 percent per floor.
- The most valuable view is Central Park (it can raise the price by as much as 25 percent), largely because it won't change.
- River views are less prized (they up the value from 10 to 20 percent) because they can vanish; Battery Park City, for instance, destroyed a lot of West Side Highway views in the '80s.
- View-blocking construction can lower the price 10 percent.
- Unusual views (cemeteries, zoos) don't have much of an effect on price. For every person who thinks one view is special, there are many who don't.
I Once Saw the Virgin Mary Referee a Badminton Match
And other bizarre tableaux New Yorkers have spotted from their windows.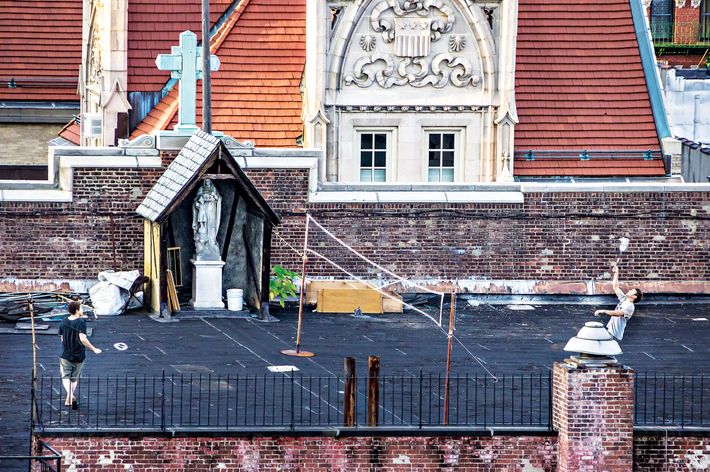 "I've been working on a photography project documenting what I see out the window, and I spotted these people playing badminton one day a few years ago. There's a Catholic school with a shrine on the roof of 108th Street, and I looked out and happened to notice them. What struck me wasn't just the oddness of playing badminton on the roof, but that it's also badminton as judged by a statue of the Virgin Mary." —Scott Matthews, Upper West Side
"One January morning, I woke to excessive cheering and music right outside my window. I flopped over to the window only to behold three camels being paraded up the street, complete with men dressed in lavish velvet clothing … I Googled 'parade with camels' and found out this was the Three Kings Day Parade. So if you find yourself far down on Graham, when it becomes Avenue of Puerto Rico, in January, look out for camels." —Nick Santa-Donato, Williamsburg
"On a hot afternoon last summer, I saw a man and a woman across the way on the balcony yelling at each another. I stepped out onto the deck and noticed they were entirely naked. Their argument continued to escalate, and at times the man would exit the balcony, only to reemerge carrying something. The first time, it was a handle of liquor. Other objects included a guitar and a beach towel. I can't say what happened afterward, since I had to leave my apartment for the evening."  —Ann Stoker, Harlem
"I used to be able to see a man who regularly paced back and forth across the roof of two rowhouses in the early mornings, shouting the Declaration of Independence. The rooftops offered views of the Verrazano-Narrows Bridge and New York Harbor, so marching up there wouldn't be a bad way to spend an early morning." —Jana Prikryl, Sunset Park
"It was on a summer night a few years ago. A bright spotlight was perched on the roof of a building near mine, and a man was sweeping. Every time he walked by the spotlight, his silhouette projected 30 feet high on a taller, adjacent building. The outline of his figure made it seem like he was dancing over Manhattan." —Anastasia Voron, Upper East Side
I Used to See the Great Blue Yonder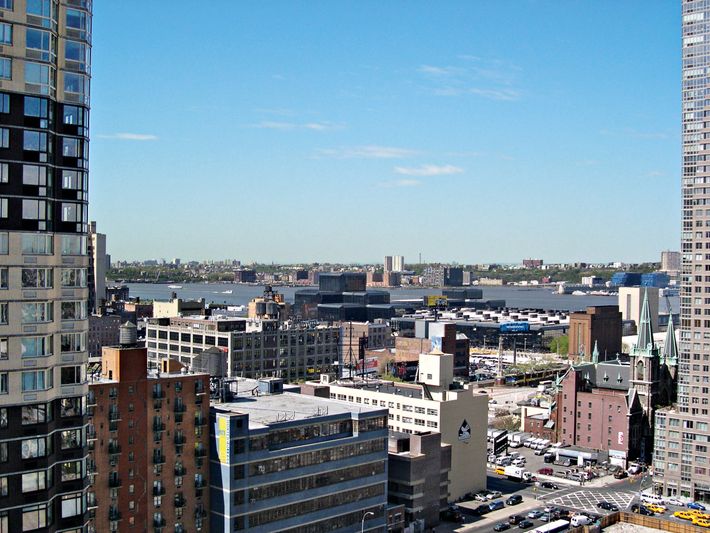 "When you live up in the sky like this, the sky becomes your friend. I wrote a song called 'Bye Bye Sky.' It starts out like this: '26 years of sunset, 26 years of sky, then along comes the man with his own giant plan, and bye-bye. Bye-bye, sky.' Anyway, I've lived here since 1984 — I'm on 43rd and Ninth, and I face the river — so when I moved here, the only other building obstructing my view was the sister tower. I live in a place called Manhattan Plaza and there's two towers and they're each 45 stories. So that was the only obstruction, and everything else was just sky and river. Little by little, these new buildings have kind of invaded the space. The really bad one was this big building called MiMA. And there's another building now that really cut off a big chunk of my southern view of the river, so I'm kind of getting closed in. You do sort of feel like you're slowly being buried by the buildings." —Jan Horvath, midtown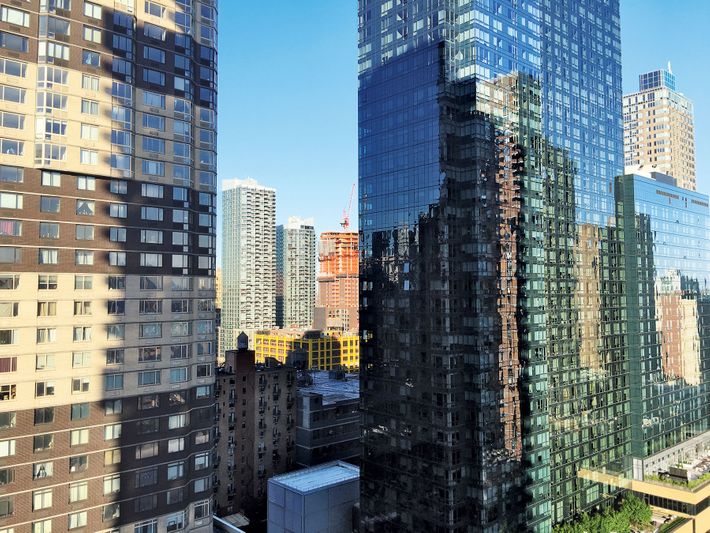 *A version of this article appears in the June 27, 2016 issue of New York Magazine.