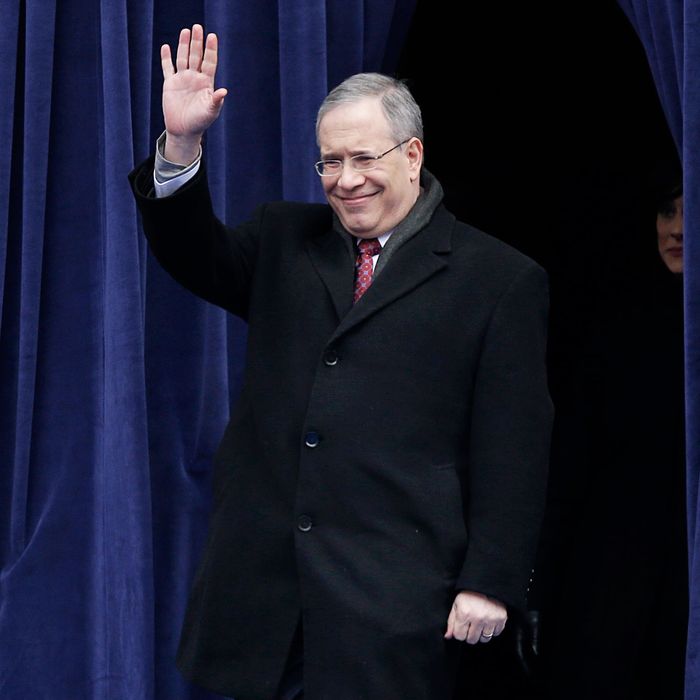 Hi. Would I have your vote?
Photo: Seth Wenig/AP
Mayor Bill de Blasio is facing at least a half-dozen federal, state, and local investigations into his fundraising, accompanied by ugly headlines and the lowest approval ratings of his tenure. Last week's arrest of Norman Seabrook, the powerful head of the city's corrections officers' union, on federal corruption charges in a case involving a de Blasio fundraiser, only crystallized what more and more New York Democrats are starting to believe: With next year's election looming on the horizon, the progressive mayor is becoming vulnerable to a primary challenge.
While a few prominent local politicians are toying with the idea, it's City Comptroller Scott Stringer who seems to be getting the most serious about taking on de Blasio. He held a fundraiser on Tuesday night and is quietly assembling a campaign team. Elected to his citywide post in 2013, Stringer has talked up the possibility of challenging de Blasio to several Democrats over the last two months, and his chief of staff has approached at least one veteran Democratic operative about signing on to a potential bid next year.
"Stringer sees that de Blasio is weaker and more vulnerable than ever before because of the multiple scandals facing City Hall," said a party insider familiar with Stringer's thinking. "That's why it's no surprise Stringer's political team is reaching out to consultants and operatives to gauge their interest about a 2017 mayoral bid."
A range of Democratic sources who are aware of Stringer's plans say he is the most hungry among a group of potential challengers that also includes Bronx borough president Rubén Díaz and Rep. Hakeem Jeffries. Stringer has more than $1 million in his campaign account, according to the latest filings. De Blasio has about $890,000 in his 2017 account, and may not be able raise cash as readily as a typical incumbent, given his investigatory woes. (Still, he is set to hold a slew of fundraisers over the next few months.)
At first glance, Stringer, 56, doesn't seem like de Blasio's most obvious primary challenger. He's liberal, but lacks an overarching policy vision. During his eight-year tenure as Manhattan borough president, he was known for his wonkish attention to community boards and transit. Like his ambitious predecessors in the comptroller's office, he has antagonized the mayor; but Stringer hasn't brought the kind of political flair to it that, say, John Liu did. However, Stringer has gotten into the mix of officials scrutinizing de Blasio's conduct, having opened an inquiry into a dubious, City Hall–approved Lower East Side land deal that may turn a former facility for AIDS patients into luxury condominiums.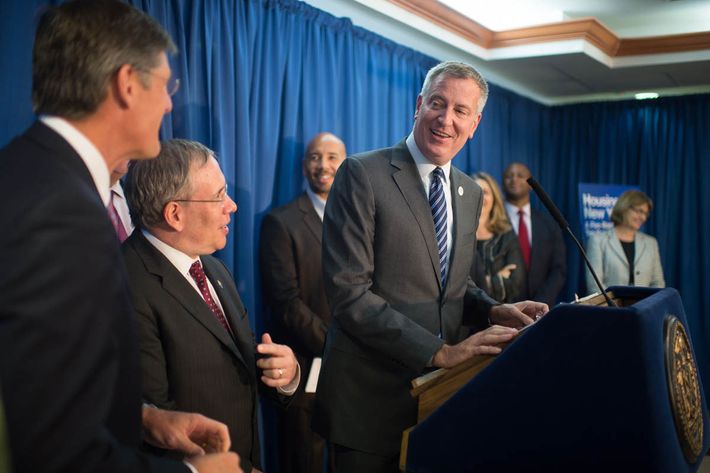 Chatter in Stringer's orbit intensified after a May 24 Quinnipiac University poll showed de Blasio with a dismal 41-percent approval rating, the lowest of his tenure. In a head-to-head matchup with Stringer, de Blasio only led 37–36 percent. The bad news for the comptroller was de Blasio's commanding 53–24 percent lead among the Democrats who will decide the primary outcome — but this didn't tamp down any talk about what an aggressive campaign against a damaged de Blasio would look like.
Stringer's allies say a road map to defeating de Blasio begins with winning over as many disenchanted whites as possible, particularly affluent Democrats in Brownstone Brooklyn and the Upper West Side. Stringer, an Upper West Sider, can likely do this. To get traction in vote-rich, predominantly black neighborhoods in central Brooklyn and southeast Queens, Stringer would need to harness dissatisfaction with de Blasio's record on police reform and housing. While stop-and-frisks have drastically declined under de Blasio, many minority activists feel he hasn't done enough to hold NYPD officers accountable for killing unarmed black men. De Blasio's affordable-housing plan, while ambitious, will rezone large swaths of the city and possibly hasten gentrification in East New York and around Jerome Avenue in the Bronx. Stringer has been a fierce critic of de Blasio's housing policies, but has yet to make his mark on policing.
Those close to Stringer imagine a campaign crafted around an image of a Democrat who can get things done, a liberal reformer who touts that he is corruption-free. De Blasio once dismissed the idea of being a "pothole mayor" and took jaunts to Iowa to burnish his liberal credentials; Stringer, a former state assemblyman, would promise to be less aloof. Aides have already speculated about promoting Stringer's Washington Heights roots and the little-known fact that he grew up with a Puerto Rican stepfather.
At the moment, Stringer probably simmers with more City Hall ambition than Díaz or Jeffries. Díaz genuinely enjoys being Bronx borough president and could mount a serious mayoral bid in 2021 when de Blasio will be term-limited out of office, or even run for comptroller if Stringer challenges de Blasio. Jeffries is a top Hillary Clinton surrogate with an interest in climbing the Washington, D.C., ladder. Stringer was running for mayor in 2013 until a crowded field and sagging poll numbers forced him to take the consolation prize of city comptroller. He only kept it after surprising many political observers by besting Eliot Spitzer, the disgraced former governor known for his burning intellect, in a vicious primary.  
This doesn't mean Stringer will ultimately take the plunge. Those who know the comptroller say he is waiting to see how the various investigations into de Blasio's fundraising for State Senate candidates, his interactions with anti-horse carriage donors, and an alleged straw-donor scheme play out — and whether the mayor's poll numbers take a further hit.
"Stringer's the most politically active guy of the group looking to run next year," said Bradley Tusk, who managed Michael Bloomberg's 2009 reelection bid. "He probably occupies the right space in that he is liberal enough that he won't be off-putting to labor — and he can win business support."
Tusk, who is unaffiliated with Stringer and has made it known he wants de Blasio dethroned, released a poll last week that showed de Blasio in an effective tie with Stringer, leading 41–40 percent. Tusk is also working with the Patrolmen's Benevolent Association to find a candidate to run against the mayor. The PBA has met with Stringer and Díaz in the past two weeks, according to The Wall Street Journal. (The Journal's Josh Dawsey also first reported the Stringer fundraiser on Tuesday night.)
One advantage Stringer has over Díaz and Jeffries is a large orbit of loyalists in the public and private sector that has been privately compared to a "Ready for Hillary" operation. They include Audrey Gelman, his former press secretary; Micah Lasher, attorney general Eric Schneiderman's former chief of staff and a candidate for State Senate on the Upper West Side; Amy Rutkin, Rep. Jerry Nadler's chief of staff; and Camille Joseph, deputy comptroller for public affairs and Anthony Weiner's former campaign manager. Any 2017 bid would also likely involve Anson Kaye, a Hillary Clinton ad-maker and top strategist on Stringer's comptroller campaign. At the center of it all, there's Sascha Owen, Stringer's current chief of staff and former campaign manager.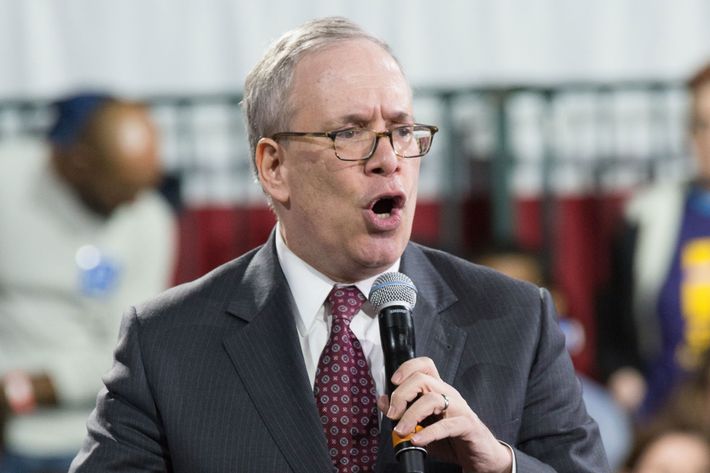 There are real risks to running against de Blasio, and he still could draw no significant Democratic challengers. As an incumbent, he boasts higher name recognition than Stringer, and he remains close to the powerful labor unions who determine the course of many municipal elections. Unless de Blasio is gravely weakened, his labor allies are unlikely to defect and will unite against Stringer. The stakes are high — if Stringer were to challenge de Blasio next year and lose, he'd be out of a job and a pariah in de Blasio's New York.
"Mayor de Blasio expanded pre-K for every 4-year-old and raised wages for tens of thousands of workers. Crime is at record lows, jobs are at a second high, and New York City is building affordable housing at a record pace," said Dan Levitan, a spokesperson for de Blasio. "Those are the results he will be judged on, and that is what his reelection campaign will be about."
A spokesperson for Stringer declined to comment.