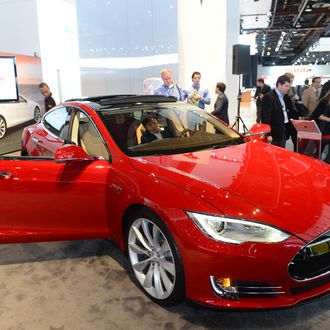 A Tesla Motors Inc. Model S.
Photo: Stan HondaSTAN HONDA/AFP/Getty Images2013 AFP
The U.S. National Highway Traffic Safety Administration has opened a preliminary investigation into the Tesla Model S sports car, after a vehicle using its self-driving "Autopilot" feature crashed and killed its driver in May.
According to Reuters, the NHTSA is investigating the "design and performance" of the Model S's Autopilot system, which could lead to a recall of the 25,000 vehicles already on the market, if it finds that the vehicles are unsafe.
In the accident, which took place on May 7 in Williston, Florida, a tractor-trailer made a left turn in front of the self-driving car at an intersection of a divided highway with no traffic light, the Associated Press adds. In a blog post commenting on the news, Tesla indicated that the crash had happened due to an unusual set of circumstances. "Neither Autopilot nor the driver noticed the white side of the tractor trailer against a brightly lit sky, so the brake was not applied."
"The high ride height of the trailer combined with its positioning across the road and the extremely rare circumstances of the impact caused the Model S to pass under the trailer, with the bottom of the trailer impacting the windshield of the Model S," the company said. Tesla also said the vehicle's crash-safety system "would likely have prevented serious injury" had the Model S collided with a different part of the trailer.
The Autopilot system requires the driver to keep two hands on the wheel at all times, Tesla noted in its statement, and reminds drivers when it is engaged to be prepared to take over at any time while the self-driving system is operating. "Autopilot is getting better all the time," the company wrote, "but it is not perfect and still requires the driver to remain alert."
The Florida Highway Patrol identified the driver who died in the crash as Joshua Brown, 40, of Canton, Ohio, a former Navy SEAL who went on to found a technology-consulting company, according to the New York Times. The company described him as "a friend to Tesla … who believed strongly in Tesla's mission."
The NHTSA is close to releasing a set of guidelines and regulations regarding the testing of self-driving vehicles on public roads, the Times adds. Administrator Mark Rosekind has said automatic systems need to be "two times better" than human drivers to incur a safety benefit from switching to self-driving cars.