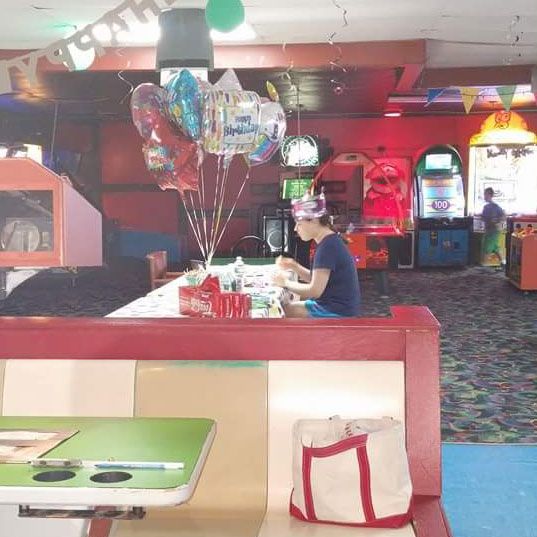 If the story of PawPaw, the lonely hamburger-eating grandpa turned meme, made you cry, you might want to bust out your tissues now. Last year, a then 18-year-old from Maine named Hallee threw a birthday party for her friends at a bowling alley. Except not a single one of the people she invited showed up, which was, understandably, devastating.
To make sure Hallee has a great time this year, her cousin is asking people to send Hallee cards to celebrate her 19th birthday. The cousin, Rebecca, posted a picture of Hallee, alone at last year's party, explaining the situation. It's already been shared more than 150,000 times on Facebook, with plenty of comments from people promising to send cards and even gifts. (Rebecca later updated her post letting people know gifts were unnecessary.)
This is my cousin Hallee. I'd like to tell you a little bit about her… First off, she is a beautiful young woman-both inside and out. She lights up a room with her smile.Hallee is funny, sweet, caring, smart, an athlete, a jigsaw puzzle champion, a wonderful student, and a best friend to all. Hallee is an amazing person-a person I am proud to be related to. She is also a person who just happens to have Autism. She has never let that small detail define who she is as a person-which is why I refuse to use it as something to describe her. A fun fact is that Hallee's Birthday is fast approaching! And this is where I have a favor to ask of all of

you….I would love to flood her mailbox with birthday cards, from all over! Hal loves getting mail- this would be the best birthday gift she could ask for. If you could find it in your heart to take a few mins out of your day and send her a card, I would be forever greatful. This would mean a lot to her mother as well, for as you can imagine, watching your child cry into her birthday cake breaks your heart. If there is anyone who deserves a great birthday, this is the

 

girl.
If you're feeling inspired to wish Hallee a happy 19th, you can find the address to send cards here. Once you stop crying.