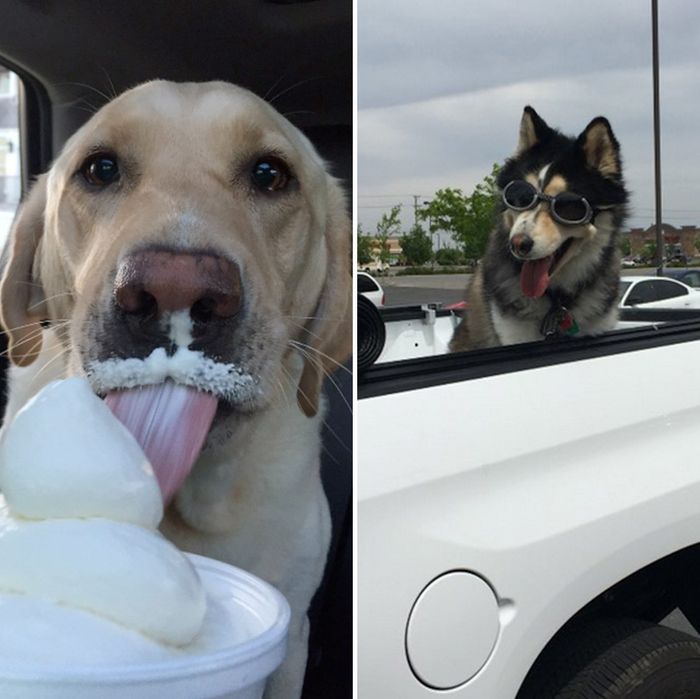 Photo: @Jose_Snatched, @bellahdaid, @mount_alex3
This has been a trying week for our beloved internet. The highly anticipated Instagram algorithm apocalypse happened. Myspace got hacked. Tumblr got hacked. The Tribune Publishing Company got hacked. I'm sorry, I meant to say the Tribune Publishing Company got rebranded … as Tronc. All in, it's been a bleak few days and I, for one, am stunned we made it out the other side.
Thankfully, there remains a great, furry hope for saving the web from destroying itself with garbage content. So, in no particular order, may I present the only good things that happened online this week: Dogs.
First up, we have this little guy who is clearly the salsa king of whatever pet store he is currently chilling at. (Side note, if you know where Select All can purchase this dog, please let us know.)
Next on the roster, we have this dog wearing goggles. Which needs no other editorializing, because it is a dog wearing goggles.
Find someone who looks at you the way this dog is looking at ice cream.
And finally, let this dog chilling on a pool float calm your inner demons.
If you are still not feeling better about the state of the digital world, you can head over here and read this excellent interview with a founder of the Old Friends Senior Dog Sanctuary, the "last pure place online." If that doesn't make you feel happy to be alive, you are probably already dead.