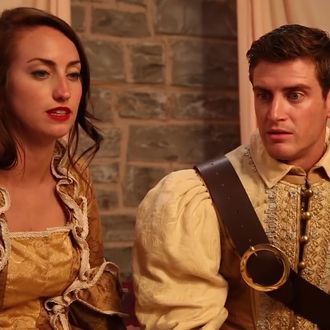 Last week, two members of BuzzFeed's video team were fired for reportedly violating non-compete clauses in their employment agreements. According to Politico, Jenny Lorenzo and Brittany Ashley were let go because they appeared in a non-BuzzFeed web series, "Gente-Fied," produced by America Ferrera and focusing on Latinx experiences.
As the news trickled out, people formerly affiliated with BuzzFeed's video department — officially known as BuzzFeed Motion Pictures — spoke out, criticizing the company for its use and enforcement of non-compete clauses.
The two employees who left had little to say about leaving BuzzFeed, almost certainly due to strict non-disclosure agreements.
The use of non-competes at BuzzFeed is unsurprising: Such clauses are common at other start-ups, where they usually cover programmers and engineers. According to Politico, Buzzfeed's non-compete clauses prevent "work for companies considered to be competitors for three months after leaving the company" (and presumably, while on contract with BuzzFeed). But Politico's sources say that "the non-compete clause is enforced unevenly by management, and that the agreement is vague about what constitutes as a competing project."
BuzzFeed has put a lot of effort into building its performers into bona-fide internet celebrities, complete with rabid teen fandoms. It's signed contracts with some of its top talent to keep them in the BuzzFeed farm system while also letting them incubate their own ideas. But unlike the Hollywood system that BuzzFeed is trying to both leverage and usurp, BuzzFeed's talent doesn't have union protection.
And it's young. For many employees, BuzzFeed is a chance to get a lot of recognition quickly and easily — but in exchange, they're signing away pretty much everything. Not just the creative work they do for the company (which is fairly standard), but also their names and likenesses. A quick Facebook query pulls up dozens of pages not just for BuzzFeed brands like Tasty, but also BuzzFeed video personalities, some of them for people who have long left the company. BuzzFeed still controls the page for above-quoted Gaby Dunn, referring to her as an alumnus and using her likeness. Not much has been done with it since May of last year, but the page has more than 122,000 fans that BuzzFeed could easily convert into an audience if it so chose.
Exactly what BuzzFeed offers these creators in return is unclear, as the terms of the deals are not public. Its young millennial workforce is compensated in free snacks, cool factor, swag, celebrity photo ops … and just enough money to pay the rent. Which is a good reason to take a side gig in the first place.