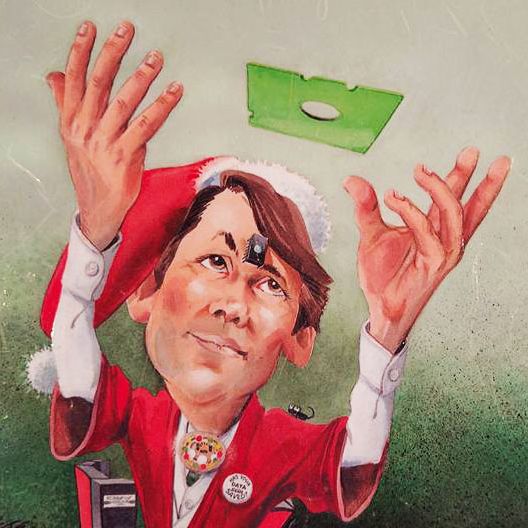 Photo: Saint Silicon/Facebook
In the beginning there was the Nerd, and the Nerd was God …
Three decades before HBO's Silicon Valley satirized geeks and their dreams of fortune-building, world-saving technology, there was St. $ilicon, the prophet and sole apostle of C.H.I.P., the Church of Heuristic Information Processing. Created in 1985 in a burst of inspiration by Jeffrey Armstrong, a street poet, religious scholar, and onetime celibate monk turned tech executive and comedian, St. $ilicon was once as ubiquitous among computer enthusiasts as eight-inch floppy disks. Today, he's nearly as obscure.
At the height of his renown, Armstrong donned vestments, glued a microchip to his forehead ("in the third 1/0") and presented St. $ilicon's pun-filled "DOSpels" to crowds numbering in the thousands at COMDEX in Las Vegas. Armstrong would end his sermons by saying, "Remember folks, if everyone lit just one cursor, what a bright world this would be." Back then, he was fond of calling himself "the world's first high-tech computer comedian — except IBM."
Geeks the world over ate up St. $ilicon's shtick like so much astronaut ice cream, sending Armstrong letters by the boxful. Armstrong was profiled by The Wall Street Journal, USA Today, and the New York Times and photographed in all his beatitude. He was paid thousands of dollars to perform at corporate gigs for companies like Apple, IBM, and Hewlett-Packard, where he preached the word of the G.O.D. (a.k.a., the Giver of Data). He met everyone from Steve Wozniak and Steve Jobs to Bill Gates.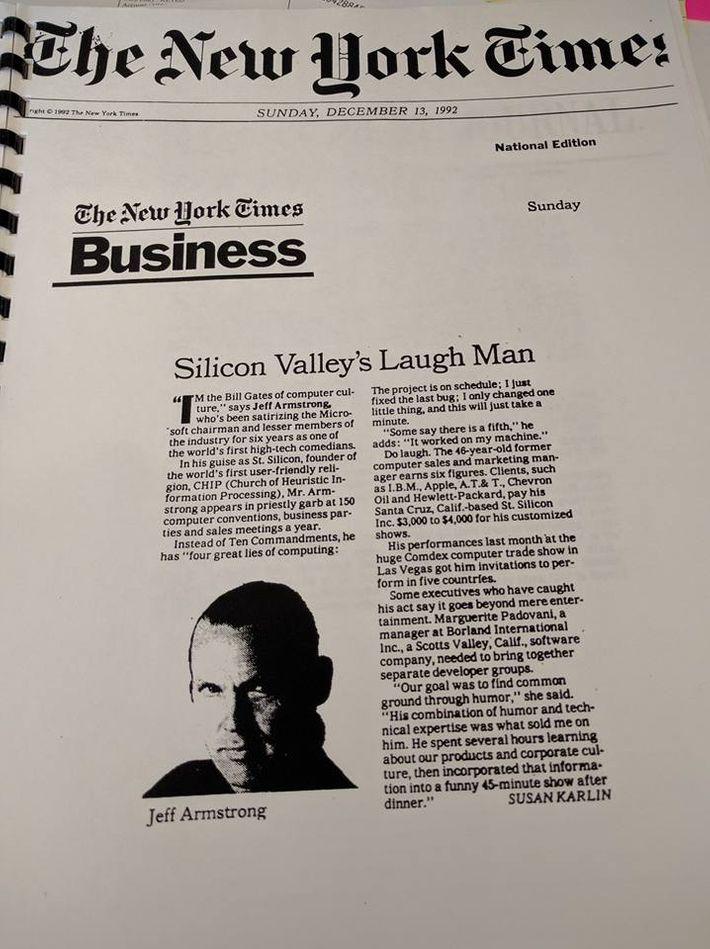 In 1987, Armstrong published The Binary Bible, an omnibus of prayers, nursery rhymes, and commandments like "Thou shalt not covet thy Neighbor's System" that St. $ilicon had "translated from the Old Geek." Some of the jokes don't age well, like the ones about the Mexican version DOS called "DOS Equis" and Swedish one called "Häagen-DOS," but copies can still be found on Amazon.
Then, just as computers moved into every home (and later every pocket and onto many wrists) and their creators attained godlike status, a funny thing happened to St. $ilicon. The founder of the world's first tech religion, and his avatar, Jeffrey Armstrong, disappeared.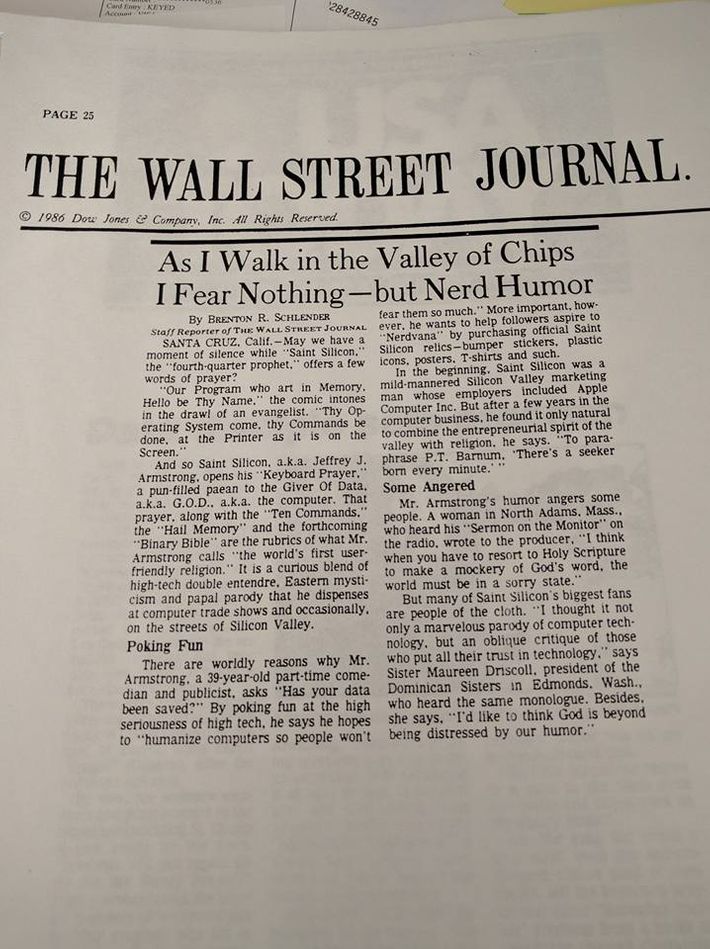 "St. $ilicon worked for me for the ten years I did it," Armstrong told Select All recently via Skype. "It had its run. I would've ended up as Father Guido Sarducci: A niche comedian whose niche finally ended." He said that no one had contacted him about St. $ilicon in 20 years; his wife and partner, Sandi, set up a Facebook page only after our interview.
"Bringing this back is really messing with the matrix," Armstrong says.
Today, Armstrong is a 69-year-old spiritual teacher and astrologer living in Vancouver, British Columbia. His current life as the founder of the Vedic Academy of Sciences and Arts is the result of a vow he'd made to himself in his 30s that by 50 he'd devote himself full-time to spiritual teaching. Far from being a departure from his decade as a geek comedian, Armstrong, who spent five years sleeping on the floors of ashrams while seeking enlightenment through Krishna Consciousness in his 20s, sees his teaching as essentially the same as his time as St. $ilicon. "I'm actually an entertaining guru," he says. Like St. $ilicon, he sees himself as "serious and funny; playful and poetic; philosophical and truth-telling" all at once. "Edutainment is the best way to teach serious things."
Armstrong hasn't seen a single episode of Silicon Valley, but he continues to observe the incursions technology makes into our lives. Back when he was a salesman for Apple Computers in the Middle East ("I was Henry Kissinger on behalf of Apple Computers") and a consultant and executive at other tech companies, Armstrong had a vision of the future. It was not good.
"It was really clear to me that we were going down a road that was really wrong," he says. "The wrongness of the road wasn't technology per se, it was the mindless and thoughtless acceptance of technology … No one was even thinking or talking about it," he says.
"I realized it in a blinding flash that they were doing it the way people join a religion: Blindly, and with blind faith."
In 1987, he told a reporter from the Associated Press, "I would like to think that I help heal the wound created by excessive technology." Today, we are all the walking wounded, adhering to the notifications of our phones more closely than our own vital signs. And while there are tech critics of all sorts, from VR pioneer Jaron Lanier to the Digital Detox's Levi Felix, few are addressing it with the lightness of touch found in The Binary Bible or St. $ilicon's sermons to his "DOSciples."
Here's what Armstrong sees when he surveys the current tech landscape:
Twitter: "Twitter produces twits."
Facebook: "In-Your-Facebook is what I like to call it."
Virtual Reality: "I wish it had virtue."
Internet Porn: "It's almost like an army that's trying to invade."
Apple Watch: "The fact that Apple of all people has made a wristwatch so that drones can find you is not the Apple Computers I worked for, let me put it that way."
Sometimes he imagines it's time for St. $ilicon to return as "the Fourth Quarter Prophet" and offer wisdom — or at least some wisecracks — for humanity. "I am perhaps the last person screaming Do you know what you're doing?" He says. "I was doing what religious prophets did."
For now, St. $ilicon lives in boxes, where Armstrong has saved "a couple hundred hours of audio and video" of his performances and interviews. He says he has 300 letters to St. $ilicon (as well as his responses). "I lost interest and everyone was self-interested. At a certain point it just stopped."
"The only way for St. $ilicon to come back is if there were enough people in the world to get religion," he says. "They would have to realize that the G.O.D. did not give technology to displace and destroy the planet but to lead us to the future."
Amen.