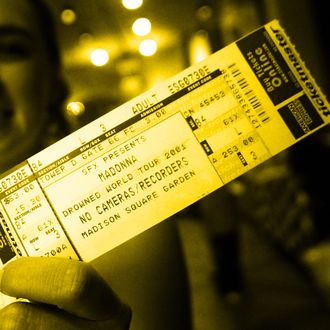 Photo: Mario Tama/Getty Images
On Friday, the New York State Assembly made it just slightly more difficult for ticket scalpers to hoover up tickets the minute they go on sale, a perpetual nuisance that has plagued anyone who has ever tried to get a ticket to Madison Square Garden.
According to a press release from Assembly Speaker Carl Heastie:
Under the proposal, civil penalties would be increased and expanded to include any individuals who knowingly resell or offer to resell tickets that were purchased with ticket bot software. The measure would also classify the use or control of ticket purchasing software and the reselling of such tickets as a class A misdemeanor, which could result in imprisonment and

 

fines.
The New York State Senate has already passed a similar measure, leaving Governor Cuomo to sign the new regulations into law.
Ticket bots have become such a problem that state Attorney General Eric Schneiderman commissioned a report on the issue, revealing widespread bot usage. In 2013, a single bot bought 520 Beyoncé tickets in three minutes, presumably flipping them at a much higher resale value. Another bot bought more than 1,000 U2 tickets in less than a minute, likely because it lacked the artificial intelligence and machine-learning capabilities to understand that U2 sucks.
Just this past month, Hamilton maestro Lin-Manuel Miranda wrote an op-ed for the New York Times calling out bot problem, writing that, "You shouldn't have to fight robots just to see something you love." Though honestly, that seems like a pretty good alternative to paying $2,500 for a ticket to some rapping presidents.