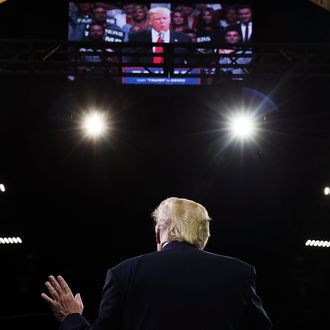 Will Trump need Christian conversion therapy?
Photo: Spencer Platt/Getty Images
Donald Trump may have recently become a born again Christian, according to conservative Evangelical leader and Focus on the Family founder Dr. James Dobson. Politico notes that when Dobson was asked about his recent meeting with Trump in an interview, he indicated that he knew "the person who led [Trump] to Christ. And that's fairly recent." Dobson, who has not been much of a fan of Trump in the past, seems more convinced now, adding that, "I believe he really made a commitment, but he's a baby Christian. We all need to be praying for him."
Trump has, of course, had some issues convincing leaders of the Christian right that he was authentically Christian enough in the past, from his long history of adultery and divorce, to messing up Bible references at events full of Bible scholars, to memorably wondering, "Why do I have to repent or ask for forgiveness, if I am not making mistakes?" Just this past week, around the time Trump was suggesting that opponent Hillary Clinton wasn't Christian enough, he posed for a picture with Jerry Falwell Jr. in front of his framed Playboy cover.
Now it should be noted that, as Trump likes to remind conservative Evangelicals, he has still done pretty well with conservative Evangelicals in the voting booth, who have seemed to overlook the many un-Christian things Trump likes to say and do in favor of backing a self-proclaimed winner for the White House. Nonetheless, so far Trump has not been able to win much in the way of endorsements or promises of organizational support from Evangelical leaders, but that may change if they believe Trump has truly begun, in Dobson's words, "a relationship with Christ," ahead of the mogul's long awaited pivot to the general election, and especially if they believe they can help escort him from "baby Christian" to "adolescent Christian" or more after he gets to Pennsylvania Avenue.
As pastor Michael Anthony, who conducted the interview with Dobson, noted in his post about the revelation, "If God gets a hold of Trump, it won't be the first time people didn't believe it. It won't be the first time that a terrible person who lived completely against Christ, came to know him."