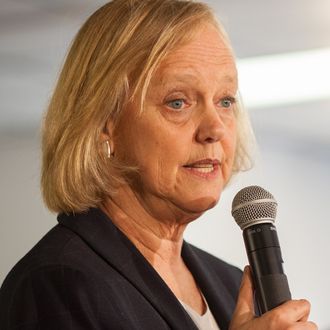 Meg Whitman apparently read Paul Ryan the riot act.
Photo: Matthew Cavanaugh/Getty Images
This weekend's Mitt Romney–hosted Experts and Enthusiasts summit in Park City, Utah, has gone from ideas festival to Trump-angst conference, according to attendees who spoke with Politico and other news organizations. The annual five-star, press-free retreat plays host to hundreds of GOP donors and strategists, all from Romney's fundraising Rolodex, and many of whom remain none-too-pleased with the Party's nominee this year. A large number of these donors, who helped raise over a billion dollars for the 2012 campaign, are clearly still holding true to Romney's #NeverTrump ideals and refusing to support the candidate, while others seem to be at least trying to will themselves into Paul Ryan's #LukeWarmTrump mindset. Meanwhile, others are already focusing solely on down-ticket races, or the 2020 race, or even leaning toward Hillary Clinton. None of this bodes well for the Trump campaign's already lackluster fundraising efforts, if you can even call Trump's presidential campaign a campaign at this point. Indeed, CNN reports that many donors at the retreat were talking openly about how immature and overmatched the Trump campaign's four-week-old fundraising operation was, especially when compared with the well-established Romney machine.
During an off-the-record Q&A with Paul Ryan at the summit on Friday, billionaire GOP donor and Hewlett Packard CEO Meg Whitman reportedly lit into Ryan over his endorsement of Trump, who she likened to Hitler and Mussolini. ABC News reports that she even posed the question, "Is it not reasonable to support Hillary Clinton?" in light of Trump's various offensive remarks, while former CNN anchor Campbell Brown asked Ryan how he would explain his support of Trump to a young child like her "dismayed" son. At another discussion, political commentator Ana Navarro not only called Trump a racist, but also a "vulgarian and a pig who has made disgusting comments about women for years."
With regards to the summit's Donald-despising host, Romney actually teared up at a Saturday morning Q&A when asked why he was so eager to reject Trump, noting that the mogul's derisive comments can't be left unanswered, and that "seeing this just breaks your heart," according to Politico. And that's after pro-Trump pragmatists like RNC chair Reince Priebus apparently spent hours trying to decrease tensions between Team Romney and Team Trump at the retreat, all in the hopes of paving inroads to the GOP donor class.
Good luck with that, as Romney's comments in a CNN interview on Friday demonstrate:
I don't want to see a president of the United States saying things which change the character of the generations of Americans that are following. Presidents have an impact on the nature of our nation, and trickle-down racism, trickle-down bigotry, trickle-down misogyny, all these things are extraordinarily dangerous to the heart and character of America.
Romney, who continues to reject the idea of running for president as an independent, acknowledged that he doesn't expect a viable alternative to become available to disaffected Republicans like himself, but he'll take a look at Libertarian candidate Gary Johnson. And though Romney expressed his annoyance that other GOP presidential candidates didn't fight Trump harder in the primaries, he also declined the opportunity to criticize fellow Republicans, like former running mate Paul Ryan, who are now supporting Trump. Others at the summit, like Meg Whitman, were far less understanding. Ryan is said to have looked uncomfortable when he was interrogated over his endorsement of Trump, but defended himself by reiterating that he is bound to the will of GOP representatives, many of whom hail from districts where Trump's support remains high. 
Either way, the anxiety over Trump was readily apparent, attendees reported. According to one fundraiser, in an informal poll during a summit session with some 250 donors, only about 20 percent indicated they would vote for Trump. Others seemed to be withholding support until they see evidence of Trump's long-promised pivot to the general and some kind of aversion to controversial statement-making. Said one fundraiser to the Associated Press: "I'm an optimist by nature, and I keep hoping and hoping and hoping that there will be a reason to support him."
Anthony Scaramucci, a top Romney fundraiser who is supporting Trump, has been trying to convince more donors at the summit to join his efforts, though he acknowledged to the Washington Post that attendees were "going nuts" over Trump's attacks on Judge Gonzalo Curiel. Scaramucci also offered a tortured Game of Thrones analogy to describe his predicament wooing Romneyites to Trump:
I feel like Jon Snow, trying to get the Wildlings to team up with the kings of the castles. Your father just got slayed by your uncle, whom you don't really like, and your uncle is now in charge. You've got the White Walkers descending from the north and they're coming to hunt you and all the living. What do you do? Do you fight with your uncle or band together and fight the White Walkers?
Said Spencer Zwick, Romney's former national finance chairman, of the Romney loyalists, "They would like to see a unified party, but if I hear anything consistently, it's country before party."
Summit visitors had at least one thing to be excited about, however. According to Politico, the prospective 2020 contenders in attendance, like Ryan, Scott Walker, and senators Tom Cotton and Ben Sasse, were apparently mobbed by enthusiastic donors.