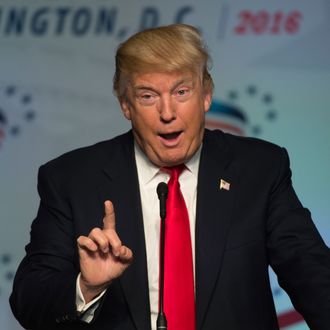 If you have to keep telling people you aren't racist, you're probably losing your presidential campaign.
Photo: Molly Riley/AFP/Getty Images
Donald Trump, who has repeatedly proven over the course of his presidential campaign that he likes to say racist things, once again defended himself against charges of racism by insisting that he is, in fact, "the least racist person you've ever encountered" in a Friday interview with the Washington Post. For proof of that, Trump pointed out that he has the support of controversial boxing promoter Don King, adding that, "This is Don King. Now, Don King knows racism probably better than anybody. He's not endorsing a racist, okay?" (Later Friday, King told the Daily News that he was not endorsing Trump.)
Trump also made the least-racist claim after repeatedly referring to Senator Elizabeth Warren as "Pocahontas" at a rally in Virginia on Friday, and had somewhat improbably called himself "probably the least racist person on Earth" toward the end of last year. It's not the first time he has cited individual black supporters as proof of that contention either. During a campaign rally in California on June 3, Trump sought to demonstrate his campaign's diversity bonafides by awkwardly pointing out a single black supporter in the crowd, proudly calling on attendees to "look at my African-American over here."
When asked by the Post on Friday if he was concerned that people might have the impression that he is a racist, Trump indicated that he was not, because "I don't believe that people believe it." Trump then further brushed aside the racism charge by suggesting it was all just campaign posturing:
[Y]ou know, only in a political campaign would people say things like that. But Bill Clinton was called a racist by Obama. Okay? And I don't believe he's a racist, but he was called a racist by Obama, and very loudly and very strongly. And to this day, Clinton, he is haunted by that, he hated that. And I do too, but I don't think people believe Clinton is a racist. I don't think they believe that I'm a racist.
The only problem with this new obfuscation is that Barack Obama has never called Bill Clinton a racist. While both Bill and Hillary Clinton made remarks during the 2008 primaries that some Democrats deemed racially insensitive, nothing either of them said comes even remotely close to the kinds of overtly racist comments Trump has repeatedly made over the past year. And Trump's assertion that Obama called Clinton a racist, let alone that he did so "very loudly and very strongly," is patently false. So it seems that Team Trump's new racism-defense strategy doesn't just include revising history, but making it up.