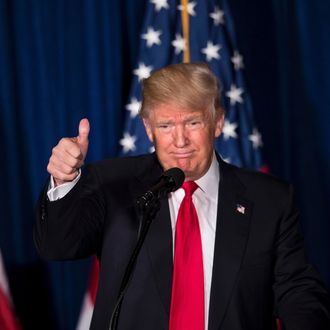 Huge in Iceland.
Photo: Brendan Smialowski/AFP/Getty Images
The good news for Republicans is that Donald Trump has finally started sending out fundraising emails. The bad news is that he's been sending them to the elected representatives of foreign countries.
After his minuscule May fundraising numbers, the presumptive GOP nominee has made an effort to extinguish the garbage fire that's consuming his campaign. He hired new staff and reassigned former campaign manager Corey Lewandowski to talking-points-spouting duty at CNN. He set up a fundraiser with a terrible beer company and generated some quick campaign cash by vowing to jail his general-election opponent upon taking office.
But he also inundated members of Parliament in the U.K., Australia, and Iceland with requests for illegal campaign contributions. On Tuesday, Talking Points Memo reported that a bunch of U.K. MPs have had their in-boxes clogged by Trump's "intemperate spam."
"Quite why you think it appropriate to write emails to U.K. parliamentarians with a begging bowl for your father's repugnant campaign is completely beyond me," Scottish MP Natalie McGarry wrote in response to fundraising solicitation from Donald Trump Jr. "Given his rhetoric on migrants, refugees, and immigration, it seems quite extraordinary that he would be asking for money; especially people who view his dangerous divisiveness with horror."
Scottish MP Stuart McDonald was similarly baffled.
And the Trump campaign didn't limit its appeals to regions of Great Britain where the mogul owns golf courses.
"Members of Parliament are being bombarded by electronic communications from Team Trump on behalf of somebody called Donald Trump," Conservative English MP Roger Gale said on Tuesday, according to Politics Home. "Mr. Speaker, I'm all in favor of free speech but I don't see why colleagues on either side of the House should be subjected to intemperate spam."
Trump's emails have also made their presence felt in the legislature of Iceland. Per the Iceland Monitor:
At least three prominent Icelandic politicians have received an e-mail from US presidential candidate Donald Trump asking for money to fund his campaign.

Leader of the Left-Green Alliance Katrín Jakobsdóttir was one of those to receive the e-mail yesterday afternoon, in which Trump pledged personally to match any donation made in the next 48 hours from his own pocket.

"I'm fighting back against Crooked Hillary and her pathetic cronies, as well as the dishonest liberal media, and I need your help," reads the e-mail.
According to Iceland Magazine, this message did not play well in the crucial swing district of Reykjavík North:
"I have no idea why he emailed me the letter," MP Guðlaugur Þór Þórðarson, a member of the Independence Party (Sjálfstæðisflokkurinn) and one of the email's recipients, told Morgublaðið newspaper.

Katrín Jakobsdóttir, head of the Left Green Party, received an email from Trump. "This whole matter is very perplexing. The letter left me speechless," she said.
Last night, Australian MP Tim Watts confirmed that the Trump emails have reached the Southern Hemisphere.
In sum: In an attempt to dispel the perception that his campaign is incompetent, Donald Trump violated U.S. election laws by soliciting donations from foreign nationals, while further diminishing himself in the eyes of key U.S. allies.
Let it burn.