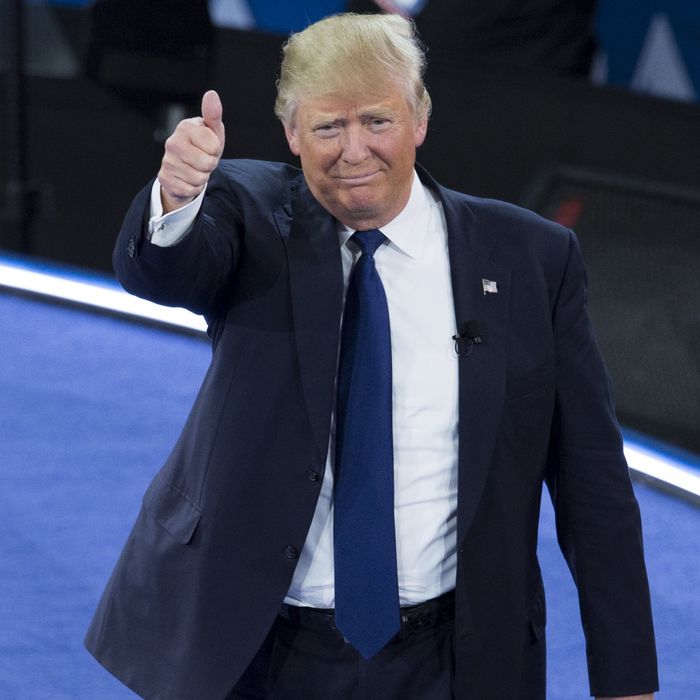 Trump before his AIPAC speech in March.
Photo: SAUL LOEB
Having made major progress toward unifying a hostile Republican Party, Donald Trump is now seeking to win over another skeptical constituency: politically conservative Jews. According to four sources briefed on the discussions, Trump is considering traveling to Israel sometime before the GOP convention in July to bolster his support among Middle East hawks. In February, the candidate lost the confidence of many Israel backers when he said he would be "neutral" in the Israeli-Palestinian conflict. His son-in-law, Jared Kushner, and associates of casino mogul Sheldon Adelson are organizing the potential tour, sources say. "This is a typical time frame when a general-election candidate has an opportunity to flex his foreign-policy muscles," one Trump staffer says. (Later this month, Trump plans to visit Scotland).
Trump sources cautioned that an Israel trip has yet to be finalized. The planning is delicate, and not only because Trump supporters have launched anti-Semitic online attacks on Jewish journalists who've covered Trump. In December, Trump canceled a planned visit to Jerusalem after Israeli prime minister Benjamin Netanyahu criticized Trump's call to ban Muslim immigration. According to sources, Trump was furious that Netanyahu didn't call him before issuing his statement (Trump's father, Fred, became friends with Netanyahu in the 1980s when Netanyahu served as a U.N. ambassador). Trump blamed Kushner for the debacle, telling him, "This was all your idea!" The candidate tweeted he would not meet with Netanyahu until he became president.

But since then, Trump has made wooing the Jewish community a priority. In March, Trump used a teleprompter for the first time while delivering a speech — written by Kushner and Observer editor Ken Kurson — to the AIPAC conference. Last month Trump welcomed a group of Orthodox Jewish journalists to his office at Trump Tower. He has also forged a closer relationship with Adelson since tweeting last fall that the other candidates in the GOP primary field were puppets of the conservative megadonor.
According to two sources, the Trump campaign has indicated to Adelson that Adelson's preferred choice for vice-president, Newt Gingrich, will be given a senior role in a Trump administration even if he doesn't get the VP nod. Adelson, of course, is one of Netanyahu's most vocal supporters. Yesterday, Politico reported Adelson advisers are in talks to set up a new pro-Trump super-pac.
Trump spokesperson Hope Hicks said there are no current plans to visit Israel.