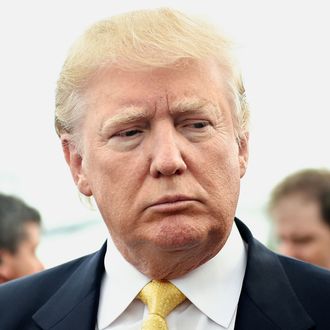 Poor Donald.
Photo: Andrew H. Walker/Getty Images
Donald Trump's chief qualification for the presidency is that he is a brilliant businessman — starting with nothing but his father's enormous wealth and industry connections, the mogul built an immensely profitable real-estate empire. Or, at least, an immensely profitable real-estate branding empire. Or, okay, maybe not immensely profitable — he probably would have made more money just putting his inheritance into an index fund — but, still, the man is a billionaire! Or, at least, he's a self-identified billionaire. We don't really know since he won't release his tax returns — and, for some reason, virtually every year he qualifies for a New York City tax break limited to residents who make under $500,000 in annual income.
Crain's first reported the mogul's repeated use of the New York State School Tax Relief Program (STAR) back in March. Since then, both Trump and the city have claimed that his receipt of the tax break was a mistake. But on Monday, the outlet reported that the GOP nominee's latest New York City property-tax bill, published June 3, shows that he collected the STAR credit once again.
There seem to be three possible explanations for this phenomenon: either Trump is far less wealthy than he claims to be, and thus has drastically mismanaged the fortune he inherited; or he is so profoundly greedy, he uses loopholes in the tax code to disguise his enormous income so as to qualify for a $304 tax credit; or someone in New York City's Department of Finance just loves giving Donald Trump very small and unsolicited tax breaks.
Until the GOP nominee releases his returns it will be impossible to determine which of these scenarios is closest to reality.