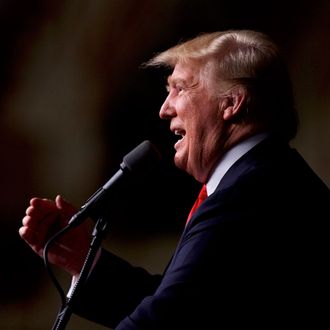 He's got something else in mind.
Photo: Mark Makela/Getty Images
On Monday, Donald Trump said that Barack Obama might "get" the threat posed by radical Islamic terrorism "better than anybody understands." This was not an endorsement of the president's counterterrorism strategy. Rather, the Republican nominee was allowing for the possibility that Obama's failure to defeat ISIS is not an accident born of stupidity but an act of treason born of the president's secret sympathies for radical Islam.
"We're led by a man who is a very – look, we're led by a man that either is, is not tough, not smart, or he's got something else in mind," Trump told Fox & Friends. "And the something else in mind, you know, people can't believe it. People cannot – they cannot believe that President Obama is acting the ways he acts and can't even mention the words radical Islamic terrorism. There's something going on. It's inconceivable."
Later, Trump disputed the idea that he had suggested President Obama might be complicit in ISIS terrorism. In fact, the GOP nominee found the notion so offensive, he revoked the Washington Post's press credentials after the paper published the headline "Donald Trump seems to connect President Obama to Orlando shooting." And yet, Trump reiterated his suggestion that the president might not want to win the War on Terror in a Monday night interview with Bill O'Reilly.
"Nobody knows why he doesn't have more anger, why he doesn't have more competitive zeal," Trump observed. "He's a competitive person. Why doesn't he have competitive zeal to knock them out?"
Now Trump has tripled down on the insinuation.
Here, the GOP nominee ostensibly quotes a supporter saying he was "right" about what he "may have insinuated" about the president, as evidenced by an intelligence document obtained by Breitbart. The conservative publication (turned Donald Trump fanzine) headlines its story "Hillary Clinton Received Secret Memo Stating Obama Admin 'Support' for ISIS." As a general rule, when Breitbart feels compelled to put a claim in quotes, one can assume that claim is patently false.
Contrary to Trump's insinuation, the memo does not outline Obama's plan to declare himself the caliph of the Islamic State West. Rather, the 2012 document merely notes that Al Qaeda in Iraq, one of the groups that evolved into ISIS, was a member of the Syrian opposition that "the West, Gulf countries and Turkey" were supporting at the time. The memo does not celebrate this (widely known) fact; it merely states it. The document offers no evidence to support the suggestion that Obama has "something else in mind" with regards to ISIS. On the contrary, it suggests that the administration's reluctance to intervene more dramatically in Syria was informed by concerns about the ideological orientation of the opposition forces.
Regardless, it's hard to interpret Trump's tweet as anything other than a confession that the darkest interpretation of his initial comments was correct — that he really did suggest Obama "supports" the Islamic State. That charge is unlikely to arrest Trump's polling free fall; a Bloomberg survey released Tuesday found 61 percent of Americans disapprove of the claim.
But the horse-race implications are beside the point. This is a profoundly dangerous suggestion for a major political figure to be making. If the president were actually an agent of a foreign enemy, imagine the sort of actions that would become justifiable. Or let the Republican nominee's former butler imagine them for you.