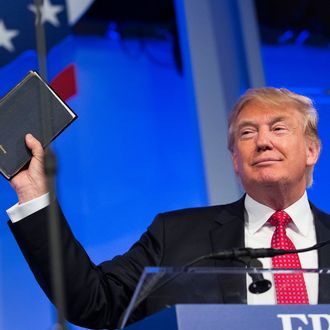 Trump attacks another politician's religiosity and somehow is not struck by lightning.
Photo: Drew Angerer/Bloomberg via Getty Images
Donald Trump knows he has a problem with his party's conservative Evangelical voters. So he's holding a private conference today in New York with as many conservative Evangelical leaders (perhaps a thousand) as he can lure into the trap. Tonight a very different group calling itself A Better America, which will also include some prominent religious conservatives, will convene in New York to proclaim its refusal to support Trump.
Trump's own closed-to-press clambake was apparently planned to let restive Evangelicals reassure themselves of Trump's fidelity to their secular goals through Q&A and discussions. The main session is being moderated by Mike Huckabee, with Franklin Graham offering the invocation. Details of what happened will eventually seep out, but one attendee — Bishop E.W. Jackson, a former failed Republican candidate for lieutenant governor of Virginia — leaked a brief video of Trump speaking to the assemblage and challenging Hillary Clinton's religiosity.
Speaking to a group of top social-conservative Evangelical Christian leaders at a gathering in New York City, Trump said, "We don't know anything about Hillary in terms of religion."
"Now, she's been in the public eye for years and years, and yet there's no — there's nothing out there," Trump said. "There's like nothing out there. It's going to be an extension of Obama but it's going to be worse, because with Obama you had your guard up. With Hillary you don't, and it's going to be worse."
That's a rather fascinating take on Clinton, since her particular form of Christianity — and her observant church attendance — have been well known for a very long time to anyone with ears to hear. Cathy Lynn Grossman summed it up last year:
As she embarks, again, on a presidential campaign, one facet of Hillary Clinton, 67, is unchanged across her decades as a lawyer, first lady, senator and secretary of state: She was, is and likely always will be a social-justice-focused Methodist …

As a girl, she was part of the guild that cleaned the altar at First United Methodist Church in Park Ridge, Ill. As a teen, she visited inner-city Chicago churches with the youth pastor, Don Jones, her spiritual mentor until his death in 2009.  During her husband's presidency, the first family worshipped at Washington's Foundry United Methodist Church, and Time magazine described her membership in a bipartisan women's prayer group organized by evangelicals.
Why isn't Clinton's religiosity a more prominent part of her public persona? She affects an old-school reticence about politicizing her faith.
Clinton's been known to carry a Bible in her purse, but, she told the 2007 CNN Faith Forum, "advertising" her faith "doesn't come naturally to me." Every vote Clinton made as a senator from New York, she said, was "a moral responsibility." When asked at the forum why she thought God allows suffering, Clinton demurred on theology, then swiftly turned her answer to activism: "The existence of suffering calls us to action."
Contrast that with Trump's evident bafflement over the very idea that he might need personal forgiveness from God, and you have to wonder what sort of standing he has to question her faith. Indeed, he offered attendees at the New York conference another glimpse of his actual views:
Trump on Tuesday also said that while it's important to pray for everyone, that those on hand shouldn't be "politically correct" by praying for the nation's leaders who are "selling the evangelicals down the tubes."
Without much question, the founder of Christianity, who demanded not only prayer for the whole human race but love for one's enemies, would be considered the very model of "political correctness" by Trump, the guy who wants to murder the innocent family members of terrorism suspects when torturing said suspects doesn't do the trick.