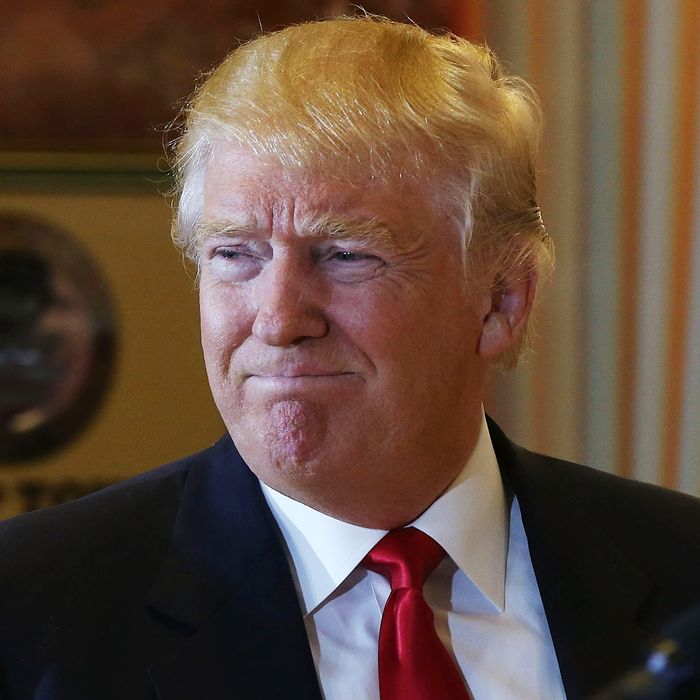 Coincidence?
Photo: Spencer Platt/Getty Images
At a press conference earlier today, Donald Trump lambasted the media for holding him accountable for his promises. The Republican nominee declined to attend a Fox News debate back in January, instead holding his own televised fundraiser for veterans. The fundraiser allegedly raised $6 million for veterans' groups (the actual amount turned out to be $5.6 million), with $1 million coming from Trump himself. But when Washington Post reporter David Fahrenthold started looking into which groups had received the money, he discovered that none had.
It took Trump until May 24 to donate the promised amount to the Marine Corps–Law Enforcement Foundation. (In an interview that day, Trump said he'd made the donation the day before, but according to the Associated Press, his check is dated May 24.) And in fact, most of the money from the fundraiser was distributed on May 24, the day the Washington Post published its story about the candidate's sluggish response time. And in most cases, the organizations that received the money had no idea it was coming.
"We received a check for $75,000 last Wednesday [May 25]," Sam Kille, the communications manager for the Bob Woodruff Foundation, told the Hill. "We were told a day before a check would be coming. We were pleasantly surprised when we opened the envelope — we had no idea how much it was going to be." Kille said the donation was all the more surprising because the foundation had no prior relationship with Trump.
The Woodruff Foundation wasn't the only organization to get a last-minute check; of the 41 organizations Trump said received the $5.6 million, the AP spoke to 30. Of those, about half said they'd received checks from Trump "just last week." And although some said checks had arrived in February, March, and April, the "biggest batch" was dated May 24, with several sent overnight.
At the press conference on Tuesday, Trump seemed to contradict this report. "Most of the money went out quite a while ago," he said. "Some of it went out more recently. But all of it has gone out."
But both he and his team have flatly denied that the Post's investigation had any influence on the timing of donations. Trump's communications director, Hope Hicks, said the team "worked very hard to complete this lengthy process prior to Memorial Day weekend." And Trump's rebuttal was even more direct: 
When asked Tuesday whether he had given the money this week only because reporters had been asking about it, Trump responded: "You know, you're a nasty guy. You're really a nasty guy. I gave out millions of dollars that I had no obligation to do."
So why was the "lengthy process" of mailing checks so arduous? "You have to go through a process," Trump told the Post. "When you send checks for hundreds of thousands of dollars to people and to companies and to groups that you've never heard of, charitable organizations, you have to vet it. You send people out, you do a lot of work."
Still, it shouldn't have taken until May 24 for the campaign to vet the Marine Corps–Law Enforcement Foundation — a group that gave Trump an award last year and with which he has such a close relationship that he evidently has the chair's phone number memorized. And somehow, even after taking about five months to "vet" charities, Trump still selected an organization that last year only spent about a quarter of its funds actually helping veterans.