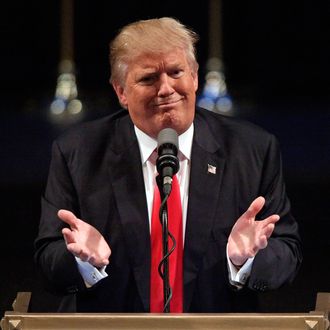 Philanthropist Donald Trump.
Photo: John Gurzinski/AFP/Getty Images
Everything Donald Trump does, he does for charity.
His bait-and-switch scheme of a real-estate school? A large part of its proceeds went to those in need. Same with his terrible vodka company, his branded board game, and his campaign book, Crippled America. Or so the GOP nominee has claimed. In truth, there is no evidence that a man who self-describes as "greedy, greedy, greedy" decided to run most of his business ventures like nonprofits. And that could put him in violation of New York State regulations on deceptive business practices and charitable solicitations, Politico reports.
"The profits of my book? I'm giving them away to a lot of different people, including the vets," Trump told reporters at a press conference in November, after making similar claims on the stump in Iowa and over social media.
Sales of the book provided Trump with more than $1 million in royalties, according to a personal financial disclosure filed with the FEC last month. But the Trump campaign has refused to disclose whether any of the book's proceeds went to charity as promised.
The GOP nominee is extremely good at taking credit for things. So it seems safe to assume that if he'd funneled his book profits into cancer research grants or mosquito nets we would have heard about it by now.
Thus, some legal experts and politicians are pushing New York attorney general Eric Schneiderman to prosecute the Republican nominee for deceptive business practices
"To the extent jurisdiction exists, it seems appropriate that the attorney general should examine whether Trump's fraudulent schemes extend to his book promotion activity," Democratic congressman Hakeem Jeffries told Politico.
The outlet reports that Schneiderman's office is aware of the allegations but has yet to decide whether to launch an investigation into the matter. Trump's campaign has already been dogged by ongoing lawsuits against his "university" and his racist attacks on the federal judge overseeing them.  
Trump's habit of bragging about charitable gifts that a better version of himself made in some alternate universe has been exposed several times in the course of his campaign. Early in his candidacy, Trump boasted about giving $102 million to charity in just the last five years. But when the Washington Post examined the candidate's 96-page list of contributions, they couldn't find a single cash gift delivered from Trump's own pocket. Rather, the mogul's largesse consisted of:
1. Donating rounds of golf at his courses, a gift bestowed on such needy recipients as Trump's clients, business partners, and Serena Williams.
2. Conservation agreements in which Trump promised not to develop pieces of land on properties he owned in exchange for federal tax write-offs. According to the Associated Press, city-planning documents establish that, in at least one such case, Trump had no intention of developing the land in question. Thus, his "gift" was merely deciding to pursue a possible tax break for himself.
3. Funneling other people's actual cash donations through his personal foundation.
In May, the Post discovered that Trump still hadn't made the $1 million gift he had promised veterans groups at a January fundraiser. After a bout of negative press, Trump wrote the checks and then shamed the media for robbing him of the chance to give anonymously.