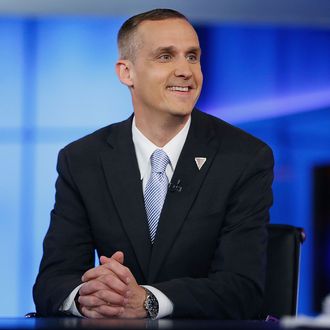 Clear eyes, full heart, can't lose.
Photo: John Lamparski/Getty Images
Dry your eyes, America — Corey Lewandowski is going to be okay! Donald Trump's (former) campaign manager was fired Monday for his part in fueling a five-alarm dumpster fire. Then, immediately after security escorted him out of Trump Tower, Lewandowski made a beeline for CNN's midtown studio. This turns out to have been an apt metaphor for the political strategist and infamous arm-grabber's career trajectory.
Politico reports that CNN has hired Lewandowski as a political commentator. There are some obvious pros and cons to employing Trump's former right-hand man as a talking head. On the plus side, few people on this planet have better insight into the GOP nominee's campaign. On the downside, Lewandowski may be contractually obligated to say nothing negative about his former boss. Also, most of Lewandowski's former co-workers seem to remember him as one remembers an old nightmare. Oh, and he committed low-grade battery against a journalist earlier this year, then called her delusional for accusing him of doing so.
That said, Trump surrogates (who can speak in complete sentences) are in short supply. From here to November, cable networks are going to need the pro-Trump viewpoint represented, and there are very few Republicans willing to serve that role.