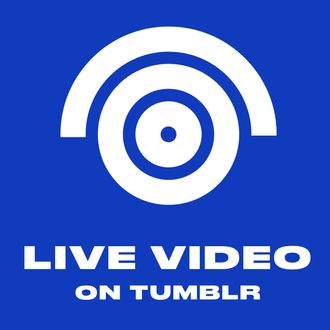 Live video, maybe you've heard of it. It's one of the hottest things on the net right now. Facebook: "Live video." Google: "Live YouTube." Amazon: "Twitch." Twitter: "Periscope." Now Tumblr has also decided that live video is another great vector for its user base of deku scrub otherkin and sapiosexual lupine tweens to express itself.
There aren't a whole lot of details, except that the service launches tomorrow and … that's kinda it. Check out this GIF!
Another post on the blog teases a streaming schedule, appearing to coincide with other Tumblr promotional events such as their regular Q&A series Answer Time.
According to TechCrunch:
Subsequent blog posts tease several of these upcoming streams, including things like a live broadcast from the surface of Mars, a Q&A session with Adam J. Kurtz, a basketball lesson from a Harlem Globetrotter, and some designed-to-go-viral events, like the odd announcement: "We will inflate a very big thing in a very small

 

room."
These are not, as should be apparent, publishing tools. It's not clear whether users will also, or eventually, be able to broadcast live.
Imagine this question, submitted to a Tumblr user, in the former of a live video though.
Who knows what'll happen? We'll find out tomorrow.