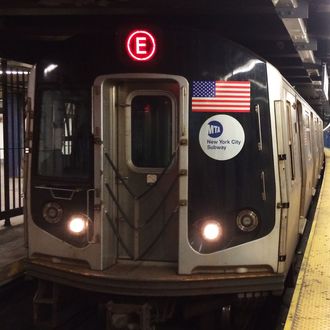 Photo: Eileen O'Donnell/Getty Images
This is a gruesome coincidence: Two people were hit by trains in the West Village at 14th Street subway stations Thursday night, at around the same time. A 36-year-old woman fainted and fell onto the 3 train tracks at 14th Street at about 9:20 last night, while a 23-year-old male victim tumbled onto the E tracks at the 14th Street stop at Eighth Avenue. 
The woman was hit by a southbound 3 train; police do not know how long she lay on the tracks. She is reportedly in very, very bad shape, and doctors had to amputate both of her legs. The man who fell was conscious and tried to lift himself back onto the platform. He could not climb back up before the train pulled into the station, and his legs were jammed between the train and the platform. The man had to be freed by emergency crews, reports NBC 4. He's hospitalized but said to be in stable condition.