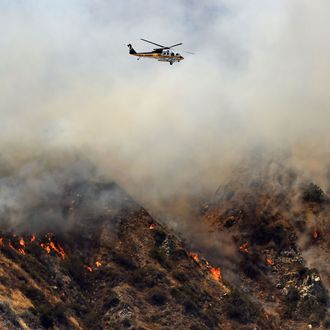 A water-dropping helicopter flies over burning hills in Azusa, California, northeast of Los Angeles, June 20, 2016.
Photo: Robyn Beck/AFP/Getty Images
Record-breaking heat blasted Southern California and parts of the southwestern United States, sending temperatures soaring into the triple-digits. Those conditions have also helped fuel two wildfires that are now roaring within Los Angeles County, northeast of the Los Angeles. Now called the San Gabriel Complex, the two separate blazes, the Reservoir Fire and Fish Fire (which stretches 3,000 acres and is the larger of the two right now), were sparked on Monday in the Angeles National Forest. The twin fires haven't merged yet, but together the fires span 5,400 acres. The fires are zero percent contained, with dry brush and grass feeding the flames. 
More than 600 firefighters from the ground and air are battling the blaze, which sent puffy gray plumes of smoke billowing up into the sky over Los Angeles.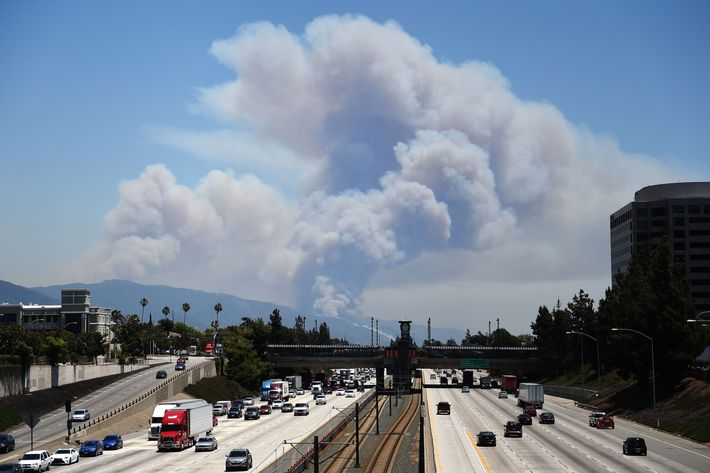 The Reservoir Fire ignited after a pickup truck jumped the highway and exploded in the brush. Authorities have not pinpointed the cause of the Fish Fire. 
"This area behind me hasn't burned for 35 years," Duarte City councilwoman Margaret Finlay told KTLA. "So there's a lot of dry tinder out there and it's certainly burning now."
The twin fires prompted mandatory evacuations of close to 700 homes, and about 24 people bedded down at a Red Cross shelter overnight, says the National Wildfire Coordinating group. 
Temperatures have dipped a bit as of Tuesday, but they're still sweltering compared to the season average. Authorities' biggest concern right now is the wind; if it picks up, it could hypercharge the fire. Drought-ridden Southern California isn't expecting any rain to bring relief.