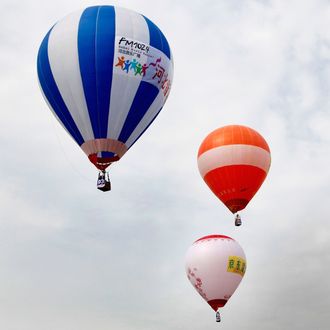 Photo: Lintao Zhang/Getty Images
It's been seven years since Uber formally launched and five since the company started offering rides in New York City. And frankly, using the service has lost its luster. Sure, an air-conditioned car that comes at your command is nice. But I'm craving something new. Something that will really set me apart. Something like … a hot-air balloon.
If only I lived in Shanghai! Two new programs announced at TechCrunch Shanghai earlier this week — the unimaginatively named UberBoat and UberBalloon — will apparently allow people to grab rides in these less-traditional modes of transit. Unfortunately for many of us, these programs are, as of yet, only going to be available in China. Which makes sense given Uber's plan to overtake rival taxi service Didi Chuxing, which has been operating in China several years longer than Uber.
And if anything could give Uber the boost it needs to usurp Didi and take control of the market, hot-air balloons are definitely the move. It worked out pretty well for that guy in The Wizard of Oz.