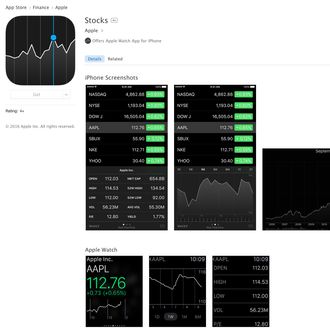 For years, iOS users have been making one simple request: Let us uninstall and delete the phone's default apps — Mail, Notes, and the dreaded Stocks app, among others. This simple request has been at the top of the list for years, since Apple first started allowing third-party developers to create alternate mail and maps apps.
Now, the long national nightmare appears to be over. As Owen Williams first pointed out, something curious happened during the iOS keynote. The Stocks app showed up on the iTunes store. Mail is also available. It appears that default iOS apps are being unbundled from the operating system, meaning that they can be updated and managed separately from the core iOS software. We've reached out to Apple to confirm and will update if we hear back.
And while the ability to delete first-party apps marks a concession to the fact that Apple's defaults just aren't the best anymore, it benefits Apple, too: The company should be able to update software much more quickly and iteratively — no longer would you have to wait for iOS's next annual release for new features.
But more importantly, it likely means you can finally uninstall the Stocks app. Thank fucking god.
Update: Developers using the iOS 10 Beta are confirming that users will be able to uninstall first-party apps.