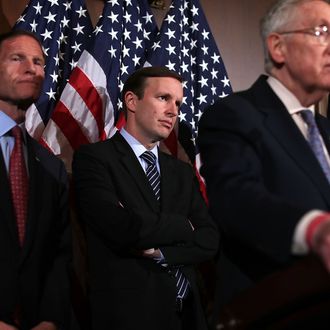 Senator Chris Murphy was disappointed with Monday's outcome.
Photo: Alex Wong/2016 Getty Images
Late last week, in the wake of the mass shooting at a gay nightclub in Orlando, Florida, C-SPAN enjoyed a spike in viewership as Senate Democrats — led by Connecticut senator Chris Murphy — filibustered for just under 15 hours to force a vote on gun-control legislation. Dozens of Democrats (and one Republican) took to the floor to recount the toll mass shootings have taken on the country and to demand action, and in the end, Republicans agreed to vote on four proposed measures. For a fleeting moment, the country collectively imagined a world in which a gun-control proposal could gain bipartisan support. 
But legislative bodies have a way of disappointing even the most starry-eyed among us, and on Monday evening, the Senate voted down all four proposals. Unsurprisingly, the votes largely fell along party lines.
The Senate rejected two measures designed to keep those on a terrorist watch list from purchasing firearms. One, proposed by Democratic senator Dianne Feinstein, would have allowed the attorney general to bar anyone suspected of terrorist activity from buying guns and explosives. The Senate voted 47 to 53 to reject the measure, with only one Democrat voting against it and two Republicans voting in favor. Most Republicans against the measure said it didn't protect the Second Amendment rights of people who were on the terrorist watch list — which reportedly includes about 800,000 names — by mistake.
The other was a proposal by Texas senator John Cornyn that would've allowed authorities to delay a gun sale to a suspected terrorist for 72 hours or longer if a judge ruled during that period that there was probable cause to block the sale. That measure was defeated 53 to 47, with Democratic critics saying it necessitated too great a burden of proof in too short a time.
The two other rejected proposals had to do with background checks. One proposed by Murphy along with Senator Cory Booker and Senator Charles Schumer expanded background checks for anyone purchasing a firearm, including at gun shows or online — a measure GOP lawmakers deemed too stringent. Instead, the majority of Republicans backed a measure by Senator Charles Grassley that would've expanded the funding for — but not the breadth of — background checks.
Following the rulings, Murphy told reporters the votes were proof the NRA has a "vice-like grip" on Congress.
And other Democratic lawmakers were equally disappointed.
But it seems the Senate hasn't given up on the idea of gun control just yet. According to The Wall Street Journal, a bipartisan effort led by Senator Susan Collins — a moderate Republican — is expected to file yet another proposal to prevent suspected terrorists from buying guns, and lawmakers have said the proposal is expected to come up for a vote this week. On Monday, Collins's proposal, which would ban gun sales to people who appear on the much smaller "no-fly" and airport "selectee" lists gained the support of one Democratic and two Republican senators.
"Congress cannot continue on the path it's on by voting on bills that don't have a chance of actually passing," Senator Heidi Heitkamp, who supports Collins's measure, said in a statement. "We need to reach a bipartisan compromise that truly aims to address the issue of keeping guns out of the hands of potential terrorists, while protecting Americans' constitutional rights."
Feinstein, meanwhile, said that Collins's measure would "leave out a huge number of known or suspected terrorists."