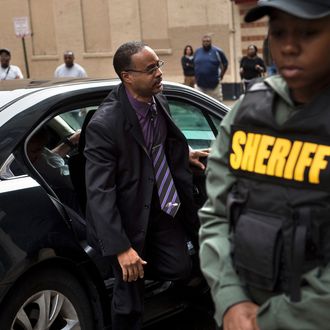 Baltimore police officer Caesar Goodson Jr.
Photo: Brendan Smialowski/AFP/Getty Images
The third trial in the case of Freddie Gray, the 25-year-old Baltimore man who died in police custody in April 2015, ended Thursday in an acquittal. Baltimore police officer Caesar Goodson Jr., who opted for a bench trial, was cleared of second-degree murder, three counts of manslaughter, and three other lesser charges, including reckless endangerment. Goodson drove the police van, and prosecutors alleged his "rough ride" violently tossed around Gray — who wasn't belted in — and caused the victim's deadly injuries. Goodson, because he was behind the wheel, faced the most serious crimes of all six Baltimore cops accused in this case. 
The judge, Barry Williams, said conflicting testimony over the timeline of Gray's fatal injuries in the van stymied prosecutors from proving their case. Williams did say it was clear that Goodson broke protocol by failing to belt Gray into the van, but said it "may have been a mistake, or may have been a bad judgment."
This is the third Gray trial so far, and the second acquittal. Edward Nero, an arresting officer, was cleared last month of assault charges, also in a bench trial decided by the same judge Goodson faced. Last year, a jury was deadlocked in the case of William G. Porter, and the judge declared a mistrial in that involuntary-manslaughter case. The next trial, a manslaughter case for Officer Brian Rice, will start July 7.
Freddie Gray's death set off a wave of furious protests in Baltimore last year, coming on the heels of Michael Brown in Ferguson and Eric Garner in New York City. Protesters gathered outside the courthouse and protested after the verdict was announced. 
Baltimore officials said, even before the verdict was reached, that they're prepared for any larger protests in the city. Mayor Stephanie Rawlings-Blake issued a statement asking citizens to "be patient and to allow the entire process to come to the conclusion."