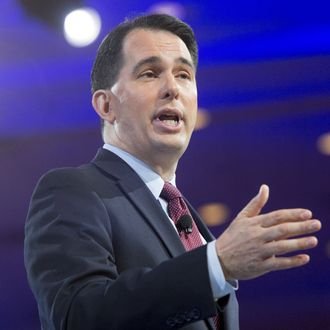 Scott Walker.
Photo: Saul Loeb/AFP/Getty Images
Scott Walker was an early favorite to become the GOP's 2016 standard-bearer. The Wisconsin governor had won three elections in four years — in a blue state — while implementing the conservative movement's policy agenda. The Koch brothers loved him. And he had appeal to both the tea-party grassroots and the GOP's country-club set.  
And then, Donald Trump revealed that the Republican base finds xenophobia and insult-humor far more appealing than collective-bargaining reform. And Walker's campaign folded before the primaries even began. Now, the only thing that remains of Scott Walker 2016 is $800,000 in campaign debt.
Or, maybe not. The stench of flaming refuse that hangs over the Trump campaign has a growing contingent of Republican delegates plotting a Cleveland coup. Their goal is to have the convention's Rules Committee pass a "conscience clause" that would allow delegates to unbind themselves if they feel a moral aversion to the candidate they're supposed to support. And Walker has emerged as a possible white-knight candidate, as some suggest that his early exit from the primary race makes him a less-divisive replacement.
On Tuesday, the governor gave the coup attempt his blessing.
"I think historically, not just this year, delegates are and should be able to vote the way they see fit," Walker told the Associated Press. The governor endorsed Ted Cruz ahead of the Badger State's primary, but had endorsed Trump after the real-estate heir secured the nomination. But he backed off that support following Trump's "Mexican heritage" fiasco. In March, Walker predicted, "[I]f it's an open convention, it's very likely it [the nominee] would be someone who's not currently running."
The chances of a Trump coup remain slim. But the Washington Post reports that ranks of the #NeverTrump delegates have swelled from around 30 last Friday to nearly 400.