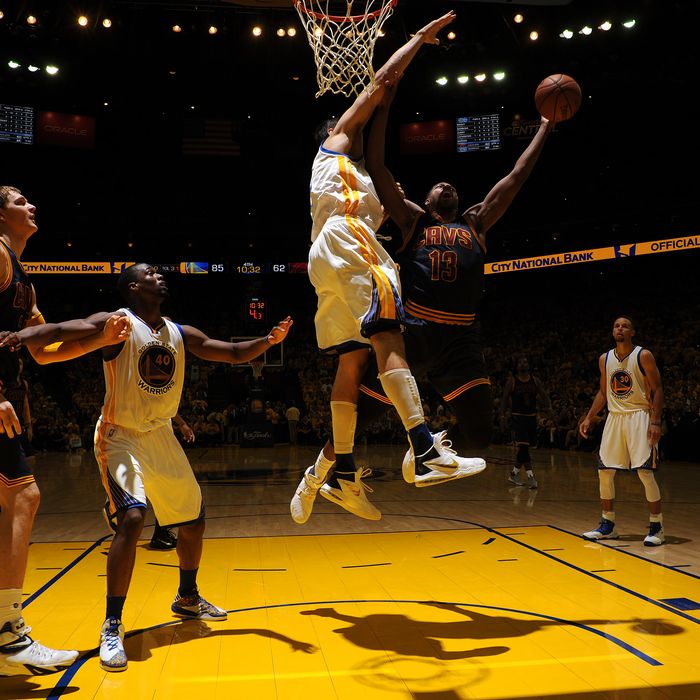 Tristan Thompson, #13 of the Cleveland Cavaliers, goes for a layup during the game against the Golden State Warriors in Game Two of the 2016 NBA Finals.
Photo: Garrett Ellwood/2016 NBAE
Going into tonight's Game Two of the NBA Finals between the Golden State Warriors and the Cleveland Cavaliers, many people were anticipating that the Splash Brothers — Golden State's insanely prolific backcourt-scoring duo of Stephen Curry and Klay Thompson — would contribute far more on offense than they did in Thursday night's Game One, when they were uncharacteristically anemic (20 points, combined).
They didn't, really, but it didn't matter: Bolstered by the all-around greatness and excellent passing that helped them win a record-breaking 73 games in the regular season, the Warriors demolished the Cavs in Game Two, 110 - 77. The Cavs return home to Cleveland, where Game Three will take place Wednesday night, having shown almost no sign of being able to make this a competitive series.
Early on, Game Two mirrored Game One in various ways: The Splash Brothers weren't particularly splashy, for instance (five points for Curry in the first quarter, zero for Thompson), and the Cavs continued to have trouble scoring on the Warriors inside. Kevin Love got blocked rather loudly by Andrew Bogut early on in the first quarter, continuing his trend of mostly not having an answer for the Warriors' length and strength in the post. The inside woes continued on the very next Cavs possession, with LeBron James missing a finger roll. Bogut was the defensive lynchpin for the Warriors early on, with four blocks in his eight minutes of first-quarter play, one of them leading to an easy Curry three-pointer (though, to be fair, there may not be any such thing as a difficult Curry three-pointer). But the Cavs played some gritty defense of their own, which, combined with some early misses from Curry, kept things close and low-scoring: It was 21-19, Cavs, after the first.
The pace picked up in the second — Draymond Green and Iman Shumpert kicked off the period with back-to-back threes that seemed to loosen things up offensively. The Cavs started moving the ball nicely, the highlight being a sweet assist from Matthew Dellavedova to a cutting James for a dunk. But, before you knew it, the Warriors had gone on a bit of a run, spurred both by great, classically Warriors-esque passing leading to layups and dunks and by Green's three three-pointers in the quarter, part of his 12-total points during that span.
True to the series so far, the Warriors built their lead without Curry and Thompson chipping in much scoring, though their role as decoys opening up stuff for everyone else — the Cavs need to respond aggressively to every off-ball cut and curl involving either Warriors shooter, or they'll pay for it — can't be overstated. The Warriors also caught a bit of a lucky break with five minutes left: Love took a nasty elbow to the head from Harrison Barnes that should have been a foul, sending him writhing to the floor and clearing space for Green to hit an easy and-one layup that, with his made free-throw, put the Warriors up 12. It felt like an important moment in the game.
The dormant Splash Brothers began to show signs of seismic activity toward the end of the half — with three minutes left, Curry and Thompson hit back-to-back treys, followed by a nifty Curry layup. An Andre Iguodala layup gave the Warriors a 15-point lead, but thanks to some gutsy James drives and a last-second Warriors turnover that netted Richard Jefferson one of two free throws, the Warriors went into halftime with a 12-point lead that could have been much larger.
In the second half, both teams had to go significant stretches without key cogs. Curry picked up his fourth foul just a few minutes into the third quarter, sending him to the bench, while Love went to the locker room, suffering, we would later learn, from dizziness and disorientation as a result of the elbow from Barnes. The Love injury was a really unfortunate, unfair-feeling development in light of the extent to which the Cavs were demolished by injuries in last year's Finals, but it's impossible to argue that it made much of a difference tonight.
That's partly because Curry's absence didn't bother the Warriors a bit. In what is a pretty solid microcosm for what makes them a historically great team, the Warriors managed to pump up their lead significantly with the league MVP on the bench thanks to a steady dose of solid team ball and excellent passing, not to mention a pair of layups from Leandro Barbosa, still speedy at 33, and ten third-quarter points from Green, who also had a gorgeous pass from the post to a cutting Thompson for an and-one that put the Warriors up 20 with a minute left — the lead they'd take into the fourth. (Green finished with a game-high 28 points on 5-8 three-point shooting — that's the Warriors' third scoring option.)
Curry checked back in at the start of the fourth quarter, promptly hit a deep three, and — let's be honest — that was it; time for a sizable chunk of the country to fire up Game of Thrones. You don't come back from 23 down in the fourth quarter of a Finals game at the Roaracle. Golden State dominated the final frame, beating the Cavs 28-15. For not-very-old-time's-sake, Livingston — quiet overall (not that it mattered) — hit one of the midrange jumpers that starred the other night. When the final horn went off, it was a 33-point Warriors win. And that's two games in a row in which the Warriors won easily without Curry fully being Curry, without Klay Klaying all over the place. (Curry finished with 18, Thompson with 17.)
Ideally, a Finals series has some sort of interesting overarching narrative to it — a compelling one-on-one battle, some intriguing bit of chess-match strategy. So far, this series has lacked such elements entirely. That might be because the Golden State Warriors are a much, much, much better basketball team than the Cleveland Cavaliers. The Warriors' sixth and seventh and eighth men are routinely beating Love and Kyrie Irving (and, less often, but sometimes, James) during individual plays. There's a reason NBA fans, even casual ones, often point out that the Western Conference Finals may as well be the NBA Finals: Despite James's greatness, there really is a massive talent gap between the conferences when it comes to the top teams.
To the extent anyone talked themselves into picking the Cavaliers to take home the title, it was because they beat up on some truly underwhelming competition as they rolled to the Eastern crown, while the Warriors had to fight back heroically against the extremely talented Oklahoma City Thunder. The true talent differential between these teams, in other words, wasn't fully on display until they were occupying the same court at the same time.
Irving was particularly bad tonight: ten points on 5-for-14 without a single trip to the foul line. In Game One, he also shot poorly, but at least he got fouled, racking up 12 free-throw attempts and connecting on 11 of them. Love, for his part, had just five points on seven shot attempts in his injury-curtailed action in Game Two. It's hard to know how to interpret the lackluster performances of those two in the Finals so far. On the one hand, Cleveland fans who were hoping this Big Three would bear any big-moment resemblance to the Big Three James broke up by leaving Miami have to be disappointed, so far (though they were deluding themselves if they ever really believed this); on the other hand, in the Warriors, Cleveland is facing a shiny, well-oiled, devastating basketball juggernaut with no regard for human life.
As much of a massacre as tonight's game was, nothing that's happened in this series so far means that it's impossible for the Cavs to go back to Cleveland and win Wednesday night, of course — the Cavs are, after all, a very good team in their own right, and it would be fairly surprising if they got swept out of the Finals (if I had to put money on it, I'd say Cleveland wins once at home and falls 4-1). But at this point, they're being so thoroughly outclassed by the Warriors, and their Big Three are showing so few signs of being able to step up and take control of key moments the way the James-Wade-Bosh core was, that it wouldn't be that surprising.