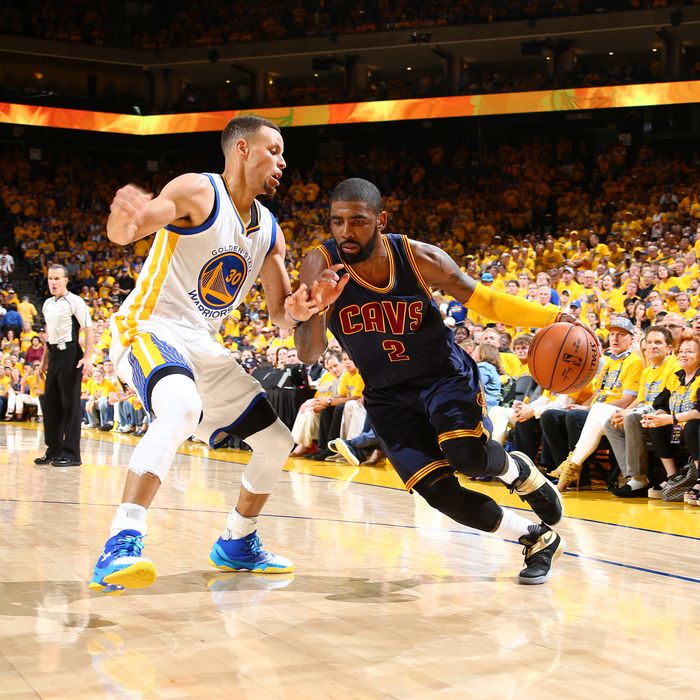 Curry barely showed up Thursday night, but the Warriors still came out on top.
Photo: Nathaniel S. Butler/2016 NBAE
The big story line going into Game One of the NBA Finals between the Cleveland Cavaliers and Golden State Warriors was that, this time around, LeBron James would have access to his full arsenal. In last year's Finals, with Kyrie Irving and Kevin Love lost to injuries, James had to take on a superhuman burden, and it was a miracle he stretched that series to six games before he and the Cavs fell to the Warriors.
The Cavs are still underdogs in 2016, but there's no comparison between last year's Cavs Finals squad and this year's. So the question was whether, and to what extent, Love and Irving — both talented all-stars, but neither with much of a record of big-moment playoff success — could take enough of the load off of James's 31-year-old shoulders, helping to spread the floor and open up passing and driving lanes against the extremely talented, pesky Warriors defense.
Based on what we saw in the Warriors' 104-89 Game One victory last night, though, there isn't much evidence to suggest Love and Irving can consistently crack the Warriors' redoubtable defense. Not yet, at least. And given that the Warriors won relatively easily on the strength of their bench play despite the near-invisibility of their superstar backcourt of Stephen Curry and Klay Thompson, Cleveland is going to have to come up with some answers, and quickly.
Throughout the first half, the Warriors' interior D — with the tireless Draymond Green, as usual, anchoring the unit and causing widespread devastation with his freakish strength and athleticism — posed major problems for the Cavs. James often had trouble doing his usual LeBron-the-anthropomorphic-bulldozer thing; there was one telling sequence in the first 30 seconds of the second quarter in which James missed bunny after bunny after bunny because of Green's fierce defense. (The sequence ended with James and Green tied up on the ground, forcing a jump ball.)
Love fared even worse inside in the first half. Never a particularly powerful post presence — despite being a crafty rebounder, he's always relied more on finesse moves like jump-hooks — he was repeatedly made to look silly when he tried to pound the ball down low. Naturally, Andre Iguodala, who last year won Finals MVP in large part because of his defense against James, got in on the defensive act: In one awesome span, he knocked the ball away from James as he gathered himself up for a shot on one Cavs possession, and then from Irving as he attempted a reverse layup on the next.
The other half of the Warriors' defensive equation had to do with how well the Dubs controlled Irving. Irving is the only Cavalier besides James who can, in theory, produce his own decent look whenever he wants to, simply because he's such a gifted ballhandler and so quick. In the first half, it didn't matter — the Warriors mostly bottled him up. A telling possession occurred with 3:30 left in the first quarter, when Irving had Curry on him and had some space to work with out on the right elbow extended. Irving is supposed to be able to take almost anyone in the league one-on-one, and yet Curry played great D, forcing Irving into an awkward, falling-across-the-free-throw line fadeaway jumper that he missed. (Irving did finish with 26 points, but 11 of those came at the foul line, and he shot a terrible 7-22 from the field.)
Still, Cleveland hung in. It was 52-43 at the half, and all three of the Big Three had produced — ten, 11, and 13 points for Love, James, and Irving, respectively, with Irving the only one not shooting efficiently. The Warriors' superstars, meanwhile, were quiet, as an ESPN graphic pointed out; Shaun Livingston and Leandro Barbosa had more points (13) than Thompson and Curry (10) at the half.
And in the third quarter, the Cavaliers reverted back to their 2015 Finals ways, when they stayed with the high-octane Warriors by making things as ugly as possible. They succeeded at this for a while last night, gumming things up and clawing fully back into the game. Tristan Thompson became temporarily monstrous, conjuring memories of last year as he racked up six rebounds and a block. Love began to assert himself, throwing his body into the Warriors' interior defenders more aggressively and earning himself a morale-boosting and-one against Festus Ezeli. There was an awesome alley-oop from Matthew Dellavedova to Thompson that fully, albeit briefly, completed the illusion that it was 2015. A James layup with a couple minutes left even put the Cavs up, briefly, 68-67, before a mini-flurry by the Warriors gave them a six-point buffer heading into the fourth, leaving the Cavs still within shouting distance.
But then, as is so often the case, the Warriors ran away with things in the fourth quarter, at one point scoring 15 straight points. And the weird thing about the final frame was that it still wasn't Curry or Thompson doing the damage — it was Iguodala, Barbosa, and Livingston dropping in a steady succession of buckets. Those buckets were enough; the closest the Cavs got after the Warriors' run was 11 points. Down the stretch, it was as if Curry and Thompson decided they needed to remind everyone they still existed — within 30 seconds of one another, each hit a three-pointer to keep the game well out of reach for the Cavs. (Even with those late buckets Curry finished with just 11 points, and Thompson with just nine.)
On the one hand, Golden State's victory can't really tell us that much about the series still to come. The Warriors, a historically good home team this year, were absolutely supposed to win Game One. But on the other hand, if you're LeBron or anyone else on the Cavaliers, you have to be wondering: Curry and Thompson didn't even show up tonight. What the hell are we gonna do when they do?