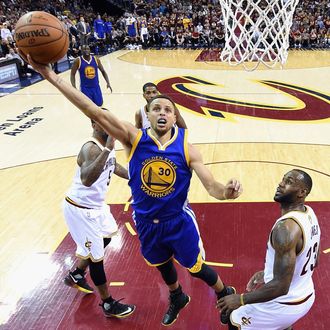 Photo: Bob Donnan - Pool/Getty Images
For the love of God Shammgod, did the NBA need a close game tonight. Going into game four of the NBA Finals between the Cleveland Cavaliers and the Golden State Warriors, fans had been subjected to what must be one of the least competitive 2–1 starts to a Finals series in NBA history — the average margin of victory has been 26 points, with each team ringing up a blowup of 30 points or more in the previous two games.
The stakes were pretty simple going in: If the Cavs won, it would be a brand-new series, albeit one in which they'd still have to win at least one game at Oracle Arena in Oakland. If they lost, they'd be staring down the formidable dual barrels of history (teams that fall behind 3–1 in the Finals are 0–32 all-time) and Golden State's dominance at home (39–2 at home in the regular season this year).
The league got its close game, at least until the last few minutes. But in the end, the Warriors overpowered the Cavaliers with suffocating defense, giving them a 108-97 win, and a 3–1 series lead that effectively means the series is done.
The pace was furious early on, with lots of scoring — 150 seconds in, it was 10–10. A lot of the big names chipped in in one way or another. Halfway through the quarter, Klay Thompson got off his surprising first-quarter Finals schneid (not a single point before then!) with a wide-open three-pointer followed by an easy layup the next time down the floor. His fellow Splash Brother, Stephen Curry, also started to wake up a bit, tossing in 8 points on 2–3 shooting from downtown.
Kyrie Irving, meanwhile, continued to make up for having missed the team plane to the Bay Area for the first two games (metaphorically) — while he couldn't match his 16-point first-quarter explosion from game three, he did net 9 points on 3 for 6 shooting in the first tonight. Cavs coach Tyronn Lue's decision to start the bruising, ever-hustling fan-favorite Tristan Thompson over Kevin Love, who was returning after missing game three as result of the league's concussion protocol, paid off — Thompson had five rebounds, all of them offensive, in the first, to go with a very efficient 8 points. The series's most entertaining and hard-fought quarter ended with the Warriors up a single point, 29–28.
The intensity only ratcheted up in the second — things stayed really, really tight. In a sequence midway through that gave me hope that Actually Fun Basketball had really and truly arrived to this series, albeit out of breath, sweaty, and apologizing for its wrinkled suit and insane tardiness, Curry hit a ridiculous-for-almost-anyone-else fall-away three-pointer from the corner, and Irving followed it immediately with a ridiculous-for-almost-anyone-else banked-in runner. More like that, please, basketball nation pleaded.
And there was more like that — it was as though the series itself tossed some cold water on its face and remembered how much talent these two teams can put on the floor. With about two minutes left, Thompson hit a butter-smooth and-one runner, and LeBron James responded with his own even smoother spin move for a layup. This was the joy that had been absent all series, and that we'd gotten so much of in the Warriors–Oklahoma City Thunder Western Conference Finals: the spectacle of some of the best basketball players in the world taking over and doing remarkable things under the brightest lights. At the half, the Cavs had gritted their way to a 55–50 lead.
Whenever you have a small lead on the Warriors, it's hard not to be terrified they will go on one of their insane runs, Curry and Thompson raining threes mercilessly, Green materializing seemingly out of nowhere to snuff your hopes with a devastating block. But just as they did in the second half of game three, the Cavs played solid enough enough D to prevent this from happening in the third quarter. The closest such run was an 8-0 sequence by the Warriors, consisting of jumpers from Thompson, Andre Iguodala, and Curry, that put the Warriors up 72–69, but the Cavs appeared to staunch the bleeding. James really asserted himself physically in the third; at one point he grabbed a tough offensive rebound and muscled the ball in, and shortly thereafter he rejected a desperation Curry runner with the shot clock running down.
Eventually, though, it was the Warriors' unrelenting physicality that started to win out — they really seemed to wear down the Cavs toward the end of the third, doing a lot of damage on the offensive glass as things wound down. Some big offensive rebounds from former Cavalier Anderson Varejao, doing his best Tristan Thompson impression down low, helped the Warriors' cause greatly — one offensive board led to a nifty Curry reverse layup off a pass from Iguodala, and another one, just a bit later, to Green hitting Iguodala on a beautiful cut for a dunk. It was 79–77, Warriors, at the end of the period, the Dubs having turned their five-point halftime deficit into a two-point lead. "We finally got ourselves a ball game," said color commentator Mark Jackson at the top of the fourth quarter. Yup.
But the Cavaliers, despite a valiant effort up to that point, just couldn't keep pace in the fourth; the Warriors' defense clamped down viciously and methodically. There was one sequence that must have been particularly demoralizing for James: He drove left and, beset by Warriors defenders, got stripped by Shaun Livingston. Livingston is rail-thin — long arms or no, he's exactly the sort of player James is supposed to be able to bowl over on his way in for an easy layup, which James has been doing ever since he first stormed the league as an 18-year-old in a 30-year-old's body. Instead, Livingston stripped James for the turnover, a tidy microcosm of the pesky, clawing, scrappy Warriors defense. They are smothering at that end of the floor, and by the midway point of the fourth quarter, it was clear that their defense had dazed the Cavs, who were missing easy jumpers and contested drives alike.
During another telling, deflating sequence for the Cavaliers, Green blocked James's shot, only for Curry to get picked off by Irving a few seconds later — another chance for the Cavs, who desperately needed points. The speedy Irving raced down the court for the layup, but Thompson hustled back and rejected him. The Cavs just couldn't find any daylight at all. When Irving finally broke through for a layup with 3:44 left, it was the first Cavs field goal in about six minutes. Naturally, Curry answered immediately with a three-pointer. In the closing minutes, the Cavaliers never got it closer than seven.
This was a great game for about three-and-a-half quarters, which made it, by far, the best game of these lackluster finals so far. While Curry and Thompson did finally break out, to the tune of 38 for Curry and 25 for Thompson, and the Warriors shot quite well from behind the arc as a squad (17 of 36 — they hit more threes than twos on the night), it really did feel like it was their swarming, terrifying defense that allowed them to take control in the fourth. Their offense flowed from their defense, as it often does.
As I hinted a couple games ago, a rather boring, straightforward story — the Warriors are a much more talented basketball team than the Cavaliers — seems to be bullying out any attempt for a more interesting narrative to assert itself in these Finals. The Warriors are better. Better at offense and better at defense. They have better players: better shot-blockers and shooters and ball-handlers and passers. That's all there is to it. That's why the Warriors will, in all likelihood, be clinching their second-straight NBA title Monday night in San Francisco.