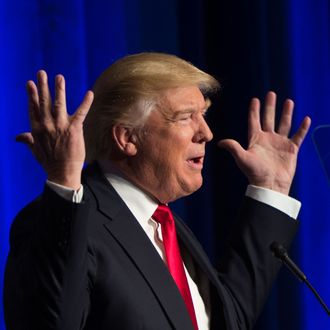 What? Accuse me of insulting Obama? How dare you!
Photo: Molly Riley/AFP/Getty Images
It's not unprecedented for Donald Trump's campaign to ban reporters or entire publications from coverage of his events or direct receipt of his propaganda. Usually this happens when said reporter or publication writes something negative about the candidate that displeases him or his people. But Team Trump did reach a new and hilarious low today by banning one of the Newspapers of Record for political affairs, the Washington Post, because the paper tried to make sense of rambling Trump remarks about President's Obama's reaction to the Orlando massacre. 
Here's what Trump said:
"Look, we're led by a man that either is not tough, not smart, or he's got something else in mind. And the something else in mind — you know, people can't believe it," the Post quoted Trump as saying on Fox News Monday morning. "People cannot, they cannot believe that President Obama is acting the way he acts and can't even mention the words 'radical Islamic terrorism.' There's something going on. It's inconceivable. There's something going on."

Trump, who called on Obama to resign for not using the term "radical Islam" in his address to the nation Sunday, explained to Fox News, "He doesn't get it or he gets it better than anybody understands — it's one or the other, and either one is unacceptable."
Well, speaking of an either/or proposition, Trump's remarks were either an incoherent word salad, or intended as an innuendo about the president's attitude toward "radical Islamic terrorism" connoting sympathy or even culpability. The Post's Jenna Johnson, understandably, assumed the latter:
Donald Trump seemed to repeatedly accuse President Obama on Monday of identifying with radicalized Muslims who have carried out terrorist attacks in the United States and being complicit in the mass shooting at a gay nightclub in Orlando over the weekend, the worst the country has ever seen.
By way of background, Johnson mentioned that innuendos about Obama's background and inclinations toward Muslims are not exactly new for Trump:
For months, Trump has slyly suggested that the president is not Christian and has questioned his compassion toward Muslims. Years ago, Trump was a major force in calls for the president to release his birth certificate and prove that he was born in the United States. On the campaign trail, Trump has repeatedly stated as fact conspiracy theories about the president, his rivals and Muslims, often refusing to back down from his assertions even when they are proven to be false.
That's all entirely true. So what's Team Trump complaining about? What other interpretation of the "there's something going on" or "he gets it better than anyone understands" language would it offer?
Seems clear to me that Trump got caught in a clumsy and audible dog whistle and instead of shrugging it off as he often does, he decided to make an example of Johnson and the Post (assuming being excluded from Trump events is a punishment) for some reason beyond my understanding. But it did so by way of asserting what amounts to a right to be incoherent, and that's a new one, even for Trump.