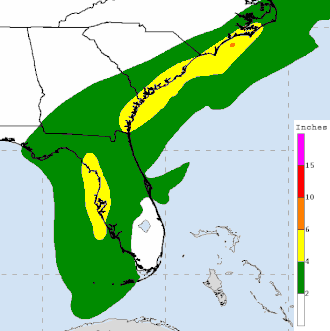 Tropical Storm Colin: Let the rain fall.
Photo: NOAA
Atlantic hurricane season kicked off last week, but Florida is already bracing for the year's third named system, Tropical Storm Colin. This is the earliest a C storm has formed since records began in 1851. The previous record holder, an untitled tropical storm (hurricanes started getting people names in the 1950s), developed more than a century ago on June 12 in 1887 — though it's possible a tropical storm or hurricane got missed before satellite technology. 
Blame Colin's ahead-of-schedule arrival on Alex, a rare January hurricane that formed in the Atlantic this year, and Bonnie, a tropical storm that dumped torrential rains on the Carolinas and the rest of the East Coast over Memorial Day weekend. A typical Atlantic hurricane season lasts from June 1 to November 30.
Tropical Storm Colin is already pummeling southwestern and central Florida with heavy rains and close to 50-mile-per-hour winds, though it's not expected to make landfall until this evening near the state's "Big Bend" and Panhandle area. The storm will move from western Florida to the state's Atlantic Coast. Colin will reach Georgia Tuesday morning, dump rain on the Carolinas, and then head out to sea Tuesday afternoon, so it will bypass most of the northern East Coast, including New York.
Florida governor Rick Scott has declared a state of emergency in more than half of Florida's counties. Cities along the western coast, including Tampa, loaded up with sandbags in preparation for possible flooding. Only one county in the Panhandle issued a voluntary evacuation order.
But already areas in and south of the storm's path are dealing with lots and lots of rain. Those downpours will dump four to six inches in parts of northern and western Florida before the storm heads out. Some select spots may see up to eight inches of rain. Floridians will also have to gird themselves for fierce winds, possible tornadoes, storm surges, and coastal and localized flooding. "This is gonna be feeling like, 'Oh, it's raining sideways almost,'" said Robert Garcia, a meteorologist with the National Weather Service.
Georgia and the Carolinas, though they'll be seeing Colin hours later, will probably also get slammed with those same torrential rains and heavy winds. 
The wacky start to 2016 doesn't necessarily mean we're in for a particularly intense hurricane season. Meteorologists at NOAA are predicting a "near normal" hurricane season as the most likely scenario, though there's about a 30 percent chance of an overactive year. "Near normal" means meteorologists will still go pretty deep into the alphabet: Experts are expecting about 10 to 16 named storms, and about four to eight of those will be hurricanes. A small handful of those could turn into very serious hurricanes (category 3 or higher) — and all it takes is one massive storm to wreak havoc. Tropical Storm/Hurricane Danielle is next on the list, and unless there's a lull in the next few weeks, it could very well break June 23, 2012's record for earliest D storm.