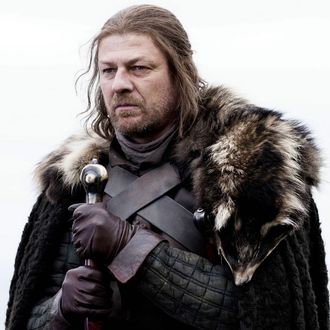 Like a white raven soaring up from the Citadel, Facebook announced this morning that it is adjusting its News Feed algorithm to favor posts from users' friends and families over posts from Facebook pages run by publishers and other third parties. For most Facebook users, this is probably good news in the short term: More photographs and updates from people you actually know and care about, and fewer desperately pandering brands affecting the voices of social-media-using humans! But for the digital publishers that now more or less wholly rely on Facebook to serve up a properly sized audience, this is knot-in-your-stomach news. Winter isn't coming — it's here.
To understand why this matters so much to publishers, it might help to have a quick history of the last decade of digital publishing. In short: Sometime around five years ago, Facebook turned on a fire hose of traffic aimed at media outlets by heavily promoting outside links to its hundreds of millions of News Feed users. This new audience was both enormous and addictive, and many publishers began to court it, writing headlines and assigning stories based at least in part on what Facebook's audience, and Facebook's distribution mechanisms, would reward. Forget Google, forget newsletters, forget home pages: At this point, Facebook provides anywhere from half to three-quarters (and often more) of many publishers' monthly audiences.
So digital publishers react to Facebook's announcements with more than a little trepidation. It remains to be seen how much the new tweaks will affect the publishers who need Facebook traffic to hit their audience targets. A similar change announced a little over a year ago was accompanied by evidence of slower growth and shorter reach, but last year's change was largely lost amid the simultaneous boom in Facebook video, which helped expand the reach of publishers' Facebook pages enormously.
There's no similar good news in this announcement. There's a millenarian argument to be made that Facebook cutting publishers off would be the long-term best thing for media. Certainly, it's hard to make the argument that Facebook's outsize role in the ecosystem has been good for media as a whole. But cleansing fires tend to burn down everything, not just the stuff you don't like.
And the truth is, it's unclear what could feasibly get built on the ashes. This is why "just create good stuff and the audience will follow" is ultimately unconvincing. Web display advertisements command a fraction of the price that print ads do; for media outlets to make enough money to survive, they needed to find an audience at an order of magnitude (or several) larger than they might have needed as a print publication. No matter how good your stuff is, where else are you going to find a Facebook-sized audience besides Facebook?
The problem has never been Facebook alone. It's been that the internet so thoroughly upended the print-media business model that it's going to take years to figure out whether print-style media can be self-sustainable in a world that changes this rapidly and this quickly. If there's any solace for publishers here, it's that the tweaks are a sign that Facebook is worried, too. The company is openly nervous that people are sharing less about themselves, and abandoning the News Feed — Facebook's most profitable product — for seemingly more private social networks like Snapchat or Instagram (or even for private messaging groups). By promoting friends and family over brands and publishers, Facebook is hoping you'll post more personal updates and photos — and thereby increase engagement. And if the cost of that is an entire industry? So be it.