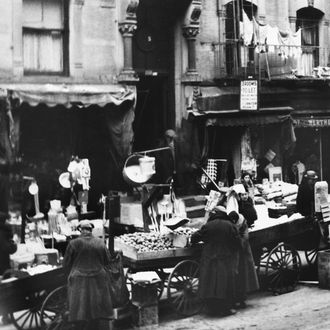 A 1938-era New York City shopping mall.
Photo: Keystone-France/Gamma-Keystone via Getty Images
A financial crisis sends the global economy into recession. The U.S. government responds with a fiscal and monetary stimulus. Growth recovers, and unemployment drops, but the debts and psychological scars of the downturn linger. Consumers repair their balance sheets instead of taking trips to the mall. Investors hoard their capital among fears of low demand. Everyone wants government bonds, pushing benchmark interests rates toward the zero-bound. Inflation remains tepid. Still, policymakers see enough signs of recovery to cut public spending and tighten monetary policy.
Is this a description of the economic landscape of 1937 or 2016? Economists at Morgan Stanley warn that the pattern describes both, and to avoid a repeat of 1938's recession, the Federal Reserve must slam the brakes on raising interest rates, and the federal government must start running up the deficit.
"We think that the current macroeconomic environment has a number of significant similarities with the 1930s," the financial firm's global strategy team informs its clients in a recent memo. "The critical similarity between the 1930s and the 2008 cycle is that the financial shock and the relatively high levels of indebtedness changed the risk attitudes of the private sector and triggered them to repair their balance sheets."
As MarketWatch notes, the private sector's present risk aversion is evidenced by a recent Bank of America Merrill Lynch survey that showed investors hoarding cash at a nearly 15-year high.
"In 1936-37, the premature and sharp pace of tightening of policies led to a double-dip in the US economy, resulting in a relapse into recession and deflation in 1938," the Morgan Stanley team continued. "Similarly, in the current cycle, as growth recovered, policy-makers proceeded to tighten fiscal policy, which has contributed to a slowdown in growth in recent quarters."
Here, Morgan Stanley throws some shade at Federal Reserve chair Janet Yellen. In December, the central bank lifted interest rates for the first time in nine years, despite scant evidence that the economy was at risk of overheating. On Wednesday, the Federal Open Market Committee announced that it would hold interest rates steady for the moment, and slowed its plans for future increases.
But retaining low interest rates won't be enough to counter the private sector's ongoing reluctance to invest. Rather, the note argues that public spending will need to fill the gap.
"The sluggish private demand and weakening inflation expectations are signs that the repair process for the private sector's balance sheets is not yet complete," the economists write. "Activating fiscal policy, particularly at a time when the monetary policy stance is still accommodative, could lead to a virtuous cycle where the corporate sector takes up private investment, and sustains job creation and income growth."
Interest rates are low, and inflation is weak. There are millions of Americans unemployed or underemployed, and wage growth isn't where we'd like it to be. And we've got roads to fix, bridges to build, and airports to renovate from sea to shining sea. Even Morgan Stanley and Larry Summers are saying we need to run up the deficit. Last time we were in this mess, it took a world war to get us back on track. Rebuilding our nation's infrastructure shouldn't be too much to ask.