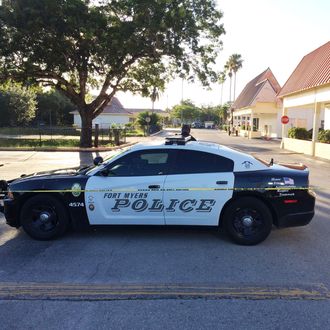 A police vehicle blocks off the area near Club Blu after a fatal shooting.
Photo: Joshua Replogle/AP
Club Blu in Fort Myers, Florida, was just wrapping up its teen night around 12:30 a.m. Monday when the clubgoers in the parking lot came under a barrage of gunfire. At least two people have died, and approximately 16 people were injured. Fort Myers police say two other crime scenes are connected to the Club Blu shooting. One person was injured when a house and car were shot at less than a half-mile away from the club; at another location more than ten miles away one suspect was tracked down and detained.
This latest shooting at a nightclub comes less than two months after Omar Mateen, who told cops he had pledged allegiance to ISIS, massacred 49 people at Pulse, a gay nightclub in Orlando. Police in Fort Myers, which is about three hours from Orlando on Florida's west coast, say there's no evidence the Club Blu shooting was motivated by terrorist ideology. ATF agents are helping in the investigation.
Police have arrested a total of three people in connection to the club shooting, and say they have recovered at least some of the weapons used in the attack. Police have not identified the suspects or the motive, but said they were not kids attending the club party. Cops are still hunting for others possibly linked to the shooting who may still be at large. Much of the area around the club is still an active crime scene.
Club Blu posted on Facebook after the incident, saying they had armed security for the event, a "Swimsuit Glow Party" advertised as a "no ID" night for teens. (Club Blu had its liquor license revoked in June.)
According to local CBS affiliate WINK, the two killed have been identified as 18-year-old Stefan Strawder, a local high-school basketball standout, and a 14-year-old boy. The youngest shot was 12; the oldest was 27. A friend of one of those shot rushed to the club after word of the shooting started to filter out through calls and texts and social-media messages. "It was a mad house people were running every where," the witness, Brian Martin, told WINK. "All people were saying was their friends' names to see if they're okay."