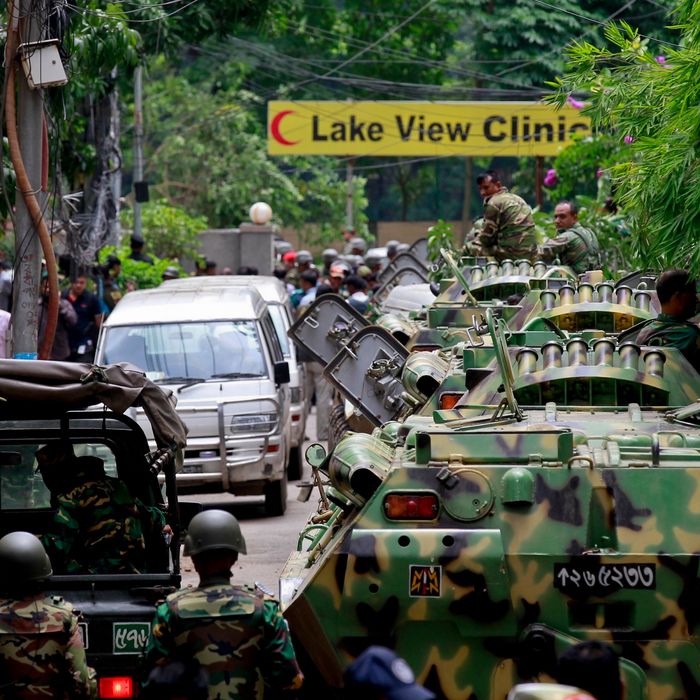 Bangladeshi security personnel assembled outside the Holey Artisan Bakery in Dhaka's Gulshan area.
Photo: AP
Twenty hostages and two police officers are dead after Islamist militants attacked an upscale cafe in the Bangladeshi capital of Dhaka on Friday night. After a 10-hour standoff, more than 100 Bangladeshi commandos stormed the building housing the Holey Artisan Bakery early Saturday morning, killing six of the seven gunmen, and rescuing 13 people, according to The Guardian. ISIS claimed responsibility for, and shared pictures from, the attack through one of its media channels on Friday, but a U.S. official told CNN it was more likely that Al Qaeda in the Indian Subcontinent, which has a larger presence in Bangladesh, was responsible. Either way it was clearly a well-organized attack on a chosen target in what was presumed to be one of the safest parts of Dhaka.
Most of the the patrons at the bakery at the time of the attack were foreigners, and among the dead were nine Italians, seven Japanese, three Bangladeshis, and a young Indian woman, according to the Daily Star. Three of the hostages killed were U.S. college students. Abinta Kabir, from Miami, and Faraaz Hossain, from Dhaka, were attending Emory University in Atlanta, while the Indian woman, identified as 19-year-old Tarushi Jain, was attending the University of California at Berkley. Two Sri Lankans were among those rescued, and they are currently receiving treatment in a Dhaka hospital. There is also an unconfirmed witness report that non-Muslims were exclusively targeted, and tortured, inside the restaurant during the siege.
The attack began around 9:20 p.m., when roughly 25 to 30 customers and as many as 60 staff were inside the restaurant. The assailants reportedly shouted "Allahu Akbar" as they attacked, detonating small bombs and firing their weapons. Some patrons and staff were able to escape the building in the panic. The militants, reportedly all young men, then moved the building's second floor where they worked to repel police officers responding to the attack, using guns and bombs. Two officers died a result of that confrontation, and 30 were injured. 
According to the Bangladeshi military, following the raid by commandos, a huge cache of improvised explosive devices and assault rifles was found inside the restaurant. Witnesses reported that the men were also armed with handguns and swords, and indeed authorities have reported it appears that some of the victims were killed with sharp weapons.
The brazen attack, which was conducted on the holiest day of the week just as diners would be preparing to break the Ramadan fast, struck in the neighborhood of Gulshan, a diplomatic zone and one of the most affluent and secure neighborhoods in Dhaka. But while the location, nature, and scale of the attack has shocked Bangladesh, it is but the latest in a series of brutal attacks conducted in the once-moderate Muslim-majority country by Islamist militants. More than 40 people have been killed in Bangladesh by suspected Islamic extremists over the past three years, including 18 in the past year alone. In most of those attacks, groups of assailants have used machetes to brutally murder individual victims, mainly academics, secular bloggers and writers, gay-rights activists, police officers, and members of religious minorities. In fact, earlier on Friday, a Hindu temple worker was hacked to death while picking flowers in the southwest part of the country, purportedly by Islamist militants.
In a televised address, Bangladesh's prime minister Hasina Sheikh called the Friday night attack "an extremely heinous act" and insisted, "What kind of Muslims are these people? They don't have any religion." She also declared that her government was "determined to root out terrorism and militancy from Bangladesh."
But as The Guardian's Jason Burke points out, so far the Bangladeshi government has mostly downplayed the presence of Islamist terrorist groups in the country, and even sought to blame political opponents for the ongoing violence. Burke argues that Friday's attack was predictable and possibly preventable:
Western intelligence have been nervous about a major operation for at least 18 months. Indications of a complex plan to attack a diplomatic ball last year prompted much alarm – and pressure from western capitals on Dhaka to move effectively against the militant networks existing in the unstable south Asian nation.

This did not happen. The Awami League government of Hasina Sheikh has instead looked to extract political advantage from the situation, either blaming what is left of the political opposition in Bangladesh, or denying outright that militant networks linked to organisations such as Islamic State or al-Qaida even existed in the country, despite their claims of responsibility for successive killings.

Instead of cracking down on the hardline groups which encouraged, or even sponsored, the attacks on local bloggers and minorities, the government effectively made concessions to the conservatives, with the prime minister implying those who had insulted religious sensibilities were in part responsible for their fate. Bloggers seeking police protection were ignored.
Ali Riaz, a South Asian politics expert at Illinois State University, tells the New York Times that the government's stance will likely change now:
The continuous denial of the presence of local militant group connections with international terror groups has not been helpful. … What we're witnessing can't be small groups coming together. It is clearly a very coordinated attack. If this doesn't convince them to come out of denial, then I don't know what will.
This is a developing story.