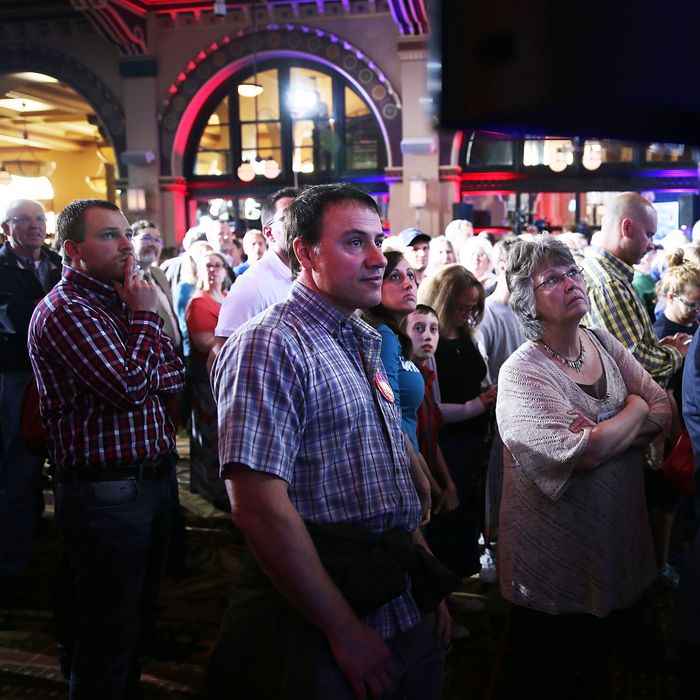 Photo: Joe Raedle/Getty Images
Election polls come out just about every day, but the Pew Survey, which painstakingly collects large samples of voters, tends to provide the deepest and most accurate measure. In June of 2008, Pew had Barack Obama beating John McCain by 8 percent. (He ultimately won by 7.2 percent.) In June 2012, it had Obama winning by 4 percent. (He won by 3.9 percent.) The Pew survey out today has Hillary Clinton winning by 9 percent — a figure that holds whether or not Gary Johnson is included as an option. The survey also provides rich detail about what voters think about everything. Four takeaways follow:
1. America hates the candidates. Hillary Clinton and Donald Trump both have terrible images, so it's not surprising that voters don't feel happy that one of them has to be the next president: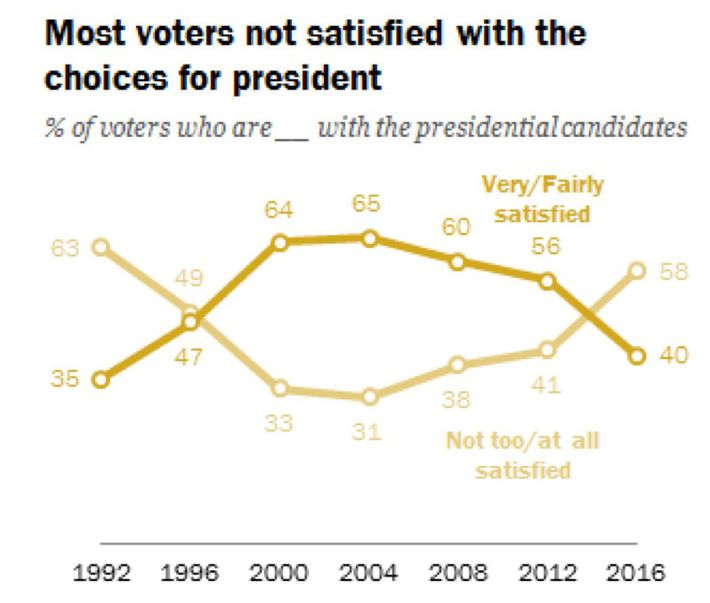 Interestingly, the last time voters disliked their choices this much was 1992, when another Clinton was on the ballot for Democrats. (Bill Clinton had survived the Democratic primary despite a sex scandal involving Gennifer Flowers.)
2. People feel pretty good about the economy. Four years ago, far more people considered economic conditions to be poor rather than excellent or good. Now just as many people think the economy's doing great as people who think it's bad: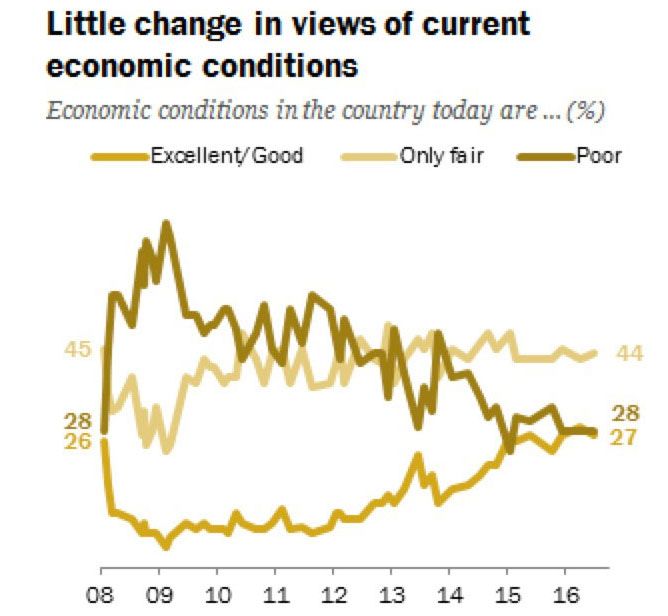 Likewise, the percentage of people who think jobs in their community are plentiful has nearly caught up to the percentage who consider them difficult to find — a dramatic change from four years ago: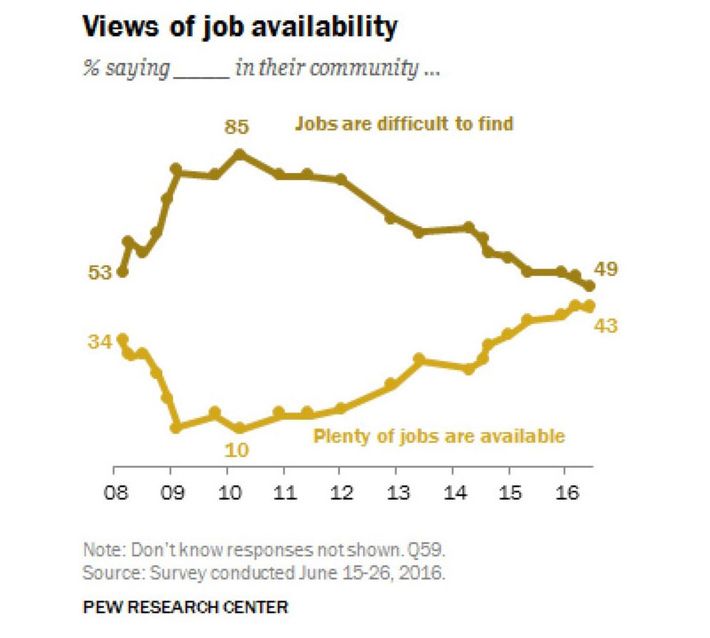 The personal dissatisfaction with the candidates themselves is offset by higher satisfaction with underlying conditions.
3. Democrats have made huge gains with educated voters. The comparison with 2008 is instructive, since Clinton's overall lead today, nine points, is just one point higher than Obama's was in the June 2008 poll. Eight years ago, Obama had a one-point advantage with voters who had a college education. Today Clinton has a 16-point advantage. Among voters with a graduate degree, Obama had a 3-point advantage, while Clinton has a staggering 27-point advantage. Race and, to a lesser extent, gender have been enormous factors in polarization in recent years. Education is increasingly joining those.
4. Americans care who wins. All four of the following charts reflect the same basic trend line: Americans are paying more attention to politics and care a lot about the outcome.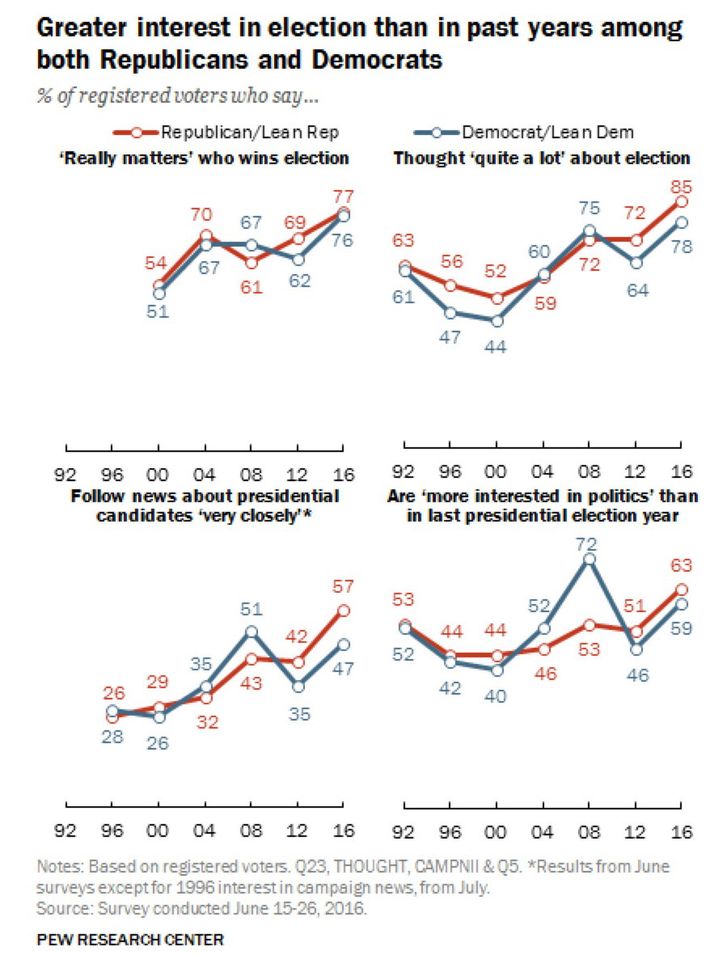 There was an anomalously large spike in interest in 2008, centered on the failure of the Bush administration and the appearance of Barack Obama, but the overall direction of the electorate has continued. America is growing more polarized, and interest in elections is being driven by negative partisanship — voters have developed intense loyalties to either Republicans or Democrats based on animosity for the opposing party. In that sense, the low satisfaction with the candidates hardly matters. People vote to keep the other party out of power.