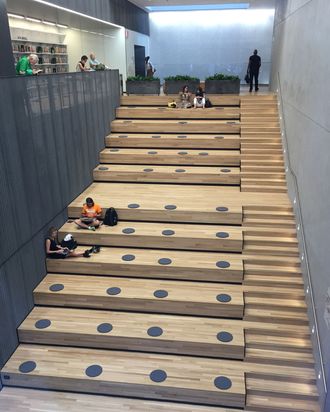 Finally! After eight bookless years, 53rd Street has its library back — if that's the right word for a sleek but shrunken pit fitted out with bleachers, bar stools, and a megascreen, plus a smattering of circulating volumes. Call it a community center, a public hangout, a computer café, or the library of the future. Whatever the term, library officials would like you to stop thinking of the 53rd Street branch of the New York Public Library as a replacement for the lamented Donnell Library. As the newest of the system's 89 branches, it looks to the future instead of attempting to repair the past.
Let's do some remembering anyway. A lot has happened on this block since 2008, when a developer bought and demolished the five-story Donnell building, whose 300,000 books were then scattered to other parts of the library system. Across the street during those years, the Museum of Modern Art planned and launched yet another expansion, the American Folk Art Museum vaporized, and Jean Nouvel's 1,000-foot tower started rising at 53 West 53rd Street. Where the Donnell stood, the glitz-bedecked Baccarat hotel and tower (designed by Skidmore, Owings & Merrill) went up and opened for business. Somehow, the people's book room kept getting shooed to the back of the line. Neither architects nor librarians shaped this branch; a real-estate deal did, one that reserved the cream of the square footage for the hotel and condo above, and sloughed off the leftovers on the public.
The NYPL's current leaders take pains to point out that the Donnell's demolition predates them: Anthony Marx took over as president in 2011, and Iris Weinshall became chief operating officer in 2014. But they also express in unison enthusiasm for its non-replacement replacement: a basement instead of a building, designed by TEN Arquitectos to embody the NYPL's hopes for a digital tomorrow. "The way people use our branches has changed," says Weinshall. "People are relying less on materials and more on programming. They're spending more time in our locations, and engaging with us in new ways: do a job search, look for an apartment, go online. We have outlets every five inches at 53rd Street."
The new branch does indeed provide the perfect haven for checking stock prices and Twitter. Patrons can tap and scroll in tranquility, unmolested by the odor of caffeine, the need for a password, the feel of greasy tables, or a barista's stare. As a place to research a school project or browse for esoteric bedtime reading, on the other hand, it offers dismaying advice: Try elsewhere. Order a book from the website. Download an e-book. Walk ten blocks to the perpetually derelict, perpetually to-be-renovated Mid-Manhattan branch for the Russian-language edition of Anna Karenina that used to be in the Donnell's World Languages collection. "We didn't take those books and cast them aside," says NYPL vice-president Christopher Platt. "They were strategically moved and aligned to other collections."
Glance in from the sidewalk, and the eye falls on a set of blond-wood terraces that go cascading into a cave, between walls of metal slats and raw concrete. The vibe mixes the slovenly with the dictatorial. On the steps, felt discs — four per row, not really plush enough to qualify as cushions — demonstrate where to place one's behind, but in the end most people sprawl or hunch. Neither is especially comfortable. This narrow buried amphitheater gives library patrons a split-level vista: above, a rat's-eye view of the street and passers-by; below, a wide screen playing a promotional slideshow for New York and its libraries. Architects love choreographing such chance urban spectacles, but this one enjoys a special kind of pointlessness.
The amphitheater suffers from atrium-itis, the belief that a high-ceilinged, day-lit gathering space where nobody really wants to linger will make people forget the workaday warren all around. The staircase alongside the stadium seating leads below ground, where the library proper wraps around the tower's structural core. Unsurprisingly, the big concrete block in the middle of the room looks rather like a big concrete block in the middle of the room. Even so, TEN Arquitectos have managed to pack a children's room, a community room, a row of desktop computers, and 20,000 volumes into 28,000 square feet — numbers better suited to a medium-size high-school library than to the nerve center of Manhattan.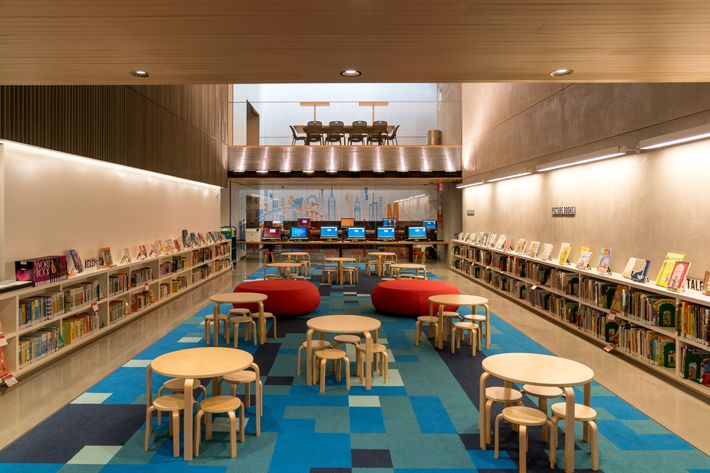 Those who don't remember the Donnell (and some who do) may wonder at the love it still inspires. A leaky, glamour-free place, it hummed like a quiet train station, with clutches of schoolchildren looking up the customs of the Iroquois and office workers taking a break from their labors. Years ago, I stopped there frequently on my way home from a midtown job, to sniff out my week's reading or check out a movie on VHS. Last week, I prowled the new and de-proved version, searched for the last ten books I'd read, found two on the shelves, and slumped in a modernist lounge chair with a copy of Magda Szabo's The Door. I lasted ten minutes; the furniture seemed engineered to limit loitering through back pain.
"Life moves on," Weinshall told me, and she's right. E-books now make up a quarter of lending activity. The NYPL will also deliver a teacher's entire reading list directly to the classroom, so that students need never cross a library's threshold or read a book that wasn't preselected. I can accept that the digital era nudges libraries to metamorphose from warehouses of paper to versatile spaces. But the Donnell was a shabby wonderland, crammed with so many circulating books of so many different varieties, that it felt endless. Its sequel feels limited and spare. An abundance of outlets is a wonderful thing, but it does not replace those free experiences that are unique to a public library: browse, borrow, read, repeat.