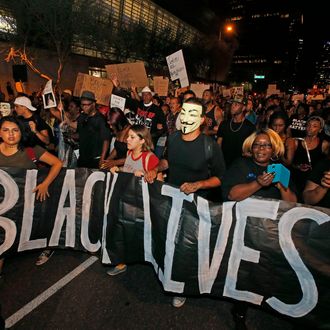 Marchers in Phoenix, Arizona.
Photo: Ross D. Franklin/AP Photos
Protests against police brutality continued in at least 18 U.S. cities on Friday night, part of a continuing response to the shooting deaths of two black men at the hands of police officers in Louisiana and Minnesota this week, and following a gunman's deadly ambush of officers protecting one such protest in Dallas on Thursday night. That gunman, a black Army veteran, was eventually killed by police following a standoff — but before being killed, he told police that he wanted to kill white police officers in response to this week's shootings. The vast majority of Friday night's protests were peaceful in nature, according to multiple news reports, and though some protesters were arrested in several cities following confrontations with police, no significant injuries have been reported from any of the protests nationwide.
Demonstrations, marches, and vigils, mostly associated in some way with the Black Lives Matter movement and ranging in size from dozens to thousands of participants, were conducted in Atlanta, New York, Baltimore, Washington, D.C., Philadelphia, San Francisco, Minneapolis, New Orleans, Phoenix, Nashville, and Detroit, among other cities. The tone of the protests varied greatly, with some demonstrations becoming rowdy and tense, while others were more subdued and somber. The police response seems to have been mixed as well, as some cities saw officers in riot gear block groups of protesters, resulting in standoffs and arrests — while in other cities, police simply observed from the background, with few or no confrontations.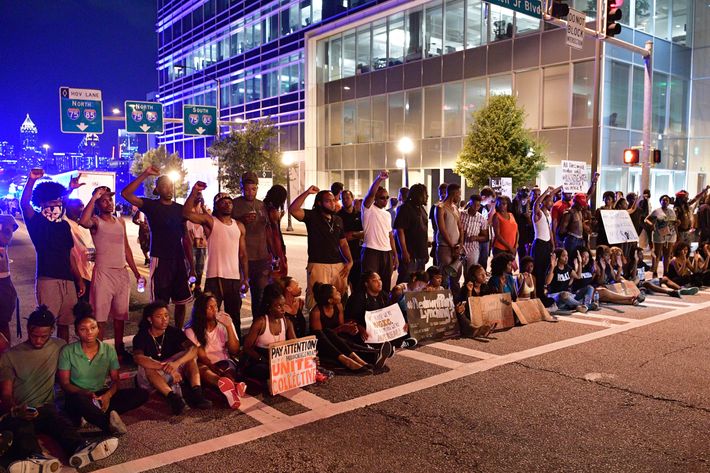 The biggest protest of the night seems to have been in Atlanta, where thousands of people gathered for a march organized by the NAACP and Black Lives Matter, and which resulted in as few as two arrests and virtually no confrontations, according to the Associated Press. Atlanta mayor Kasim Reed, who attended the protest, called it a demonstration of "the best version of ourselves."
Friday night in Phoenix, however, police used pepper spray and bean-bag rounds to disperse hundreds of protesters conducting a march through the city. According to NBC12, police apparently resorted to those measures once some of the protesters indicated their intent to block part of Interstate 10, which travels through the city. One side of I-10 was subsequently closed by authorities as a result of the protest. A small number of protesters were seen throwing objects at officers during the confrontation, but no injuries were reported.
Meanwhile in Rochester, New York, protesters blocked streets around the city's nightlife district late Friday night. According to the Rochester Democrat and Chronicle, as the number of demonstrators grew, eventually reaching several hundred, police in riot gear worked to break up the mostly-seated crowd, resulting in 74 arrests. There were no reports of violence, injuries, or property damage, though two black reporters were handcuffed, then released.
And in Manhattan, roughly 300 people gathered in Union Square on Friday night, before groups of marchers headed off in different directions, escorted by police and mostly obeying instructions to keep to sidewalks and walkways — which as NBC4 points out, marked a more restrained overall tone than previous protests in the city.