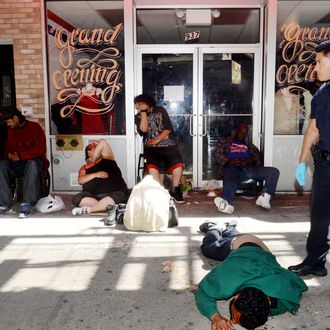 Police and EMS rushed dozens of people to the hospital after an alleged K2 overdose.
Photo: Todd Maisel/NY Daily News via Getty Image
A land of zombies. People passed out on sidewalks and sitting on curbs, heads lolling, eyes out of focus. Disoriented, disheveled. That was the scene on Tuesday where Broadway slices into Myrtle Avenue at the border of Bed-Stuy and Bushwick. A mass overdose of the synthetic marijuana K2 sent more than 30 people to the hospital.
Police responded swiftly Wednesday. Cops raided five bodegas in search of the substance, including the Big Boy Deli, which police and locals had tagged as the main seller in the area. They did not find K2 there, or anywhere else. But cops did make three arrests — all for improperly taxed cigarettes, according to the New York Times.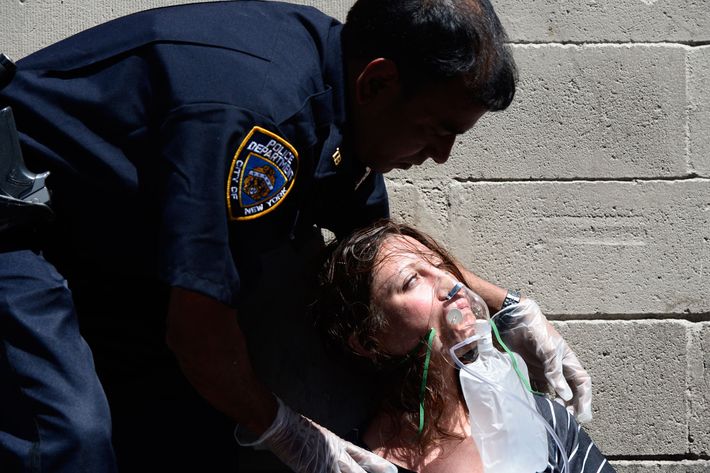 The police flooding the area also cracked down on K2 users, seeking out people suspected of smoking the substance, witnesses told the New York Post. "They're picking up everybody!" Alexander Iliev, a 20-year-old visitor, told the Post. "It's getting crazy down here! Cops said, 'You're getting in the ambulance or you're coming downtown.' So I got in the ambulance." At least four people were taken away from the intersection in ambulances; two of those were soon released. Woodhull Medical Center, which treated most of Tuesday's K2 patients, told the Times that two people were admitted to the hospital Wednesday who appeared to have overdosed on synthetic weed.
But residents say Tuesday's overdose was a crisis reaching its breaking point: K2 and its users have flooded the area in the past year. Residents report seeing people smoking the substance — usually herbs sprayed with types of chemicals that are supposed to give users a "marijuana-like" high — in broad daylight. "No Smoking K2" signs are posted throughout the area. They are not a deterrent. "I've lived here for more than 20 years, and it's terrible now," a resident, Trevor Tyrell, told DNAinfo before the mass overdose. "It's an epidemic, every borough, every 'hood. Just look at the people on the corner, they look like zombies."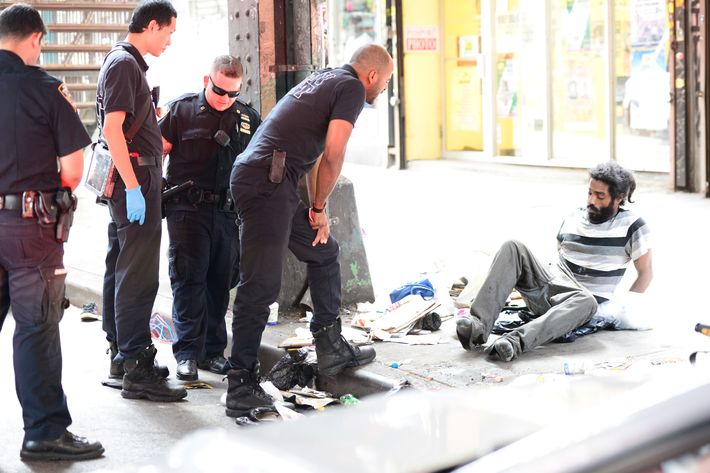 Officials think a "bad batch" of K2 likely caused the horrific reactions among Tuesday's victims. Users can get the drug for as little as a buck at bodegas and shops, though the drug is starting to pop up in the street trade more. Much of the product gets to New York streets by way of China and then gets packaged and peddled as everything from "spice" to "Mojo" to "Black Mamba." But its effects are unpredictable and potentially dangerous: In New York City, about 6,000 emergency-room visits since 2015 have been linked to K2. "This stuff is mixed by bathtub chemists," DEA agent James J. Hunt told the Times. "That's why you see what happened yesterday."
Brooklyn borough president Eric Adams, who visited the Broadway-Myrtle intersection Wednesday, likened the K2 problem to that of the city's crack-cocaine crisis. "We dropped the ball during the early '80s with the crack epidemic," he said. "We're not gonna drop the ball now with K2 and heroin finding a new foothold in our communities."
The Doe Fund, an organization that helps homeless men access employment and social services, is protesting in the intersection Thursday. K2, gotten easily and at a bargain, has hit New York's homeless population hard, especially men who suffer from mental-health or substance-abuse problems. (About 90 percent of the K2 hospital visits were men, says the Department of Health.) The group, dressed in blue polos, chanted "No more K2, no more K2" over and over again.
Mayor de Blasio and the City Council pushed through legislation last year to crack down on the manufacture and sale of K2, by banning any substance sold as synthetic weed. (The drug had technically been illegal in New York City since 2012, but manufacturers would change up the formulas and chemicals to try to skirt laws.) The city also upped the anti-K2 awareness campaign with signs and flyers in bodegas. The new penalties and NYPD crackdown in areas like East Harlem — where the area around 125th Street was dubbed "K2 nation" last summer — did yield serous gains. The NYPD successfully busted a $10 million K2 shipment coming into the Bronx in September, the largest synthetic-marijuana bust in the city's history. K2-linked emergency-room visits dropped 85 percent in March 2016.
"We will throw the book at anyone selling K2," Mayor de Blasio said on Wednesday. "The NYPD is very focused." But K2 is a cheap and potent high. One hot spot may cool off, but another pops up. According to CBS 2, a pocket of the Bronx at Willis Avenue and 149th Street is now known as "K2 alley." Medics carted away at least one overdose victim from that block Wednesday.