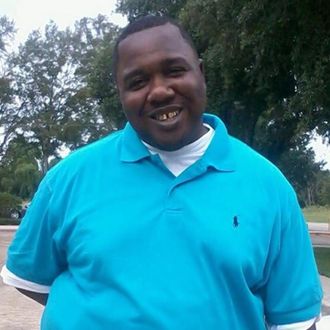 Alton Sterling.
Photo: Facebook
The Justice Department will now launch a civil-rights investigation into the death of Alton Sterling, a 37-year-old black man who was killed Tuesday by police in Baton Rouge, Louisiana. In an incident drawing comparisons to the killing of Eric Garner by NYPD officers in 2014, Sterling was fatally shot by Baton Rouge cops while selling CDs outside a convenience store. According to police, Sterling was killed at 12:35 a.m. when two officers responded to a call from "a complainant who stated that a black male who was selling music CDs and wearing a red shirt threatened him with a gun" outside the Triple S Food Mart.
A video of the incident, which was apparently taken by witnesses sitting in a parked car, has surfaced online. It opens with two loud pops, which may be from a stun gun, as an officer shouts "get on the ground." Sterling is still standing, so one officer tackles him onto the hood of a silver car, taking him to the ground. The two officers appear to have Sterling pinned, when someone yells "he's got a gun." One of the officers draws his weapon, and says, "You fucking move, I swear to God." After more unintelligible shouting two shots ring out. The witnesses drop the camera and shriek, and there are three more gunshots.
Sterling was pronounced dead on the scene at 12:46 a.m. East Baton Rouge Parish coroner William "Beau" Clark said an initial autopsy showed Sterling died due to a homicide after suffering multiple gunshot wounds to the chest and back, according to the New Orleans Advocate.
On Wednesday, Baton Rouge police chief Carl Dabadie Jr. identified the two patrol officers involved in the shooting as Blane Salamoni, a four-year member of the force, and Howie Lake II, a three-year veteran. The two officers have been put on paid administrative leave, though it's believed that only one fired his weapon. Dabadie told reporters Wednesday he welcomed the Justice Department's involvement. "It is our goal and our mission to make sure that a thorough, just, transparent and independent investigation be conducted into this incident," the chief said.
As of Tuesday night, the officers have yet to be interviewed about the incident because, according to Rouge Police Cpl. L'Jean McKneely Jr.,  the stress of being involved in a shooting can cause "tunnel vision," so "we give officers normally a day or so to go home and think about it."
Abdullah Muflahi, who owns the convenience store and has been friends with Sterling for six years, said police were too "aggressive" from the start of the altercation. "His hand was not in his pocket, nor did he have the gun in his hand," he told the New York Daily News. "While he was laying there dying, the cop went inside his pocket to pull the gun out." Muflahi said police interviewed him for several hours, and took the footage from his surveillance cameras.
The officers were wearing body cameras, but they came loose during the incident and were dangling from their uniforms. McKneely said there is footage from a dashboard camera.
Sterling, a father of five, had been staying at the Living Waters Outreach Ministries, a transitional center and shelter, for the past few months, according to The Advocate. A fellow resident said Sterling worked as a cook in addition to selling CDs, and he never saw him with a weapon. Muflahi said he only started carrying a gun recently after a friend was mugged. Sterling's rap sheet goes back to 1996, and includes arrests for drug and assault charges. He registered as a sex offender following a 2000 conviction for one count of carnal knowledge of a juvenile, and was sentenced to five years for marijuana and weapon possession in 2009.
The incident has drawn the attention of the Black Lives Matter movement, and Sterling's name was trending on Twitter. Hundreds of people gathered outside the convenience store on Tuesday night to protest the shooting.
Congressman Cedric Richmond, who called for a Justice Department investigation, said there are "a number of unanswered questions" about the incident. "The video footage released today of the shooting of Alton Sterling by officers of the Baton Rouge Police Department was deeply troubling and has understandably evoked strong emotion and anger in our community," he said in a statement. "I share in this anger and join the community in the pursuit of justice. My prayers and thoughts are with Mr. Sterling's family as they deal with this tragedy."
Louisiana governor John Bel Edwards said at a press conference this morning that the U.S. Attorney for the Middle District of Louisiana and the FBI will work with the Justice Department's Civil Rights Division on the Sterling probe. "Following our conversations this morning, I have full confidence that the U.S. Department of Justice will conduct a thorough, transparent investigation from beginning to end," Bel Edwards said in a statement after meeting with reporters. "I will demand that, as all of you should."