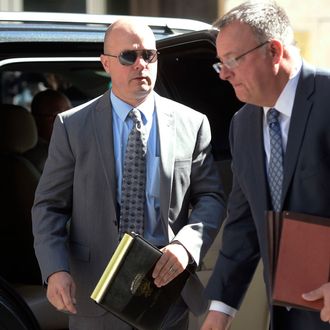 Baltimore cop Brian Rice, left, arrives in court Monday.
Photo: Steve Ruark/AP
The fourth officer to face trial in the death of Freddie Gray was cleared Monday of all charges. Lieutenant Brian Rice, the highest-ranking officer accused in the case, was acquitted in a bench trial of manslaughter, reckless endangerment, and misconduct for failing to strap Gray into a seat belt after his arrest. Gray, a 25-year-old Baltimore resident, died in April 2015 from injuries he allegedly received during a "rough ride" while in police custody. His death sparked mass protests against police brutality in Baltimore.