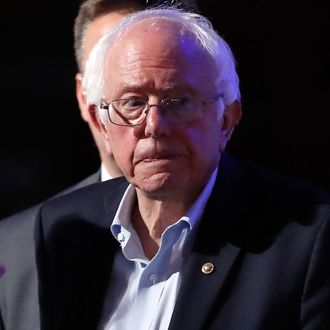 Feeling the Bern.
Photo: Aaron P. Bernstein/Getty Images
The modern political convention is supposed to be an infomercial, one in which all intra-party tensions have been airbrushed away. But the Democrats find themselves at risk of throwing a convention that does the exact opposite — projecting an image of a party far more wracked by internecine conflict than it actually is.
On Monday night in Philadelphia, Bernie Sanders will address the Democratic National Convention in prime time. Over the past 72 hours, the stakes of that address have increased significantly. At the end of last week, WikiLeaks published emails between staffers at the Democratic National Committee, which made vivid and explicit what had previously been opaque but assumed — the DNC did not want Bernie Sanders to win the Democratic primary, and put its thumb gently on the scales (to a degree that had no significant influence on the primary's ultimate result).
Then a new batch of polls showed Donald Trump's festival of pseudo-fascism last week played exceedingly well among white, blue-collar voters — so well that, in a CNN/ORC poll, he now leads Clinton by five points. In that poll, 25 percent of Sanders supporters pledge their allegiance to either Green Party candidate Jill Stein or Libertarian nominee Gary Johnson, when presented with those choices.
The emails development — combined with Clinton's selection of moderate Virginia senator Tim Kaine as her running mate — has injected new energy into Sanders's most die-hard supporters, the ones who hope to (somehow) nominate the Vermont senator this week, or at least to ruin Clinton's infomercial. The party has tried, unsuccessfully, to placate this faction, by bringing Florida congressperson (and Sanders nemesis) Debbie Wasserman Schultz's tenure at the Democratic National Comittee to an untimely end.
Meanwhile, the tightening polls suggest that, contrary to the conventional wisdom of a month ago, Clinton is going to need every last anti-Trump vote she can get this November.
The dress rehearsal for that speech suggests these two goals may be mutually exclusive.
"Immediately, right now, we have got to defeat Donald Trump," Sanders said to hundreds of his delegates on Monday afternoon. " And we have got to elect Hillary Clinton and Tim Kaine."
The delegates enjoyed the first half of this message. They did not like the second.
"Brothers and sisters, brothers and sisters, this is the real world that we live in," Sanders continued.
Moments after booing Sanders, the delegates rebutted his plea for realism with cheers, chanting, "We want Bernie! We want Bernie!"
The socialist senator made clear that his invocation of the "real world" was not intended to discourage the crowd's broader aspirations for radical change. Rather, Sanders argued that the tactic that was his presidential campaign has run its course. Now the movement must focus on keeping a dangerous demagogue out of the White House, while building strength on the local level.
"Real politics is not necessarily sexy," Sanders said. "You have heard me say a million times that this campaign is not just about electing a president, as important as that is … It is building a movement to transform this country. Election Days come and go, but the fight for social, economic, racial, and environmental justice continues."
It's not clear whether this message will pacify the most committed Sandernistas within the senator's delegation. Even if it doesn't, their numbers might not be large enough to make their presence felt inside a Wells Fargo Center packed with Clinton-backers and more placid Sanders fans. The Vermont senator will reportedly have a whip operation on the convention floor, ready and waiting to squelch conspicuous dissent.
If that whipping proves insufficient, however, the Democrats could end up doing something akin to a (mostly) happy family sending out a Christmas card of their worst dinner-table spat. As Philip Bump of the Washington Post notes, the Democratic Party is more unified than it appears
Pew Research has been polling on the 2016 campaign for months, allowing it to track attitudes among voters over time. Nearly half of the Democratic electorate, 44 percent, changed their preference over the course of the three surveys Pew conducted. About 3 in 10 supported Clinton, wire-to-wire; about 20 percent Sanders.

Pew asked those consistent Sanders supporters whom they support in the general election. Ninety percent said they back Hillary Clinton.
Pew's findings are in slight tension with those from CNN. But neither suggests that the level of animosity many Sanders delegates feel for Clinton is representative of his followers writ large.
The image projected by tonight's speech, however, may suggest otherwise.