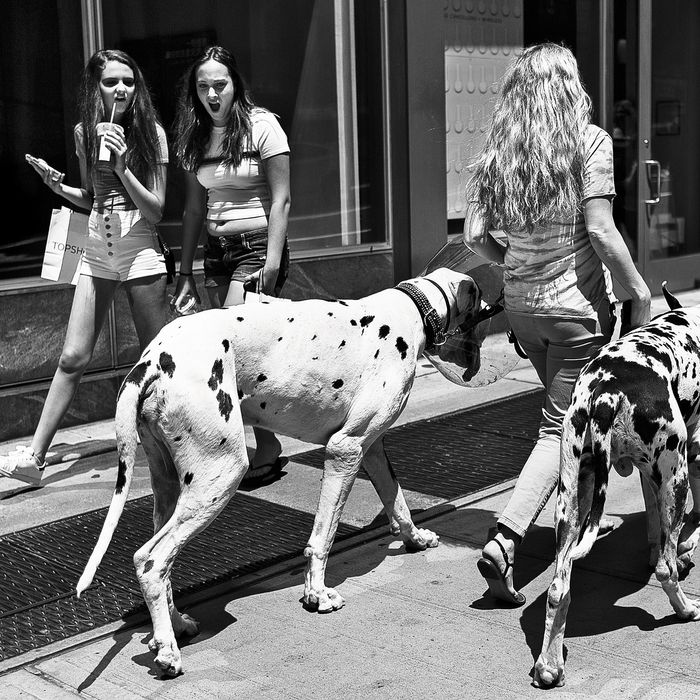 A pair of Great Danes strutting through Soho.
Photo: Andres Kudacki
If you're a human, the biggest draws to a city may include good jobs, accessible culture, and 24-hour bodegas. If you're a dog, you might be more interested in the number of fire hydrants and patches of grass. But these days, cities are treating dogs like luxury-condo residents — only instead of wellness rooms and Ping-Pong tables they've got surf parks and members-only clubs. In this way, cities are mirroring the priorities of urban dog owners, who are spending $23 billion on pet food (including vegan and gluten-free varieties) and $15 billion on medical care (which in some cases means medicinal cannabis). New York dogs are now legally allowed to enjoy outdoor cafés, and JFK is about to open a massive pet terminal. In the past five years, cities across the country have increased the number of off-leash dog parks by 20 percent. And there are now canine retirement homes in Tokyo. Which is not to say there aren't plenty of places — like Yulin, China, which hosts an annual dog-meat festival — where a dog might wish for some urban enlightenment.
Best: At Least One Company Offers "Pawternity" Leave in Manchester, England
A handful of British companies are now giving "pawternity" leave to employees who have a new four-legged dependent. In Manchester, IT company BitSol Solutions is offering up to a week off, and BitSol's owner has said it's boosted company morale.
Worst: Dog Parks Are Scarce in Seattle
There are more dogs than kids in Seattle, but activist owners say there isn't enough room for them to roam free — Seattle has only 27 acres of off-leash dog land. But what the city lacks in space it makes up for in regulation. As of this year, a new enforcement team will cruise Seattle's parks to make sure all dogs are on leashes and owners are carrying "scoop equipment."
Best: Dogs Can Get Weed in Los Angeles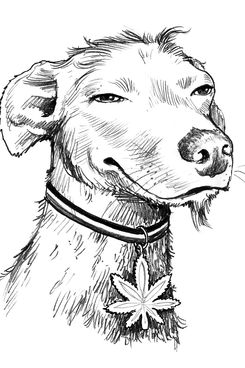 There are more than 700,000 medical-marijuana users in California, and that patient population now includes dogs, thanks to start-ups like VETCBD. Founded in 2015 by veterinarian Tim Shu, the company sells a specially formulated dose of cannabinoids that it believes offers animals relief from pain, arthritis, seizures, nausea, tumors, and inflammation, without the high. Gary Stoltenberg's mastiff–pit-bull mix, Jackson, was taking hundreds of dollars of pharmaceuticals for allergies and inflammation in his knees, in addition to anxiety. "I stumbled upon VETCBD when I was picking up some medication for myself," Stoltenberg says. "I thought, hell, 40 bucks, I'll give it a try, and it has literally changed the dog. He would go bananas when the postal lady would come to the gate, and now he just like wags his tail at her."
Worst: Buying a Pet Dog Is Illegal in Riyadh, Saudi Arabia
Some Islamic scholars view dogs as impure, and in Riyadh, selling dogs as pets was banned back in 2008 out of a concern that men were using them to make passes at women. Meanwhile, earlier this summer, in the Saudi Arabian port city of Jeddah, two men were arrested for planning a "most beautiful dog" beauty pageant during the holiday of Eid al-Fitr.
Best: Poop Gets DNA-Tested in Miami
Innocent dogs (and their owners) can now breathe easy. The residents of Miami Beach's Yacht Club at Portofino condo complex were getting fed up with its smelly, dog-poop-strewn hallways. "It was an embarrassment," says Ron Ben-David, the complex's general manager. So they teamed up with DNA pet-waste-management service PooPrints; dog owners must now hand over a sample of their dog's DNA — usually just a cheek swab — to be sent off to PooPrints, which registers each pet. In the case of any unscooped mess, landlords can send the feces to the lab, which IDs the offender. The system has worked: "There is a greater awareness that Captain Ron — that's what they call me — is here watching the ship," says Ben-David. "We're hoping that one day the City of Miami Beach mandates this." But, he adds, "one dog owner has been caught six times. You would think after paying the $1,500 in fines they're thinking, I better walk my dog a little more often."
Worst: Pit Bulls Non Grata in Denver
Denver has a zero-tolerance policy when it comes to pit bulls and pit-bull mixes (the rationale being that they're dangerous, though many think this is bunk). In the last decade, authorities have impounded and killed as many as 4,000 pit bulls. To escape doggy death row, pet owners have smuggled their pups out of the state through a complex network of safe houses.
Best: Dogs Ride the Subway in Moscow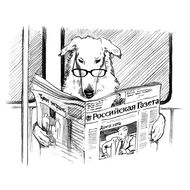 Dozens of strays can be found commuting on the Moscow metro, many of whom know exactly where they're going. According to animal-behavior researchers, these dogs seem to understand which trains to get on, exit, and which humans will give them treats. Experts think the dogs return because they have learned to associate the subways with warmth and food and may use their sense of smell, lighting, passenger movement, and maybe even the sounds of the stations to find their way.
Worst: There Is an Annual Dog-Meat Festival in Yulin, China
The city in southern china held its Litchi and Dog Meat Festival in June, despite protests from Chinese animal-rights activists and pleas from celebrities like Gisele Bündchen, Ricky Gervais, and Matt Damon. An estimated 10,000 dogs are slaughtered at the ten-day festival to celebrate the summer solstice. It's said the dogs are held in cramped cages then bludgeoned to death, the idea being the dog's adrenaline makes the meat taste better. The dog is often served in hot pots and eaten with a side of litchi. Though they couldn't stop the festival entirely, activists reportedly rescued more than a thousand dogs.
There's Never Been a Better Time to Go Off-Leash
The best dog park depending on whether your pup prefers …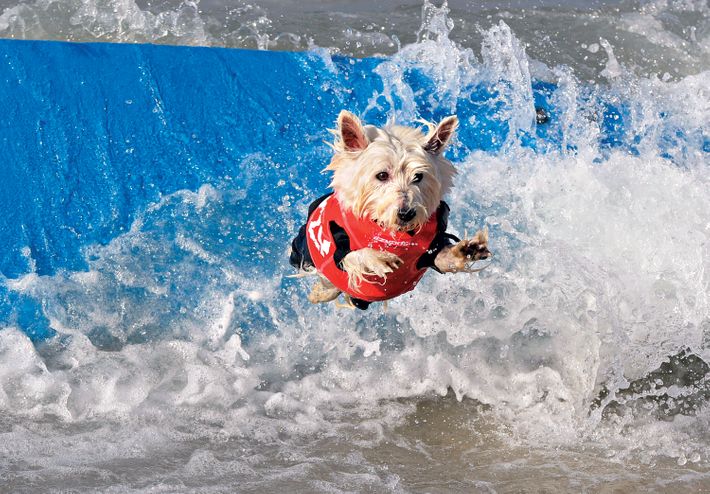 … The beach
Huntington Beach's Dog Beach is 1.5 miles of uninterrupted sand, right off the Pacific Coast Highway, where dogs can run off-leash — and take part in an annual surfing competition.
… A super-squad
West Village D.O.G. is a members-only dog run on West 12th Street capped at about 300 dogs that attracts celebrities and often has a waiting list. Users enter with a key, and the run is stocked with squeaky toys, poop bags, hand sanitizer, and first-aid supplies.
… An intense workout
The "Hound Mound" in Flower Mound, Texas, is a five-acre dog park outfitted with the most high-tech equipment, like specially designed platforms for climbing and jumping that maximize dog fitness.
… Roaming the 7th Arrondissement
Although no expense is spared on the pups of Paris, off-leash areas are hard to find. Fortunately, there's the 60-acre Champ de Mars, in the shadow of the Eiffel Tower, where dogs can wander leash-free and play with fellow well-heeled friends of the 7th.
… A water view
Meola Reef Dog Park is Auckland, New Zealand's only off-leash, fully fenced, year-round dog park. Set on a lava-formed peninsula overlooking the city's Waitemata Harbour, the park has something for every pup — bushy areas and long grass for exploring, and mown areas for high-speed runs.
… Convenience
In keeping with the widespread trend of dog-park expansion, the city of Richmond, near Vancouver, plans to add enough parks to be in walking distance of every resident.
Now They Can Fly Cuddle Class
Air travel has never been great for dogs. Some pups have been known to die in cargo holds or wander lost at the airport for days. But as a growing number of jet-setters insist on traveling with their pets, airlines and airports have become more accommodating. Delta now offers a GPS tracker for flying dogs, so owners can see the location and temperature surrounding their pets. And on American Airlines, for an additional $125 (when you buy a first-class ticket on select flights), dogs can fly in "cuddle class" in ventilated cabins, designed for pet carriers, next to the owner's seat. JFK is scheduled to unveil its 178,000-square-foot pet terminal, dubbed the Ark at JFK, later this year, complete with veterinary services, a play area, a spa, and grooming facilities. There will even be a bone-shaped dog pool. Meanwhile, a new federal regulation now requires airports serving more than 10,000 passengers to have pet-relief areas, and in Chicago O'Hare, there is a bathroom equipped with a two-foot-by-four-foot patch of artificial turf, a miniature fire hydrant, and a sprinkler system to wash everything away.
Before Heaven, Dogs Can Go to This Swank Retirement Home in Tokyo
Aeonpet, Tokyo's fanciest doggy retirement home, costs about $1,500 a month, and pets have access to a gym, a swimming pool, and 24-hour vet care. Owners can watch their dogs on a puppy cam. Here's a typical daily schedule.
8:00 to 8:30 a.m.: Breakfast of dry food or handmade food from owners.
8:30 a.m.: Walking exercises.
9:00 to 9:15 a.m.: Rehabilitation massage to improve blood circulation, joints moved, paws massaged.
9:15 a.m. to noon: Rest.
Noon to 12:15 p.m.: More massaging.
12:15 to 1 p.m.: Rest again.
1:00 to 5:00 p.m.: Visiting time with owners; medical examination where the dogs' appetite, weight, temperature, and condition of poop is checked.
5:00 to 5:15 p.m.: More massaging.
5:15 to 5:30 p.m.: More resting
5:30 p.m.: Dinner.
6:30 p.m.: Bedtime in the nursing room.
There's a Golden Retriever in Chicago Named Sporty Who Walks Himself
And he's become somewhat of a local celebrity, according to his owner, David Duncan.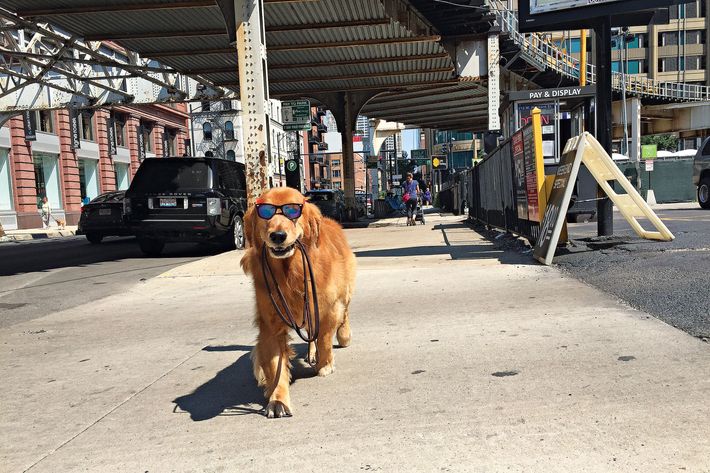 "I was told that when he was a puppy, he liked having something in his mouth — whether a toy or a treat or just a stick. A few months after I got him, he started biting at the leash, and he would just put it in his mouth and kind of lead the way, and then maybe six months after that, I let him walk himself. We would start small, just around my block, and then we expanded the circle. He has learned he can't go into the road without me, and I can tell if he wants to go a particular way, or what he is thinking ahead of time. We'll hit Michigan Avenue, the Magnificent Mile, Wacker Drive, then La Salle, then Ohio Street. Whenever we get within a quarter-mile of Peet's coffee, he'll start going whatever direction he needs to go to get there because he knows he'll get a treat. Whenever it is really, really hot out, I'll put the sunglasses on him. The majority of people are like, 'Oh my God, there's a dog walking himself.' He just brings so many smiles to people's faces, and Sporty feeds off it; if he sees a crowd of people and any of them look interested in him, he'll get that extra little strut going, that extra tail wag, and he'll motor on over. He likes to be the focus of attention. I think he knows how good-looking he is. The pictures don't always do justice to how thick and luxurious his fur coat really is, and that gives him his swagger."
The Locavore Movement Has Reached Canines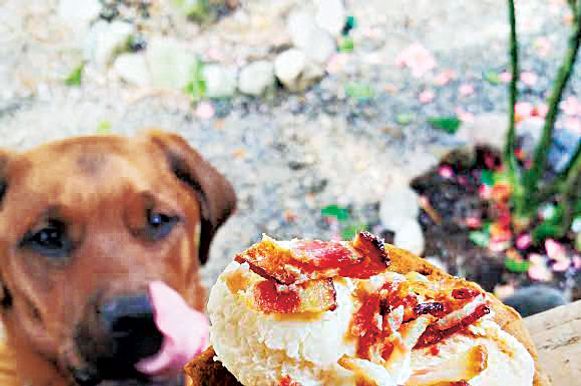 San Diego and Chicago
The cuisine: Mini-chain Fido to Go offers Fi Yo (a.k.a. doggy frozen yogurt, a top-secret recipe in which all ingredients are gluten-free, grain-free, egg-free, and soy-free), cookies, and custom cakes and is in the process of expanding nationwide.
Sample Yelp review: "Yes, my dogs love me. I think they're kinda swayed by the French-toast rawhide I grabbed from Fido to Go. I mean, I smelled that thing and almost kept it for myself." —Jen R.
Austin
The cuisine: Bow Wow Bones serves locally baked fresh pet treats and ice cream made primarily of coconut milk or yogurt.
Sample Facebook review: "My dog Thor had a great time with his first ice-cream experience." —Michelle H.
Seattle
The cuisine: The Seattle Barkery serves dog and human food. For dogs they offer a pupcake with bacon, grain-free flour, and coconut oil, and vegan ice-cream sundaes made with coconut milk.
Sample Yelp review: "We first ordered an Easter Basket for our pooch Griffin … Since the Easter Basket was a success, we decided to get him a birthday cake for his 6th birthday. I cut him a piece, put it on a plate, put it on the floor and it was gone in 30 seconds." —Laura M.
Most Popular Dog Breed in …
New York: French Bulldog
Los Angeles: English Bulldog
Miami: German Shepherd
San Francisco: Labrador Retriever
Popular Dog Names by New York Neighborhood
Upper West Side: Lucy
Upper East Side: Winston
West Village: Stella
Williamsburg: Ollie
Park Slope: Mabel
*This article appears in the July 25, 2016 issue of New York Magazine.