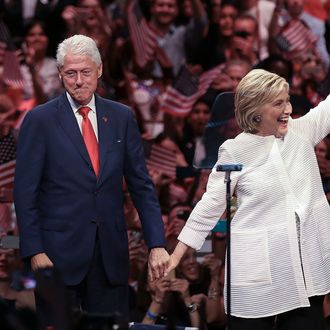 First ogler.
Photo: Drew Angerer/Getty Images
Bill Clinton opened his remarks to the Democratic National Committee by detailing his courtship of a certain law-school classmate named Hillary Rodham. It was a sweet story, but one saddled with the misfortune of being told by a known philanderer.
Bill spoke of being intoxicated by Ms. Rodham's strength and self-possession. But whenever he tried to crowd in on her personal space without asking, he found himself overcome by an uncharacteristic shyness.
"I got close enough to touch her back but I couldn't do it," Bill Clinton said. "Somehow, I knew this might not be another tap on the shoulder. And I might be starting something I couldn't stop."
Eventually, Hillary got tired of Bill of silently ogling her.
"She started walking toward me and said, 'Look, if you're going to keep staring at me — and now I'm staring back — we at least ought to know each other's name," Clinton said.