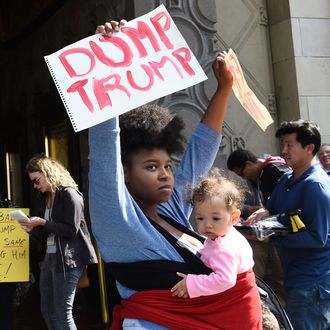 The revival in black support Republicans recently hoped for is not happening with Donald Trump at the top of the ticket.
Photo: Amanda Edwards/Getty Images
With all of the talk about Donald Trump's impact on Latinos or on white women or on white college-educated voters, something you don't much hear about is his likely performance among African-American voters. Not that long ago, Republicans theorized that with Barack Obama no longer on the ballot, black turnout and the overwhelming Democratic margin among black voters would return to pre-Obama levels. After all, according to exit polls, George W. Bush won 11 percent of African-Americans in 2004 (and 16 percent in the ultimately decisive state, Ohio), before John McCain sagged to 4 percent and Mitt Romney recovered slightly with 6 percent. 
Some Republicans even fantasized about reviving the kind of targeted appeal to African-Americans W. attempted via black churches with his faith-based-organizations initiative and his party's opposition to any sort of same-sex unions. Rand Paul talked about breaking through with black voters by pushing for criminal-justice reform. 
But then Donald Trump won the Republican presidential nomination.
At this point in the election cycle, Trump's not doing much better than Romney did among African-Americans four years ago. A recent Pew survey showed Hillary Clinton leading him in this demographic by a 91-7 margin. ABC/Washington Post gave her a 90-8 lead. And state polling from Wall Street Journal/NBC/Marist showed Clinton with a unanimous 88-0 in Ohio and 91-0 in Pennsylvania among black voters. You literally cannot do any worse than that.
It is early to make any reliable projections of African-American turnout in November. But Pew did recently find that black voters are as tuned in to this election as they were to Obama's reelection bid, and as likely as white voters to see this as a high-stakes contest. Hillary Clinton did nearly as well among African-American voters in this year's primaries as Obama did against her in 2008. And Obama will be by her side often in the general-election campaign, making it clear to his core supporters that his legacy will be destroyed if Trump is his successor.
The odd thing is that Trump does not typically go out of his way to offend African-Americans the way he does Latinos and sometimes women. His initial reaction to the police killings in Minnesota and Louisiana and killing of police in Dallas was notably balanced and restrained. He has a number of black celebrity friends and supporters.
But aside from his party's accumulated sins in the eyes of most African-Americans, Trump has a few of his own, beginning with the "birtherism" that was his signature political issue before he began fixating on immigration. Many African-Americans deeply resent the treatment of their first president as un-American. He's also indulged in a lot of law-and-order rhetoric (renewing it almost immediately after his initial moderation after the Dallas massacre); his closest supporter in Congress, Senator Jeff Sessions of Alabama, is a bitter opponent of criminal-justice reform and was once blocked by the Senate from a federal judgeship because of a reputation for racial insensitivity.
Probably most important in limiting Trump's cross-racial appeal is the passionate support he's drawn from out-and-out racists, and the general atmosphere of white identity politics that his candidacy has come to represent. As Nicholas Confessore of the New York Times observed this week:
Mr. Trump's campaign electrified the world of white nationalists. They had long been absent from mainstream politics, taking refuge at obscure conferences and in largely anonymous havens online. Most believed that the Republican Party had been subverted and captured by liberal racial dictums …

[I]n Mr. Trump's descriptions of immigrants as vectors of disease, violent crime and social decay, they heard their own dialect.
And, accordingly, many African-Americans heard their ancient enemies.
Perhaps Trump's strategy of intensifying turnout and the Republican margin among non-college-educated white voters will work wonders in battleground states. But in some of them black votes matter in a close race. The burden of proof is on Trump and Republicans to share that they even care.