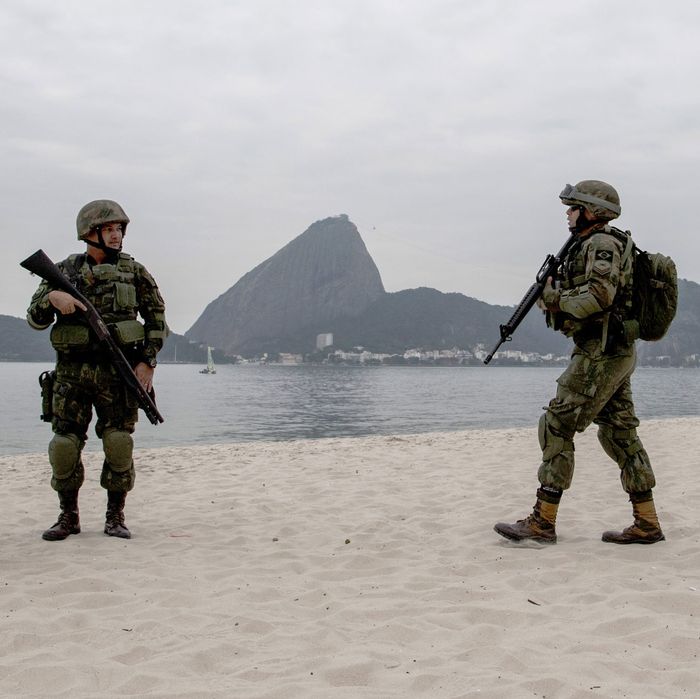 Photo: Christophe Simon/AFP/Getty Images
Zika panic gets a day off: Brazilian police have arrested at least ten people loyal to ISIS who were allegedly conspiring to carry out an attack on the Summer Olympics in Rio de Janeiro. Authorities are still searching for two other suspects who are reportedly members of Defenders of Sharia, a group believed to have pledged allegiance to ISIS leader Abu Bakr al-Baghdadi.
The plot was in its very nascent stages. The men reportedly openly discussed the potential plan over social-media apps, including WhatsApp and Telegram. The suspects didn't get very far in their preparations — Brazilian authorities said they had not picked a specific Olympic target yet. At least some of the men attempted to get an AK-47 from Paraguay, but, thankfully, the conspirators "were complete amateurs and ill-prepared," said Justice minister Alexandre de Moraes.
He added: "A few days ago they said they should start practicing martial arts, for example."
All of those accused in the plot are Brazilian citizens, though their names have not been released. Brazilian authorities have been on heightened alert, especially after the attack in Nice, before the kickoff to the Olympics, now a little more than two weeks away. And these terror arrests are just the latest black mark on the Rio Olympics, which have been beset by troubles from Zika fears to the Russian doping scandal to crime and violence concerns to garbage rivers to the political turmoil surrounding the impeachment trial of (now sidelined) Brazilian president Dilma Rousseff — just to name a few.