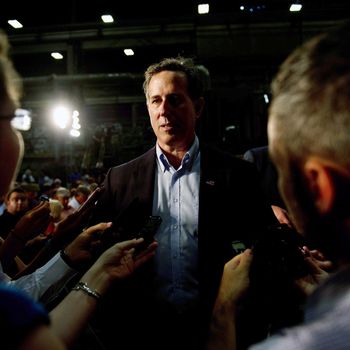 "I saw Melania on TV, though."
Photo: Jeff Swensen/Getty Images
While waiting for an Uber to escape the Quicken Loans Arena in Cleveland on Monday night, New York Magazine spied and then pursued former Republican presidential candidate Rick Santorum, catching up with him in the lobby of the Holiday Inn Express, where it appeared he might be staying.
Below is a largely intact transcript of the dispiriting exchange that followed. Zoloft recommended.
New York Magazine: Hello, Senator. Can you tell me how you think tonight went?
Rick Santorum: To be honest with you, I got in tonight. I was going to go over [to the arena] and then I thought, "You know, I'll just go over to the CNN Grill and watch it there instead." My plane was three hours late and so I kind of missed the night, actually. I saw Melania on TV, though.
NYM: How did you think she did? [Note: This conversation took place before it had been pointed out that Melania's speech plagiarized First Lady Michelle Obama's 2008 address.]
RS: Look, I think it's a hard thing to do and she got up there and she was very poised and, you know, I think she performed very well and gave people some insight on Donald, which I think is great.
NYM: So what did you learn about Donald from her?
RS: Um, you know, I think you learn more about Donald when you learn more about her. She can say things, but it's more how much did you get to know her and believe the kind of person she is, that could be married successfully to him. So once you realize that there's something there, that there's substance and that she's got talents and abilities, you think "this is a very complex woman and not just a pretty face" and you know they have a pretty successful marriage and I think that speaks well of him.
NYM: What do you think the biggest challenge in front of the party is?
RS: Well, I mean, a lot of folks aren't here.
NYM: Yeah, it was pretty empty in the arena.
RS: A lot of folks aren't here and that's disappointing. But I think the selection of Mike Pence was a really good start and hopefully some holdouts will start to realize, as Mike Flynn was saying, how bad Hillary Clinton is, and how the alternative is that there is no alternative. And once we get past the convention and it's very clear that no one else is going to be nominated, that there's not going to be any big surprises at the convention and it's down to a binary choice, hopefully people are going to start getting comfortable with some of the things [Trump]'s saying and doing.
NYM: What is your level of ambivalence at this point?
RS: Look, I endorsed him two months ago. So. You know, I've spoken on his behalf. I've done TV shows. I'm here to show my support.
NYM: And nothing has happened in the intervening two months that has given you pause?
RS: Look, it's a binary choice, right? Is he the perfect candidate? No. The perfect candidate ran, and I lost.