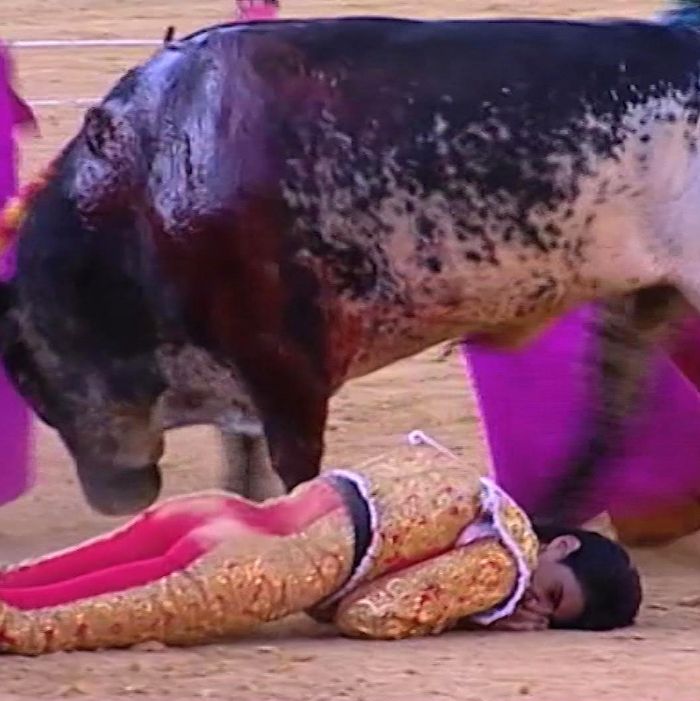 Barrio was the first professional matador to be killed in the ring in more than three decades.
Photo: Screencap/Castilla La Mancha TV via AP
Victor Barrio, the matador who died after a goring in a Spanish bullring yesterday afternoon, had that calm, serene look when I met him briefly last summer. He had just emerged from the capilla, or chapel, a room that's built into the backside of bullrings for matadors and their cuadrilla, or helpers, to pray in. As per custom, I nodded his way (bullfighters don't like to talk in the fearful moments before they enter the ring) and admired his long face, the embodiment of ambitious youth, which I had just gazed at in an oil painting at a nearby restaurant only a few hours earlier.
That bullfight was held in Cantalejo, a town in the province of Segovia, north of Madrid, where Barrio was from. His family and friends had filled the seats of the tiny, third-class plaza: Barrio was still struggling to find his breakout moment as a professional, during a time when the ancient taurine industry was struggling against modern forces. Protests and the collapse of the Spanish economy in recent years had resulted in a dwindling number of bullfights, forcing younger talents like Barrio to risk more daring passes to stand out.
We had followed Barrio's cousin to the performance from Casa Roman, an old-school taverna owned by Barrio's family near Sepúlveda, the town where he was raised, which specialized in cordero lechal, a suckling lamb native to the area. In the stately dining room upstairs that afternoon sat a table of other young matadors, friends of Barrio from Seville. He had invited them to his region to watch him perform, and there was a giddy, jubilant energy floating around the dining room. On the tables were decanters filled with the remnants of costly wine bottles, cigar ash, and lamb bones.
Laughter burst out as one retired picador emerged from his seat and circled the room to tell jokes like a Spanish Henny Youngman. Rotund and jolly, as if he had stepped out of a Botero painting, the picador told us why he had stopped using shampoo after reading the label.
"Because it adds 'body' and 'volume,'" he said in Spanish, laughing and patting his belly.
Then we were off to see Barrio, the local-boy-turned-hero, one of the dwindling and courageous few who still dream of being and train to become bullfighters in a modern world that rejects them. Bullfighting is not a sport: It's a modern sacrifice, a commercialized relic that has its roots in the pagan religion of the ancient world. The bulls were considered gods back then, and those who sacrificed the gods were high priests. The goal of modern matadors is to achieve a kind of union and closeness with the bull, to symbolically face and unify themselves with death, to deliver a cathartic moment the audience can feel and live through. Young talents like Barrio are faced with enormous pressure — financially, culturally, spiritually.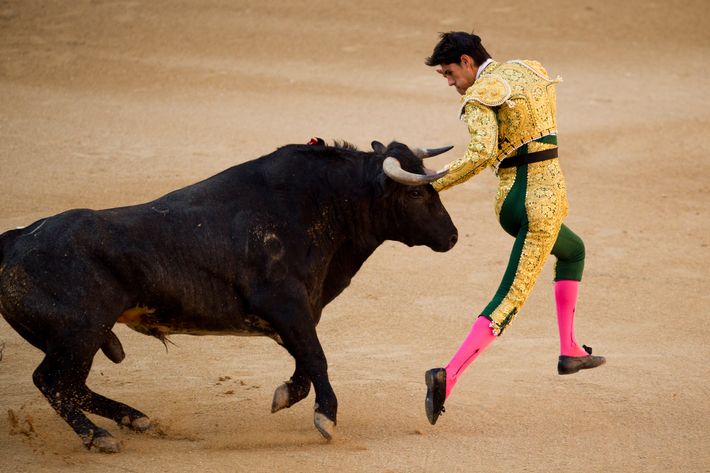 "It's the placing on a pedestal of a child who can redeem the rest of us," Allen Josephs, the author of Ritual and Sacrifice in the Corrida and a longtime Spanish and bullfighting scholar, told me recently about the role a young matador plays in Spanish life.
"It's a religious construct," he said. "When the taurine world discovers the new kid who is going to be the savior of bullfighting, they actually refer to him as the savior and the messiah." The matador is also part of the sacrifice. "What greater glory is there for the family but to offer up their son as hero and victim?" Joseph went on, recalling biblical passages. "What is it, John 3:16? 'For God so loved the world that he gave his only begotten son.' That's what the Spanish family is doing. They're nurturing the sacrifice of their son. Not on a conscious level, but surely they know what can happen."
Barrio's death yesterday — the first death of a matador in a bullring in decades, and a moment captured live on Spanish television — has turned all the symbolic talk of ancient sacrifice tragically real. The goring Barrio suffered could have happened to any bullfighter. He had traveled to Teruel, a typical small Spanish town between Madrid and Valencia, and had been attempting a naturale, or left-handed pass, the most dangerous kind. Holding the cloth with only one hand and keeping his helper sword behind his back, Barrio was exposing his lithe frame to the horns, a statuesque gesture matadors consider "pure" and "honest," as opposed to tricks used to energize the crowd.
One flick of the horn. Barrio landed in the sand on his back, according to the videos of the incident, and in a dangerous place. Often, when a fighting bull looks to toss and attack a fallen matador in front of them, the horns can strike bone or muscle tissue, rip a vein or artery, tear a scrotum apart, or simply rip their traje de luces, or suit of lights, apart.
"It's all luck," Antonio Barrera, the most injured matador in history, told me during the filming of Gored, a forthcoming documentary which I co-produced. Not even 26 horn rounds and countless broken bones and tears had slowed him down. Some matadors get up from the sand and dust themselves off, unscathed. Other matadors feel the burn of the horns entering their body, and get dragged off to the bullring infirmary.
Barrio never got up. Even as his handlers carried him to seek medical care, his body was slumping heavily in their arms. In videos, the most ominous sight was the white of Barrio's eyes, his face lifeless against the bullring sand — a sign that the bull's horns had found their way inside his chest and into his heart, arguably the only wound that modern bullring surgeons cannot fix.
Barrio's funeral is tomorrow his hometown of Sepúlveda, according to bullfighting blogs. The ceremony will be held in the old church at the center of the town, where the capote, a yellow-and-pink cape, has been draped over a balcony with a black ribbon. Tomorrow, the old streets of the ancient Roman settlement will likely be filled with a procession of pallbearers carrying Barrio's casket slowly around the town for many to see — like the Virgin Mary during Semana Santa — a flock of townspeople behind.
The procession is likely to pass Casa Roman, the restaurant where Barrio's friends and fans made jolly toasts in his honor one afternoon last summer, where his long face was rendered like a saint in that oil painting hanging by the front door. Now, with one horn wound, the painting has become a sacrificial shrine.