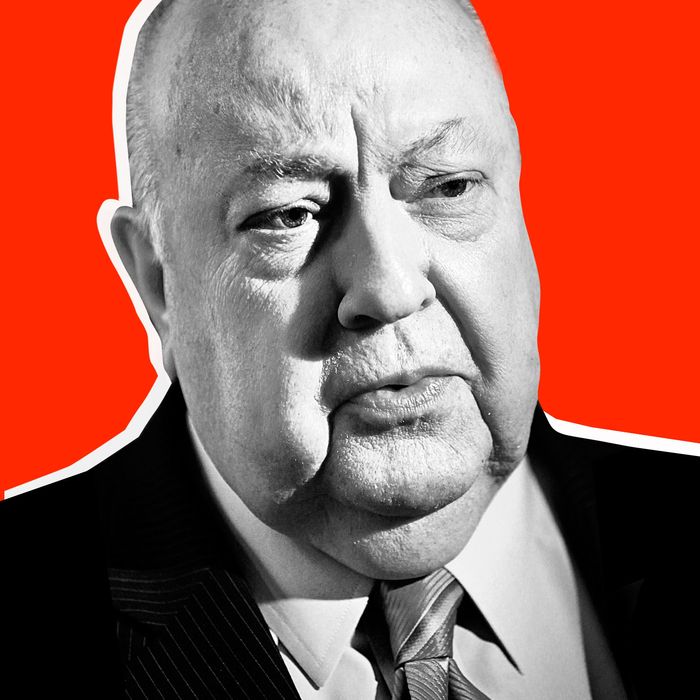 Photo-Illustration: Daily Intelligencer; Photo: Getty Images
The sexual-harassment investigation of the 76-year-old Fox News chief Roger Ailes is under way. Yesterday, lawyers from Paul, Weiss, Rifkind, Wharton & Garrison, the outside law firm hired by 21st Century Fox to conduct the inquiry, began meeting with Fox employees to interview them about sexual harassment at the network. Sources briefed on the investigation say lawyers intend to interview anchors and executives before the Republican National Convention begins next week. "We don't want this to linger on," one person close to the Murdochs told me.
The investigation would seem to be a clear sign that Rupert Murdoch, along with his sons James and Lachlan, is taking Gretchen Carlson's lawsuit very seriously. Fox executives are whispering that Ailes's days may be numbered — even handicapping who might replace him.
But other sources point out that it is in the Murdochs' interest to try to limit the damage to Ailes and avoid an outcome where Fox, which generates more than $1 billion a year in profit, is exposed for having a broader culture that's hostile to female employees. These same sources point out that it is difficult to ensure the "independence" of an independent investigation; Paul, Weiss was criticized by a federal judge for its role in another high-profile investigation — Deflategate — saying that rather than remaining independent, the firm became an advocate on behalf of the NFL.
Limiting the damage to Ailes may prove difficult. Multiple sources told me that a number of women at Fox, who work both on camera and off, have experienced sexual harassment and are eager to talk about it with investigators. "Lots of other women want to come forward," a Fox source briefed on the investigation told me. "They won't talk to the press. They want to talk to the outside lawyer because that's safe." Gretchen Carlson, in her recent interview with the Times, also suggested that the harassment was widespread.
Meanwhile, the accusations against Ailes himself continue to pile up. According to sources I spoke with, at least three former Fox anchors have been harassed. One former rising star at the network has said that Ailes approached her during a barbecue at Fox & Friends host Steve Doocy's house in New Jersey while she was bouncing on a trampoline with children and said, "Are you wearing any panties? I wish you weren't." Another recently departed Fox host has claimed Ailes made her turn around in his office to show him her figure.
Meanwhile, more women from Ailes's years as a daytime television producer have come forward. This week, I spoke with Judy, a 67-year-old former model who says that during an audition for The Dennis Wholey Show in 1969, when she was 19 years old, Ailes asked her to lift up her skirt and lie facedown on a bed at the Sheraton Gibson Hotel in Cincinnati. "I totally freaked," she said, on the condition that I would only use her first name for fear of retribution. "I got up and ran to the door. He stood in front of the door and locked it." Judy managed to escape and tell her parents, and they took her to the police. "I remember Ailes being manipulative and sweet-talking my parents out of pressing charges," she says. "Afterwards, he called my mom and said, 'If you ever need anything, you call me."
Another former model, now 74 and speaking anonymously because she never told her husband about her experience, said Ailes propositioned her during her interview for The Mike Douglas Show in 1967, promising, "If you sleep with me, all these things will happen." She says they did have sex several weeks later at the Bellevue-Stratford Hotel in Philadelphia. "Then I started getting calls from an agency — I think they got my number from him. I got asked to go on interviews in New York City, but they weren't jobs at all. I was sent to different places where you'd go into a room and some guy would be there thinking you have to give him a blow job. It was horrifying. I wasn't a prostitute." Later, she said, she tried to kill herself with pills.
Ailes has denied all of the allegations and has been rallying Fox hosts to speak up in his defense, according to sources. In recent days, a dozen female hosts have defended Ailes, and Neil Cavuto called the allegations against Ailes "sick." Fox News spokesperson Irena Briganti did not respond to a call for comment.